How technology is making seamless collaboration a reality in construction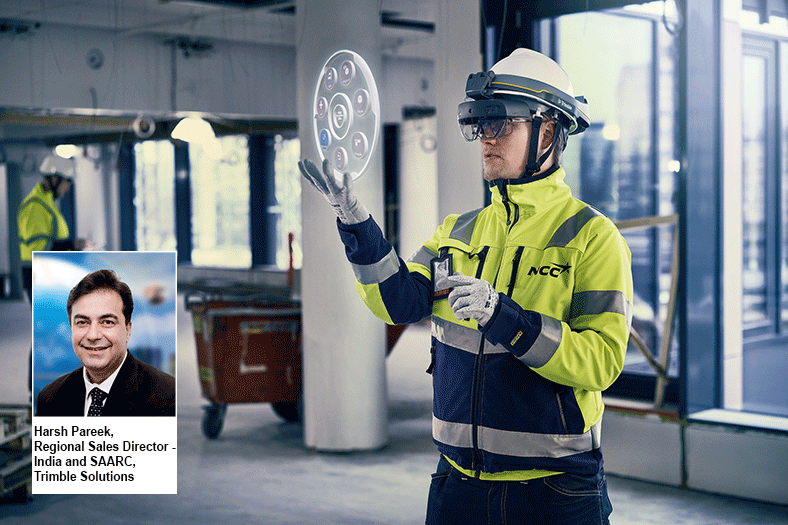 The Covid-19 pandemic and the rough economic environment of the last few quarters had impacted the margins and profitability of most construction projects. As engineering and construction companies prepare to realign and reassess their business operations for the post pandemic world, they can look at enabling seamless collaboration among all project stakeholders as a crucial first step towards rebuilding their margins and profitability.
Seamless collaboration has always been relevant for the construction industry. The industry is unique in its dependence upon the continuous interplay among a large number of stakeholders: from architects and structural engineers to general contractors, fabricators, MEP contractors, interior designers, and finally, onsite supervisors and offsite project controllers or managers. No other industry probably has such a dependence upon so many stakeholders working together in interdependence at the same time, and thus an outsized role for seamless collaboration.
In fact, seamless collaboration among various stakeholders of any given project is often a key determinant of whether the project will be executed on time and within budgets or not. The need to effectively communicate and collaborate then becomes critical not just to stay on schedule, but also to meet the required specifications or quality standards for the completed project.
Until recently, achieving truly seamless collaboration among various stakeholders was nearly impossible, but now modern technology is making the realization of this goal well within reach of a vast majority of engineering and construction companies.
The emergence of Connected Construction Seamless collaboration is all about crucial information to flow seamlessly from one set of stakeholders to others and vice versa. This information can range from project drawings and models to schedules, material stocks and any other project related data. Imagine a scenario where engineers, contractors, onsite supervisors and others working on a project have access to a real-time, continuously updated 3D BIM model of the structure on their mobile devices or tablets on the go – that is the promise of seamless collaboration, and it is made possible by what we call as 'Connected Construction'.
The future of construction is connected and it is being built on the backbone of near ubiquitous availability of internet connectivity, cheaper cloud-based computing services and affordable mobile and connected devices. Connected construction actually breaks down bottlenecks and prevents miscommunication by ensuring that everyone working on a project is operating from the same playbook and is on the same page. In other words, every single change – major or minor – in the model or project data by any of the stakeholders is instantly communicated to all other stakeholders.
By giving all stakeholders access to a reliable, current, and central source of truth about the project, connected construction facilitates better communication and smoother hand-offs. These improvements in turn enable earlier problem detection and resolution, streamlined operations, and faster project delivery.
In technical terms, connected construction relies on hardware, software, and services to unify the people, processes, and phases involved in each project. And by doing so, it integrates the digital world with the physical world; from models, imagery, measurement, and data on one hand, to the contractors, work crews, equipment, and the jobsite on the other.
As a case in point, Trimble Connect is a cloud-based and open collaboration platform for design and construction that is increasingly being used for real-time collaboration in projects around the world. It connects project stakeholders with the data they need to inform decisions and improve team efficiency. Project stakeholders using Trimble Connect are able to share, review, coordinate and comment on data-rich constructible models, schedules and critical project information in real time — reducing costly miscommunication and improving coordination to keep projects on time and on budget.
Other cloud-connected collaboration tools available from construction technology players like Trimble are changing the way the global construction industry works. For example, Tekla Model Sharing allows users of Tekla Structures (the premier structural engineering software) to collaborate and work together on BIM models, the benefits of which were clearly visible during the construction of many structures worldwide.
An example is Luminary, a modern multiform high-rise building in Finland. Located in the city of Tampere in Finland, Luminary is a hybrid residential and office building, consisting mainly of precast concrete units, while the lowest floors are cast-in-place. The roof structures, monorails and exit stairs are all made of steel. The construction of Luminary was extremely challenging for designers, builders and fabricators alike, on account of its complexity, strict tolerance regulations and the number of elevations.
A significant challenge in this project was about matching the two different frame solutions: the business section of Luminary contains a beam-to-column frame, while the apartments include load-bearing internal walls. The project was ultimately successful because of its very high quality and accurate model based design, seamless collaboration and extensive on-site model use. The design team was able to work seamlessly together utilizing and producing high-quality, accurate models. With the Tekla Model Sharing, the builders and the precast manufacturer were able to access the model in real time in a more accurate and visual form.
Luminary is just one example – hundreds of recent and ongoing projects in India and around the world have been using modern tools like Trimble Connect or Tekla Model Sharing to achieve seamless collaboration among all trades and stakeholders. Progressive engineering and construction companies around the world are today looking at collaboration tools as a strategic investment towards realigning their operations and reclaiming their margins and profitability in the new normal. The holy grail of seamless collaboration is finally within grasp of the construction industry.
For more details, contact:
Harsh Pareek,
Regional Sales Director – India and SAARC,
Trimble Solutions
13