Msafe: An array of Aluminium Scaffolding products for your needs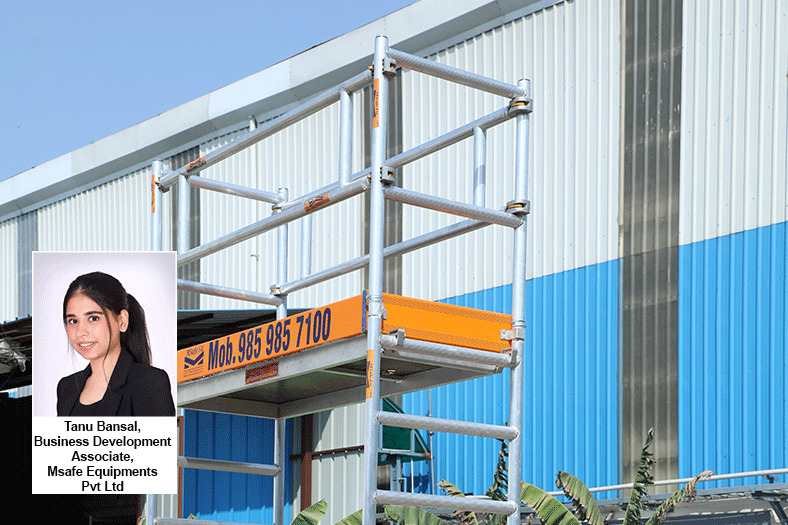 An aluminium scaffold is much more expensive when compared to traditional galvanized steel. But at the same time, it is significantly lighter and has a High Corrosion resistance which makes it highly durable.
The top five reasons to use an aluminium scaffold tower with a stairway are:
• Safety is paramount
• Mobility
• Lower erection time, cost and labour
• Saves energy and increases productivity
• Fastest delivery
It has a wide area of application for office, building, shopping malls, factories, schools, airports, churches, theatres, hospitals, hotels etc. It can be used in the maintenance job of electrical works, insulations, painting, pop ceiling work, interior decoration, ducting and piping providing safety to the user. It can be used on a marble surface as well as on a rough surface. It comes with adjustable wheels which makes it even easier to move from one place to another.
Aluminium scaffolding is available with customized weight, frames which can also be manufactured as per the drawings and requirements. Scaffolding can have different finish types including H type scaffolding frame, mobile scaffolding frame, ladder scaffolding etc. It is very cost-effective as aluminium does not need high maintenance.
Msafe Equipments Pvt Ltd offers a wide range of quality products and services that meet the needs of Pan India customers operating in a demanding market. Msafe's presence across the country enables us to reach various locations and hence cumulative learnings from each segment add to the advantage of our clients.
As the logo of Msafe says- "Protect the people", it considers safety first. Msafe has a professional attitude while dealing with its clients and a simple, easy end to end process. Keeping the safety of people in mind, Msafe provides assembly demonstration and training to the workers for easy assembling of scaffolding.
Msafe has various ranges in scaffolding namely, narrow (single width) scaffold, stairway (double width) scaffold, an indoor solution without stairway scaffold, podium MPP. By keeping in mind, safety at height more than 15m, Msafe has designed extra reach models with extra stabilizers and extra wheels for more support.
For more details, contact:
Tanu Bansal,
Business Development Associate,
Msafe Equipments Pvt Ltd
Email: info@msafegroup.com
for more information : https://msafegroup.com/
18