Kamdhenu Group launches its premium product 'Kamdhenu Nxt' in Delhi and Haryana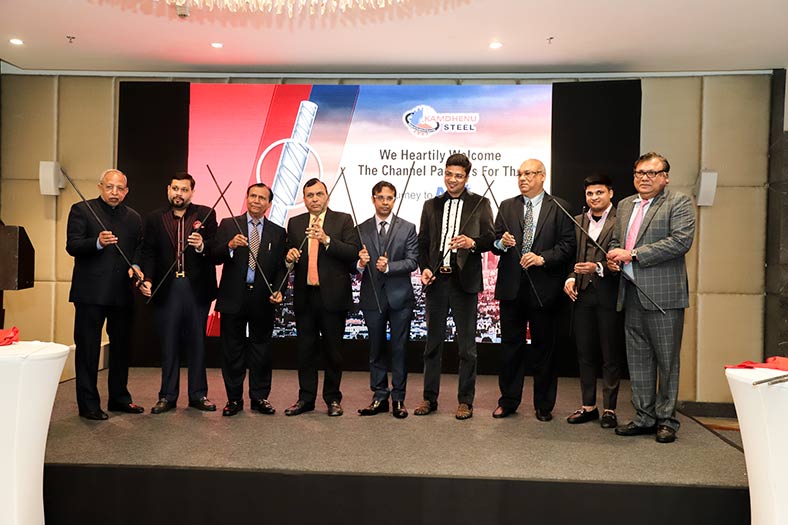 Kamdhenu Nxt's unique and critically designed double rib, fatigue strength and ductility makes it much superior to ordinary steel bars.
Kamdhenu Group, a well-diversified group in steel and paint, has launched its premium brand 'Kamdhenu Nxt' – the next generation high-end interlock steel TMT bar in the market of Delhi and Haryana. With this, the company intends to capture a sizable market share in these two markets.
Satish Kumar Agarwal – Chairman and Managing Director, Sunil Agarwal – Director, Saurabh Agarwal – Director and Sachin Agarwal – Director, Kamdhenu Group launched the product at Hotel JW Marriott Aerocity, New Delhi in the presence of other senior management, dealers and distributors.
On this occasion, Satish Kumar Agarwal, CMD, Kamdhenu Group said, "With the economy showing signs of improvement post-pandemic, we are expecting a recovery in infrastructure and construction sector as well. Kamdhenu Nxt already has a strong presence in the premium segment of TMT bars in the country and with the addition of two new markets; we are inching closer to a cross-country presence. This is aligned with our overall strategy to enhance our market share in the domestic TMT segment. We are also exploring avenues to further reach into markets where our presence is less and strengthen our footprints in existing geographies".
Kamdhenu Group has a unique asset-light franchisee based manufacturing model, with more than 80 franchisee units having installed capacity of around 40Lac MT  to 45 Lac MT of TMT bras, Structural steel and colour coated sheet. With a brand turnover of Rs 12,000 crore the company having the largest retailer network in India of 11,500 dealers and distributors out of which 7,500 are exclusive for our steel business.  The company currently has around 250 dealers and distributors in Delhi and 300 dealers and distributors in Haryana and is planning to increase its network in the coming months.
Sachin Agarwal, Director, Kamdhenu Group said, "Kamdhenu NXT' is a product of world-class R&D and innovative product development practised at Kamdhenu. With 2.25 time's stronger concrete-steel interlock, Kamdhenu NXT offers characteristics that are perfectly suitable for new age requirements in engineered reinforcement structures and smart architectural concepts. Kamdhenu is committed to developing world-class products to address evolving needs in the sector and setting a benchmark in affordability for technologically advanced products in the market."
Kamdhenu Nxt's unique and critically designed double rib, fatigue strength and ductility makes it much superior to ordinary steel bars. The distinctive design of 'Kamdhenu Nxt' sets a benchmark for better interlock with concrete mix, giving more power to the structure. The two angular ribs on this steel bar amplify the interlock strength between steel and concrete thereby providing optimum security to structures that are subject to unexpected forces like seismic, dynamic impact etc. This makes it suitable for concrete reinforced structures like bridges, flyovers, dams, thermal and hydel plants, industrial towers, skyline buildings, underground platforms.
5