Kamdhenu Paints aims 4X revenue growth by FY28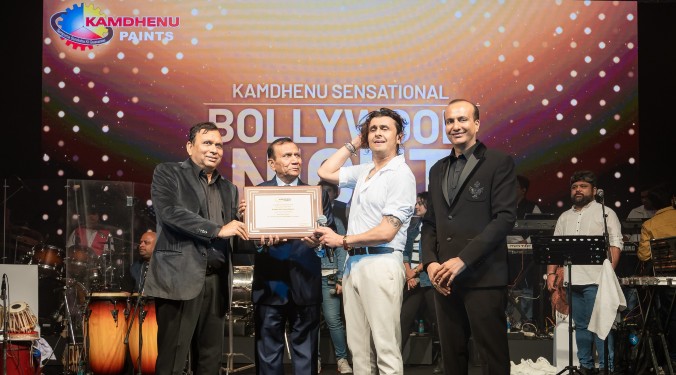 Kamdhenu Paints, a brand of Kamdhenu Group and leading manufacturer of high-quality paints and emulsions, announced its business growth strategy to achieve a four-fold revenue growth by the end of FY2028.
The announcement was made at its first post demerger and the biggest ever channel partner's meet – 'Kamdhenu Sensational Bollywood Night (KSBN 2) 2023'. KSBN is an annual awards program that aims to appreciate and encourage healthy competition amongst the dealers. More than 800 dealers with their families from across the country attended the event.
As part of the growth strategy, the company is planning to enhance its market share in the South and West region of the country by expanding its product portfolio with the launch of new and innovative products. The company will further tap the deep markets in North and East region by increasing its dealers and distribution network. The key objective is to increase market share from unorganised players, and tap into tier 2 and tier 3 cities.
With the aforesaid expansion plan, the company is looking a fourfold growth in the revenue to ₹ 1000 crores by the end of FY28. Last financial year 2023, the company has closed the revenue at ₹ 251 crores.
Commenting of the business expansion plan, Satish Kumar Agarwal, Chairman and Managing Director, Kamdhenu Group says, "After a strategic review of the current business operations commensurate with the revenue growth that we have achieved till date, we have set and ambitious target of achieving a 4X revenue growth by the end of FY 2028. We have strong presence in the North and East part of the country and we will strengthen it further. We have accessed the potential for deeper penetration in the South and West regions and a concerted marketing initiative across the country is already under execution. Our aim is to increase the current 4,000+ dealer network across the country to 8,000+ and achieve a revenue of ₹ 1000 crores by the end of FY 2028. We are confident that our strong relationship with our dealer network across the country will help us achieve our target."
The channel partners meet was graced by many well renowned Bollywood celebrities such as Padma Shri Sonu Nigam, Rajkumar Rao, Jacqueline Fernandez, Rakulpreet Singh, Rahul Vaidya, Manushi Chillar, and many more. Globally renowned dance groups Dance Smith and MJ 5 also performed and amused the attendees with their performances.
Speaking on the channel partner's meet Saurabh Agarwal, Managing Director, Kamdhenu Paints says, "Kamdhenu values each of its channel partners as an integral member of the Kamdhenu family. They have played a pivotal role in establishing Kamdhenu as a renowned household brand. Events like Kamdhenu Sensational Bollywood Night not only allows us to express gratitude for their unwavering support but also enables us to gain a deeper understanding of their requirements and identify the most effective ways to support and collaborate with them. In synergy with our channel partners, we aim to create a strong brand image as well as brand recall across the country."
for more info visit : https://www.kamdhenupaints.com/
24