M. Venkaiah Naidu lays foundation for Tirupati runway expansion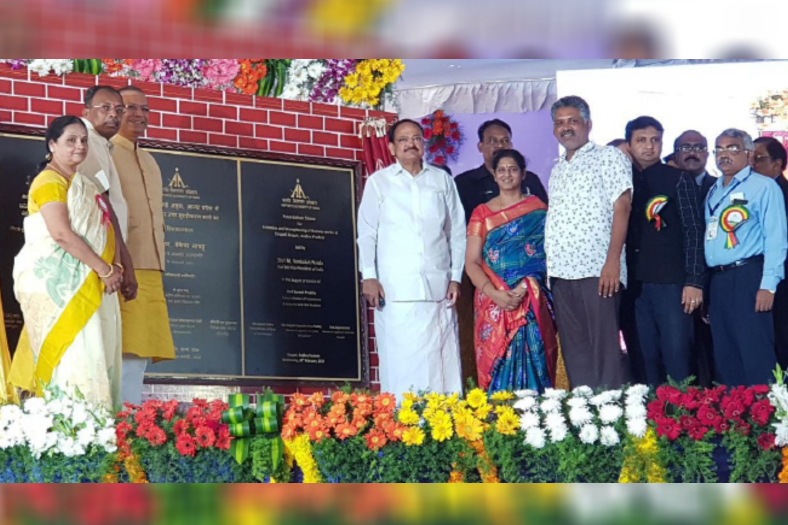 The foundation stone for extension and strengthening of existing runway at Tirupati Airport in Andhra Pradesh was laid by the Hon'ble Vice President of India. The ceremony took place in the august presence of JayantSinha, Union Minister of State for Civil Aviation; S. Geervani Chandrapraksh, Chairperson, Zila Panchayat, Chittoor District; Sugunamma, MLA (Tirupati); Bojjala, Gopalkrishna Reddy, MLA (Srikalahasti) and Shri I.N. Murthy, Member (Operations), Airports Authority of India by unveiling the plaque. Airports Authority of India, under the supervision of the Ministry of Civil Aviation is committed to provide air connectivity and develop and upgrade airport infrastructure across the country. Due to the proactive measures being undertaken by the Government, India is already one of the fastest growing civil aviation markets in the world.
Presently, Tirupati Airport is an International airport suitable for operation of AB-320 type of aircraft in all weather conditions. The existing Runway of 2286m will now be extended to 33810m; after which it will be suitable to accommodate wide-bodied aircraft. The work for extension of runway, strengthening of existing apron, expansion and strengthening of existing isolation bay for wide-bodied aircraft, pavement against blast erosion and provision of Runway End Safety Area (RESA) will be carried out at the total cost of ₹177.10 Cr.
4