Nitin Gadkari aims at green transportation systems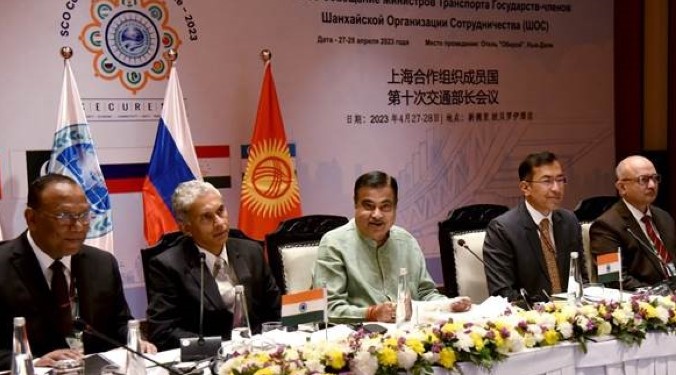 Union Minister for Road Transport and Highways Nitin Gadkari chaired the 10th Meeting for the Shanghai Cooperation Organisation (SCO) Transport Ministers at New Delhi.
Chaired by India this year, SCO currently comprises eight Member States which are India, China, Kazakhstan, Kyrgyzstan, Russia, Pakistan, Tajikistan, and Uzbekistan. In the meeting, all the member states supported the "Concept of cooperation of the SCO Member States to decarbonize transport, promote digital transformation and innovative technologies to achieve greater efficiency and sustainability".
A Special Working Group has been established to promote collaboration among member states of the SCO in the field of transportation. This group will facilitate meetings to share knowledge and best practices related to reducing carbon emissions in transportation, promoting digital transformation, and implementing innovative technologies for more sustainable and efficient transport.
Speaking on the occasion under the leadership of Prime Minister Shri Narendra Modi, Gadkari says, India recently celebrated 75th year of independence under the theme of Azadi Ka Amrit Mahotsav and entered the Amrit Kaal which translates into "Golden Era". Under the Amrit Kaal, "Green Growth" is identified as a key area for reducing carbon intensity of the economy, including promotion of green mobility.
Gadkari states to bring a paradigm shift by adopting green and clean fuels, to develop technologies that improve the efficiency and reliability of the transport systems and to bring in sustainability in the development of the road construction sector, the SCO Member States must collaborate for research and development and to bring innovations in the road transport to develop effective solutions to contemporary challenges in this sector.
The Union Minister said we feel that an approach which is based on collaboration and cooperation between the SCO member countries will enable to promote sustainable transport development, lower carbon emissions to enhance quality of life and improve efficiency of transport systems within the SCO regions. This is also reflected in India's commitment to achieve the target of net zero emissions by 2070 under the fivefold strategy called "Panchamrita" which was announced by Prime Minister Shri Narendra Modi at COP26 in Glasgow in 2021.
Gadkari also says as SCO Transport Ministers we can send a collective message affirming our determination to address the challenges of transport sector and bring solutions that shall help us build an ecosystem for collaboration and cooperation as a part of fulfilling our commitment to the SCO.
India is the current chair of Shanghai Cooperation Organisation (SCO). The Shanghai Cooperation Organisation (SCO) is an intergovernmental organisation founded in Shanghai on 15 June 2001. The SCO currently comprises of eight Member States which are India, China, Kazakhstan, Kyrgyzstan, Russia, Pakistan, Tajikistan, and Uzbekistan.
24