PM Modi's 2047 Vision, India's path to development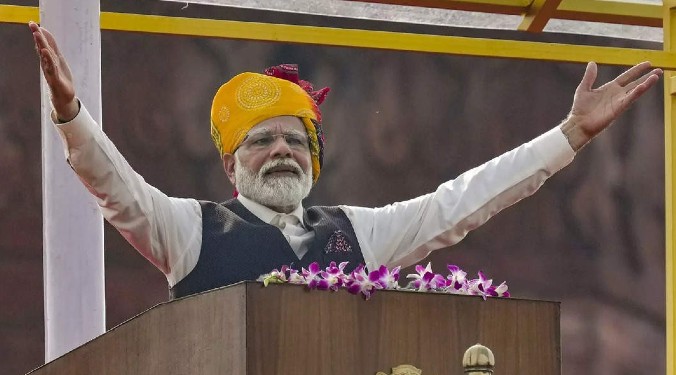 Modi emphasised the need for probity, transparency, and objectivity, and urged citizens to fight against corruption, nepotism, and appeasement.
India will be a developed country by 2047, Prime Minister Narendra Modi said in his 10th Independence Day speech, juxtaposing that long-term goal with the more short-term objective of the country's economy becoming the world's third largest it is currently fifth which he says would happen during his third term. He highlighted democracy, diversity and demography as the structural advantages that would enable India's rise.
The vision, short- and long-term, and economic and political, if Modi wins a third consecutive term in 2024, he will, become only the second Indian Prime Minister after Jawaharlal Nehru to do so has found mention in some of the his recent speeches, and continues a theme from last year: India as a developed nation by the 100th anniversary of its Independence.
Modi's speeches, in both 2022 and 2023 have been forward-looking, shifting the narrative itself, and the PM referred to this in a speech that lasted 90 minutes, among the longest he has made on the occasion. Modi said that if his first term was based on the promise of change, his second term was based on performance, then the third term would be based on "unprecedented development".
corruption, which is widely held responsible for the drubbing of the Congress-led United Progressive Alliance by his BJP in 2014; appeasement, which is widely seen by the BJP's support base as the reason for many of the country's ills; and nepotism (and dynastic politics), which he has repeatedly targeted, setting himself and his politics apart from his opponents.
Fusing governance and politics, with less than eight months to go for the Lok Sabha elections, Modi says that 135 million people have risen from being poor to joining the ranks of the middle-class during his term in office, and reached out to a range of social and demographic groups, particularly the young and women.
He gave an audit of his government's welfare spending in the past nine years, announced new initiatives catering to urban lower middle class, poor and women. He framed India's foreign policy posture as one of being a "vishwa mitra", a friend of the world.
28