Record-breaking edition of LED Expo New Delhi inaugurated today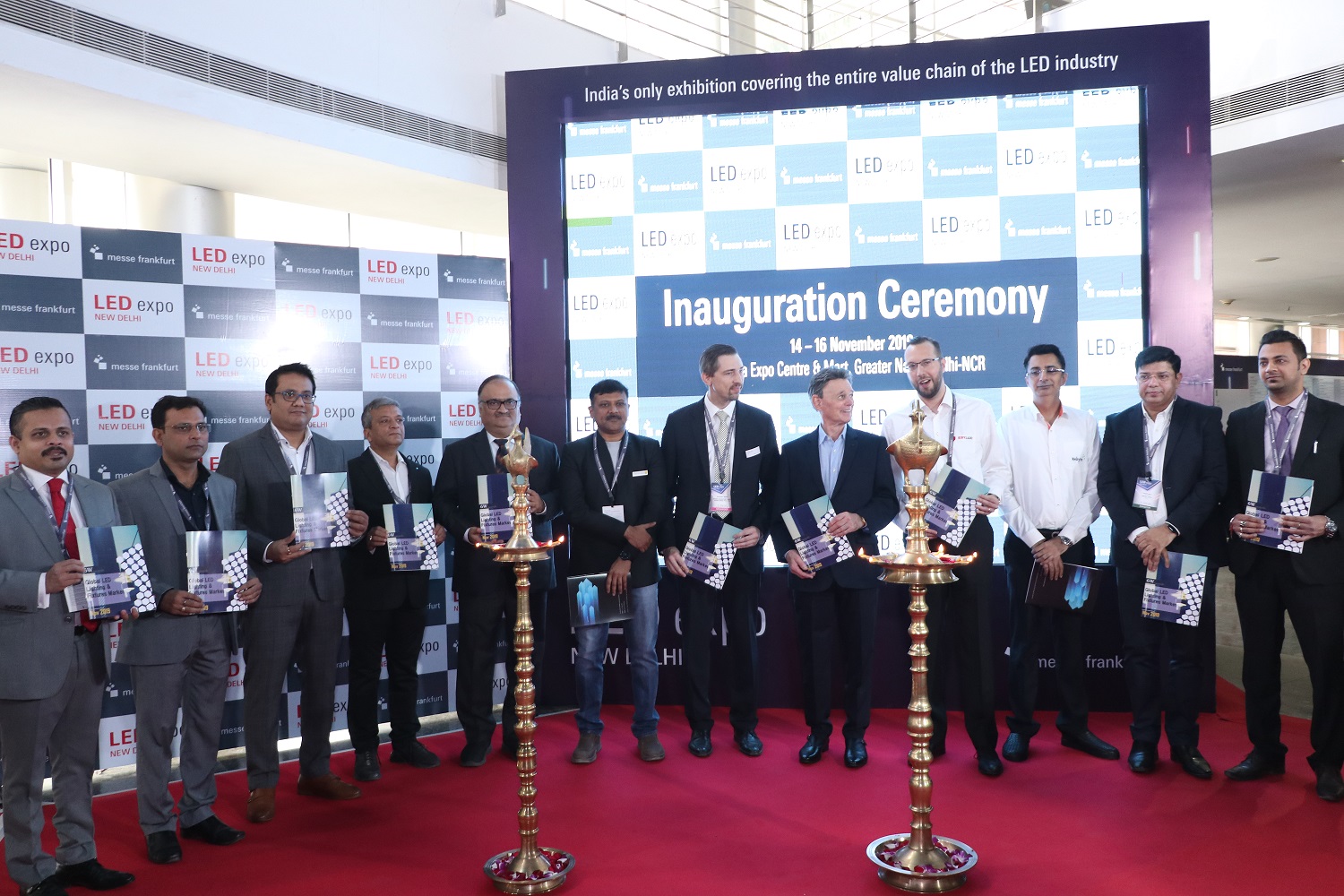 Record-breaking statistics prove that LED Expo New Delhi 2019 is the most influential platform to source and trade lighting technologies in India. The leading show focused on smart and futuristic LED technologies, is power packed with 389 exhibitors, exclusive product launches, future zone and strong support from the government and associations. The government focusses on encouraging 'Make in India' to stimulate global competency. Organisers also announced the strategic merger of Light India and LED Expo for the 2020 edition.
New Delhi is one of the prominent cities leading the LED revolution in India. With major support from the government and industry associations, LED Expo New Delhi 2019 commenced its 21st edition, inaugurated by chief guest Mr S.K Marwaha, Senior Director, Government of India, Ministry of Electronics and Information Technology (MeitY). The record-breaking dynamics of the platform highlighted 14% surge with 389 exhibitors from 9 countries including India. The show has also turned bigger in terms of the exhibition space and international participation with 18% and 25% growth respectively.
Talking about the development of LED lights in Delhi and the show, Mr S.K Marwaha, Senior Director, Government of India, Ministry of Electronics and Information Technology (MeitY) shared: "In the course of four years, LED production in India has grown from 2,100 crore to 13,000 crore in 2019. Along with the development of other technologies, manufacturing of LED lights has been the major focus for 'Make in India' initiative. Various incentive schemes in the country have given a major boost to the domestic market, making 'made-in-India' products globally competent. Today, about 35%-40% LED lights and technologies are manufactured in India."
Also sharing his views on the latest edition, Mr Raj Manek, Executive Director and Board Member, Messe Frankfurt Asia Holding Ltd, who said: "As trade fair organisers, we have diligently aimed to be in line with the government's vision on accelerating the adoption of the revolutionary technology called LED lights. Lauded to be a premium show, LED Expo has entrenched its position as a platform to source and trade top quality lighting technologies elevating the LED market in India."
Also present at the expo were distinguished members from the industry:
1. Mr Deepak Doshi, Vice President, Luminaries Accessories Components Manufacturers Association (LACMA)
2. Mr Neel Singh, AVP & Head of Strategic Alliance & Partnership, Hero Electronix
3. Mr Dharmendra Tomar, Deputy General Manager – India IoT, Tata Communications Ltd
4. Mr Brian Wald, Founder, Fulham India
5. Mr Hendrik Nedeljkovic Gregor, Managing Director-Asia, Esylux Germany
6. Mr Ankur Mehta, Director, Cresent Opto
7. Mr Raj Gaurav Batra, Director, Rabyte Electronics
8. Mr Vikas Bali, Sales Director – South Asia, Osram Opto Semiconductors
9. Mr Michael Dehn, General Manager – Sales & Marketing, Messe Frankfurt Trade Fairs India Pvt Ltd
10. Mr Winston Pereira, General Manager, Messe Frankfurt Trade Fairs India Pvt Ltd
The inauguration was then followed by the unveiling of a special report by advisory and research giants 6W Research. Present at the unveiling was Mr Rajat Kharbanda, Client Partner, 6Wresearch, who shared: "It gives me immense pleasure to unveil this report at LED Expo New Delhi 2019 – India's leading platform to source LED lighting technologies and gears. LED lighting and fixture market in India is anticipated to touch USD 7.7 billion by 2025, registering a CAGR of 23.6% during 2019-25. With growing acceptance of smart lighting and control market in India, the market would record key growth in the next six years."
Talking about the trends in the industry he further added: "The penetration of IOT in the lighting industry is benefiting the overall demand for energy efficient smart lighting in the country. Connected lights is emerging as a new trend in the Indian market, which will be prevalent more in indoor lighting."
Top choice to exhibit new lighting technologies
With an array of brands exhibiting cutting-edge technologies and product launches, focussed business visitors will witness the widest range of products covering the entire value chain of the LED industry. Companies like Tata Communications, Osram Opto Semiconductor, MLS India, Rabyte Technologies, Lumenstech, Millennium Semiconductor, Ecoearth Electric Pvt Ltd, ZI Lite Industries (Red Card), Litomatic, JAR Lights, Tuya Smart (India), Esylux Juki India, Tecktronis, S electronics, Cresent Opto Ahmedabad, Fulham India, Glow Green, Componix India, Edison Opto, S R Electro, Murli lights, amongst others will display top quality LED products with new ages technologies to help save energy and total cost of living in the country. Dedicated areas like the "Future zone" will give a sneak-peak of LED lights that will overtake the market in the coming years.
Apt platform to network with the best investors in the industry
With India being a highly lucrative market for LED lighting technologies, this edition has attracted 161 companies from international contingents like China, Finland, Hong Kong, Italy, Japan, Korea, Taiwan and the UAE. To capitalise on the opportunity and strengthen the adoption and implementation of energy efficient lights, Government of Karnataka will be promoting its policy on Cluster Development of LED lighting sector and investment prospects within the state. With the three-day show flooded with advancements, the state government will be exposed to LED technologies from international and domestic companies alike.
Merger of India's biggest lighting shows
Representing the lighting and building technology sector's growth markets worldwide through the global Light + Building brand, Messe Frankfurt stands as one of the leading exhibition organisers for sector. India's two biggest and most successful lighting shows – LED Expo and Light India (which is organised together with industry partners ELCOMA) are part of this global building technology portfolio.
India is a high-growth market and has been one of the fastest countries in the world to adopt and accept LED Lighting. There is a noticeable trend of the industry moving smart and connected lighting. While LED Expo showcases advancements in LED technology and its applications, Light India represents the future of what smart and connected lighting will look like.
The show that will be open till 16 November 2019 at India Exposition Mart Ltd. (IEML), Greater Noida, Delhi–NCR is strongly supported by apex government bodies and prominent industry associations like Ministry of Electronics and Information Technology (MeitY), Department for Promotion of Industry and Internal Trade Ministry of Commerce & Industry (DPIIT), Ministry of Power Delhi Government, Energy Efficiency Services Limited (EESL) Bureau of Energy Efficiency (BEE), Rural Electrification Corporation Limited (REC Limited), The Energy and Resources Institute (TERI), Bombay Suburban Electric Supply (BSES), Indian Building Congress (IBC), Solar Energy Society of India (SESI), Electric Lamp and Component Manufacturers (ELCOMA), Taiwan Lighting Fixture Export Association (TLFEA) and Luminaire | Accessories Components| Manufacturers Association (LACMA).
Messe Frankfurt also offers a series of other light and building technology events worldwide, including the Guangzhou International Lighting Exhibition, Thailand Lighting Fair, BIEL Light + Building in Argentina, Light Middle East in the United Arab Emirates, Interlight Russia and Intelligent Building Russia as well as Light India, the LED Expo New Delhi, and the LED Expo Mumbai in India.
For more information on Light + Building shows worldwide, please visit: www.brand.light-building.com.
8