Renovation Factory Brings in the Charm of Christmas with its Latest Gifting Range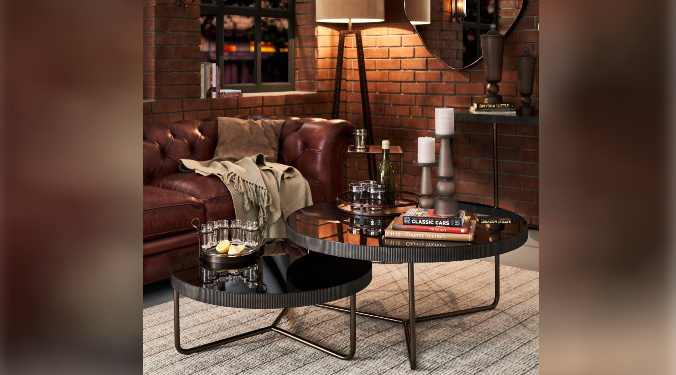 Specializing in lighting, furniture, barware and home accents, the New Delhi-based brand Renovation Factory has mastered the art of Home Décor while keeping true to its ideals of combining functionality and luxury.
The story of Renovation Factory commenced with a quest to create an assortment of bold, inspiring objects striving for a visionary reconstruction of contemporary spaces. Created with authenticity and engineered to perfection, our objects have been handcrafted through generational techniques by our master craftsmen.
With its roots established more than 50 years ago, Renovation Factory's journey started with an inspiration to give a new definition to every home. Every product possesses a classical personality that evokes nostalgia at first glance- but continues to become a familiar, treasured hallmark of voguish elegance.
In an effort to showcase the diverseness of their materials, Renovation Factory offers an array of colour coated, textured and iridescent metal and glass, which is finished with exquisite layers of coatings.
As a brand, their inspirations are sought from the elements which are excavated from the Earth's crust, which is further reinvented with classic textures and a variety of finishes. We create elements that help transform your space into something that represents you and fit perfectly into the blueprint of every corner that it is placed in.
"Objects are limitless. They define us. We do not define them. Our idea of design is getting comfortable with being uncomfortable." – Rahul Vadera – Founder, Renovation Factory
The brand has unveiled a wide collection of products that makes for a perfect Christmas present while embellishing every corner of your home.With the cold air of Christmas, the sensibilities of everyday contemporary spaces are changing. As the days are getting shorter and the homes are getting cosier, the brand has curated a timeless range of home accents and decor that will compliment every space this season.
The exquisite products add to the festive charm while depicting a chic indulgence in luxury. By styling such statement pieces, Christmas is the perfect time to channel warm and inviting vibes. The organic and refined tumblers come together in a sophisticated set designed for everyday use. This set will be the most used item from your drinkware collection with its utilitarian functions. Reminiscent of classic art forms, the round serving tray has a simple design with unique geometric detail which also serves as a stunning base for presenting your food while entertaining. Showcasing antique textures, the hurricane candle holder is encased within the silhouette of a classic gift wrap, making it ideal for festive occasions, ornamental displays, and gifting. Electric hues and matte finishes come alive in the Glass Pillar holder – portraying a modern silhouette that creates a soothing atmosphere and relaxes your mind, soul and body.
Renovation Factory's timeless objects from the serving, bar and home accent categories offer a warm and refreshing tone to your space, manifesting as exquisite pieces that reveal the joy of celebration and make the ideal present for the holiday season.
Website: www.renovationfactory.com
24