Saint-Gobain opens plasterboard facility in Guj; invests Rs 350 Cr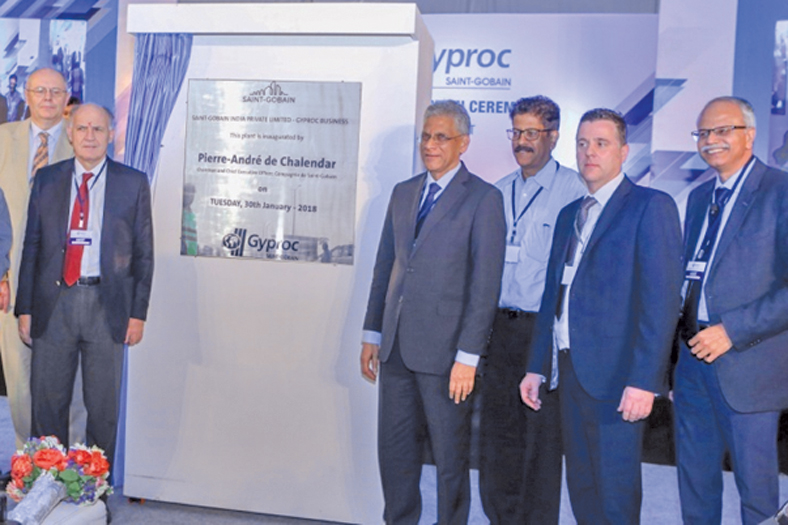 Saint-Gobain announced inauguration of its plasterboard manufacturing facility in Jhagadia, Gujarat. The 30 million sq.m. world-class facility for gypsum-based plasterboard manufacturing has been developed with an investment of Rs 350 crores.
Commenting on the inauguration, Pierre-André de Chalendar, Chairman and Chief Executive Officer – Compagnie de Saint-Gobain, said, "Over the past two decades we have consistently invested in India in developing new markets, in building new world-class manufacturing facilities, in technology and in human capital. In all our businesses we work very closely with our customers with the intent of addressing their current needs while simultaneously anticipating their future needs. We focus a lot on R&D and our Saint-Gobain Research India (SGRI) facility in Chennai is developing innovative solutions for markets such as India. The Jhagadia plant which incorporates the best technology will help us to grow and to serve the Indian market."
Gyproc India has three existing plants in India located in the states of Haryana, Maharashtra and Karnataka.
Anand Mahajan, General Delegate, Saint-Gobain Group in India, said, "Over the years, we have made significant investments across all our businesses – glass for buildings and automotive, gypsum plasterboard and plasters, abrasives, ceramic materials, performance plastics and so on. Today, more than 95 per cemt of our local sales are from products manufactured in India. We believe that our Gyproc Business has the potential to play an important role in shaping the future of the Indian construction landscape. The Jhagadia plant is our 22nd manufacturing entity in India and will help us further strengthen our leadership position in the gypsum industry."
25