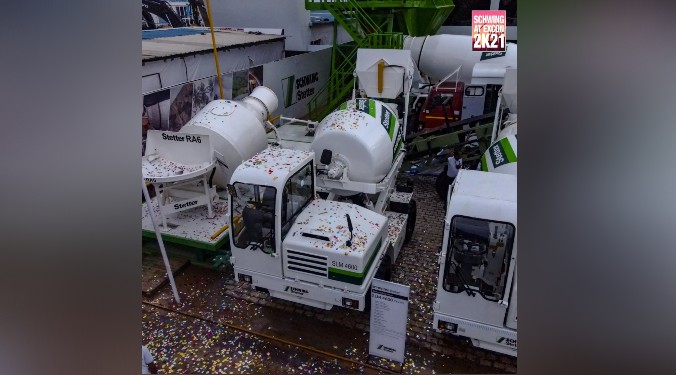 Schwing Stetter India, one of the country's leading concreting equipment manufacturer  unveiled 14 new products at the EXCON 2K21in Bengaluru. Being a pioneer in the Construction Equipment manufacturing industry, Schwing has been growing exponentially during the pandemic.
Schwing Stetter India strongly believes in being customer-first. Over the past few years, the company has observed a growing need to become increasingly cost-effective for customers. By choosing a Schwing product, customers can not only save cement but also on fuel – through the new range of hybrid/bio fuel products. Schwing Stetter has partnered with KOEL & Mahindra for using Biodiesel (B7 -7% bio diesel) for CEV-IV Engines. This will help in reducing the Total Cost of Ownership of the product to its customers. Schwing products are used across various projects like highway and road construction, bridges, dams, metro rail, ports, power plants and high-rise construction. The company's Batching Plants and Self Loading Mixers come with cement-saving features. Similarly, Boom Pumps, SLM, Motor Graders, Wheel Loaders and Piling rigs have fuel saving features.
With this new line up, Schwing will showcase 14 machines at the expo.  An impressive highlight from the stall would be one of the products, Boom Pump S47, which is the longest product on display.
In addition to this, Schwing has also displayed 4 new and improved versions of a few products — Shotcrete Pump TSR 30.14 Mark II (CEV-IV, KOEL), HDD XZ1350, Vibratory Compactor Soil and AWS XGA26.
V.G.Sakthikumar, Managing Director, Schwing Stetter India said, "After the pandemic hit, the construction industry suffered a great deal. However, at Schwing – we used this period for research and to recalibrate ourselves for the new normal. In fact, what we have displayed today at EXCON 2K21, is a true testimony of our hardwork during the pandemic. Schwing Stetter India has been growing exponentially and still focusing on quality and innovation. Our customers trust in us helps us continue to make machines that are technologically superior, efficient and cost effective."
Schwing Stetter inaugurated its Global Manufacturing Hub in Cheyyar, Tamil Nadu in 2021. The state-of-the-art integrated facility of 52 acres comprising 50,000 square metres of built-up area is the hub for Schwing's concrete boom pumps, stationary pumps, self-loading mixers, shotcrete pumps, excavators, wheel loaders and motor graders. Schwing Stetter signed an agreement with the Tamil Nadu Government through the Global Investors Meet in 2019 and has already invested more than 350 crores in this facility. The company will continue to invest in this facility in the next couple of years.
Schwing Stetter India is also working towards ensuring their presence PAN India with the localisation of their projects with dealers and vendors. The aim is to be available for their customers, irrespective of their size or where they are located.
9