Shri Nitin Gadkari inaugurates 17 km flyover in Pune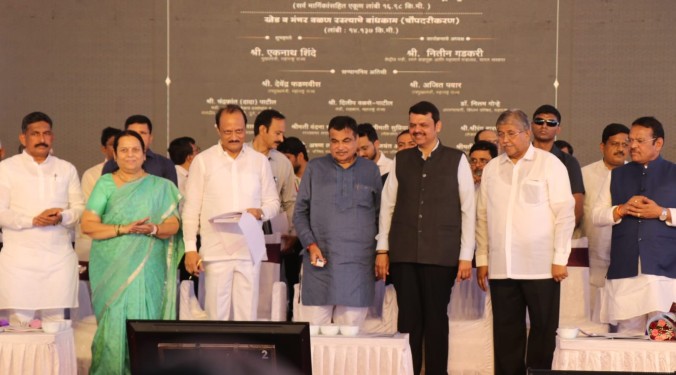 Union Minister for Road Transport and Highways, Shri Nitin Gadkari, inaugurates a comprehensive road infrastructure project at NDA Square in Pune.
The ceremony was attended by Maharashtra's Deputy Chief Ministers, Devendra Fadnavis and Ajit Pawar. As part of the event, Minister Gadkari also dedicated the Khed-Muncher bypass to the nation.
The focal point of the inauguration was the eagerly anticipated flyover and interchange project at NDA Chowk, a crucial gateway to West Pune. This development is expected to significantly alleviate traffic congestion in the city. The flyover spans 16.98 km and came at a cost of ₹865 crore. The project includes interchange work covering 2.2 km within the total stretch. The Mumbai-Bangalore highway now features dual lanes on both sides, catering to internal and external traffic. Eight ramps facilitate movement in multiple directions from the interchange, substantially enhancing local connectivity.
In his address, Shri Gadkari emphasises the government's commitment to constructing high-quality, cost-effective infrastructure using the latest technology. He stressed the need for Pune, a hub of development in the nation, to embrace eco-friendliness and minimise pollution. Shri Gadkari lauded Pune's historical significance and called for its protection from pollution. He urged the transition from conventional petrol and diesel vehicles to non-polluting alternatives like ethanol-based public transportation.
Shri Gadkari also called upon the State government to actively support these efforts. He expressed determination to elevate India's stature in the automotive industry and highlighted Pune's pivotal role in this endeavor.
Deputy Chief Minister Devendra Fadnavis highlighted how advancing Pune's infrastructure would attract investment. He endorsed strengthening public transport while revealing plans for an independent airport, with necessary approvals secured from the Central government. Land acquisition for the airport is set to commence, involving local residents in the process.
Deputy Chief Minister Ajit Pawar promised accelerated progress on the Pune-Pimpri Chinchwad metro project. He indicated that additional funds, if allocated by the Centre for a two-story flyover and more, would enhance the living conditions of Pune's residents by tackling traffic congestion on city highways.
47