SPAN FLOORS offers brass inlay borders in wood floors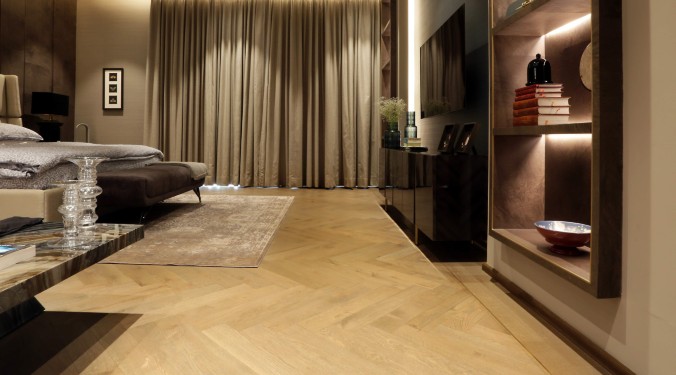 SPAN FLOORS, a leading brand of wooden floorings, decking, claddings, facades, pergolas in India, introduces a unique way to create a luxurious look in wood floors with their Brass Inlay Borders.
Wood floors are a timeless classic and a staple in many homes. But if you want to elevate your flooring game, consider adding brass inlay borders by Span Floors. These narrow strips of brass set into the wood floor can add a touch of sophistication, elegance, and luxury to any room. The brass inlay borders are easy to install and can be customised with different sizes and shapes; with the ability to customise the borders, one can create a unique look that is sure to stand out from the rest. The entire range can be seen at the SPAN FLOORS store, M-8, M-Block Market, GK-II, New Delhi and other authorised SPAN FLOORS dealers across India.
With a perfect combination of luxury and style, Span Floors' brass inlay wood floors provide a unique and elegant touch to any room, adding to the overall aesthetic of the space. With these borders, one can create a timeless look that will last for years to come. They are also incredibly durable, meaning they won't scratch or dent easily. With Span Floors' brass inlay borders, you can be sure that your wood floors will always look their best. Not only do these brass inlay borders offer a stylish alternative to traditional wood floors, but they also offer increased strength and longevity. With Span Floors, you can create a truly unique and luxurious appearance for any home or commercial space.
Brass inlay borders not only add beauty to your wood floors, but they also offer practical benefits. They can help define different areas in an open-plan space and provide a transition between different flooring materials, such as wood and tile. In addition, brass inlays can add value to your home by creating a high-end, custom look.
Satinder Chawla, Managing Director, SPAN FLOORS says, "Brass Inlay Borders are a great option for anyone looking for an elegant yet affordable way to spruce up their home or office space. Brass is a versatile metal that can complement any interior design style, from traditional to modern. Its warm golden hue can bring out the beauty of the wood grain, and its durability makes it a great choice for a high-end home".
He further adds, "Brass inlay borders can be custom-designed to fit any space, from a single room to an entire home. You can choose from widths, patterns, and shapes, including straight lines, curves, and spirals. If you're feeling creative, you can even opt for a unique design that reflects your personal style and Span Floors can customise wood floors with inlays". In conclusion, brass inlay borders are a simple and effective way to add luxury to your wood floors. Whether for a traditional or modern look, brass inlays can complement any interior design style and make your home stand out.
For more info visit : www.spanfloors.com
40