Sustainable construction in focus at World of Concrete India 2023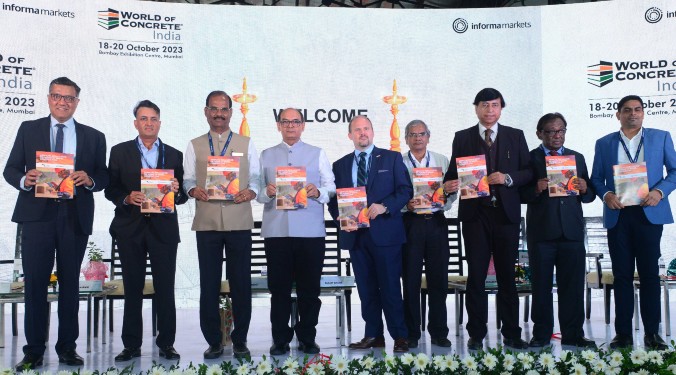 Informa Markets in India, India's leading B2B event's organiser, launched the 9th edition of World of Concrete India at the Bombay Exhibition Centre, Mumbai.
The three-day event, was a unique platform for all stakeholders in the concrete, construction, and infrastructure sectors to connect, learn, and explore the latest technologies and trends.
The grand inaugural of the show was marked by the presence of key dignitaries such as Shri Sanjay Bhatia, IAS, Upa Lokayukta, Maharashtra State & Former Chairman, Mumbai Port Trust & Former Vice Chairman & MD, CIDCO; Shri S. N. Reddy, President, Builders Association of India; John McCadams Commercial Officer, U.S. Consulate Mumbai, India; Gaurav Karnik, Real Estate National Leader and Tax Partnership, EY India; V Ramgude, Chief Engineer, PWD, Government of Maharashtra Yogesh Mudras, Managing Director, Informa Markets in India; and Rajneesh Khattar, Senior Group Director, Informa Markets India.
This year's edition of World of Concrete India is poised to be a dynamic hub, bringing together over 10,000 industry experts and more than 200 exhibitors from around the world. The event features a comprehensive showcase of the latest products, technologies, and innovations in the concrete sector, with a focus on sustainability. The event also features a roster of over 70 speakers, who will be delivering insightful sessions on a wide range of topics, including sustainable concrete construction practices, digital and automation technologies in construction, and net-zero concrete. Some of the key exhibitors participating in the event include Ambuja Cement, Amchem Products, Asian Paints, Reliance Industries, Concrete Additives & Chemicals, Sika India Pvt Ltd, Godrej Constructions and many more.
Emphasising on digital transformation and infrastructural development, Sanjay Bhatia, IAS, Upa Lokayukta, Maharashtra says, "India's remarkable progress in digital platforms, exemplified by the success of T-payments and UPI, positions our country at the forefront of the global digital landscape. Trust is the linchpin of success in business and dispute resolution. Moreover, India's commitment to massive infrastructure development is evident with plans for 600 new modern railway stations and the construction of 100 new airports, reflecting a profound dedication to modernisation and nationwide transformation. Trust in public-private partnerships and decision-making is paramount, ensuring the smooth execution of projects and fostering a win-win environment for all stakeholders. Events like the World of Concrete India, play a crucial role in bringing together industry leaders and fostering collaboration, making these ambitious endeavors even more successful."
Stressing on sustainability and lowering the carbon footprint, V Ramgude, Chief Engineer, PWD, Government of Maharashtra says, "With the construction industry's rapid expansion, life cycle cost considerations and sustainability have become paramount. Material selection must prioritise sustainability, functionality, and durability, and meeting Indian standards. Construction depletes vital resources like metals and sand, so we're exploring geosynthetics and ultra-high-performance fiber-reinforced concrete to reduce our carbon impact. Active participation and hands-on experience enhance comprehension, so events like World of Concrete India are essential for fostering training and awareness. Our goal is to build architectural wonders, but the shortage of skilled engineers and labor poses safety risks. Through education and awareness, we can reduce errors and encourage the development of a talented workforce to achieve our goals."
Sharing his insights, Gaurav Karnik, Real Estate National Leader and Tax Partnership at EY India, highlighted "India's position as the fifth-largest global economy, poised to reach $26 trillion by 2047 with a per capita income of $15,000. The construction sector, contributing 9 percent to GDP and employing almost 50 million, is instrumental in India's remarkable growth. Government support for capital projects has fuelled this growth over the last five years. Key initiatives include smart cities, data centres, and reducing logistics costs to 8 percent of GDP by 2030. Challenges like low productivity and safety persist, but digital innovations like modular manufacturing and drones offer solutions. The concrete industry can surmount these challenges and achieve its ambitious growth goals by leveraging platforms such as the World of Concrete India Expo. This event showcases state-of-the-art concepts and technology within the concrete sector."
Highlighting the shortage of experienced and unskilled construction workers, S. N. Reddy, President, Builders Association of India says, "Mechanised-friendly building designs are significant over labor incentives, particularly in places with labor-related issues. There is a need for creative ideas, and working together with key exhibitors at construction-related conferences like World of Concrete India is essential to the growth of this sector."
Emphasising on the significance of the event, Yogesh Mudras, Managing Director, Informa Markets says"World of Concrete India 2023, a prominent event in the construction industry, takes centre stage amidst significant developments in India's construction sector. The sector employs an estimated 71 million workers as of 2023 and aims to reach 100 million by 2030 to support the national economic growth. Government initiatives like Housing for All and Smart City Projects are propelling urban infrastructure and construction development. The surge in demand for residential housing, driven by increased urbanisation and rising household incomes, further underscores the industry's potential."
World of Concrete India 2023 is our commitment to this landscape and aligns perfectly with India's mission to enhance urban infrastructure. Simultaneously with the business, our show floor will be abuzz with an exciting lineup that includes the unveiling of a white paper on 'AI in Construction' CEO and CTO discussions on industry challenges, and milestone achievements. Additionally, there are numerous components like product launches, showcases, masterclasses, B2B meetings, and specialised pavilions for waterproofing and dry mortar. Together, these create a comprehensive and enlightening event to learn about the latest trends and technologies, and explore sustainable solutions in the concrete, construction, and infrastructure sector," he further adds.
Underscoring the significance of the U.S.-India commercial connection, John McCadams Commercial Officer, U.S. Consulate Mumbai says, "The U.S.-India commercial relationship is critically important to both of our economies and to the future of global trade. The World of Concrete India event is an excellent illustration of how the United States and India are working together to expand infrastructure globally while also creating jobs in both nations. Local economic opportunity is where it all begins and expands. With 3.3 percent of GDP allocated to infrastructure in India's budget for 2023–2024, there are many prospects for creative solutions. The U.S. Mission in India is dedicated to encouraging sustainable and economical practices and supporting this progress."
The expo received substantial support from esteemed associations like Builders Association of India (BAI), National Highways Builders Federation (NHBF), Construction Equipment Rental Association (CERA), Waterproofers Association of India (WAI), National Small Industries Corporation (NSIC), Indian Concrete Institute among others.
Alongside the display of the latest technologies, of the World of Concrete India, the expertly curated conference has been envisaged to bring forth innovations in the construction sector. The event's high-powered panel brought together prominent figures, each a stalwart in their respective fields. They included Sudhir Hoshing, CEO, IRB Infrastructure Developers Ltd; S N Srinivasa Sarma, Senior DGM, QA QC for L&T Construction-Transportation Infrastructure Independent Company, Anshumali Srivastava, Regional Officer, National Highways Authority of India; V Ramgude, Chief Engineer, PWD, Government of Maharashtra for valuable insights on 'Game Changing Trends in Roads, Bridges and Metro Construction'. Mr Dinabandhu Patra, Dinabandhu Patra, Head of Asset Management, Indiabulls AIF , Amrita Chowdhury, Co-Founder & CEO, Gaia Smart Cities; Dr Satish Jain, Managing Director, UHPC India Pvt Ltd shed light on 'Digital and Automation Technologies in Construction projects'. Florian Klouda, Director – International Business- Penetron and Vivek Naik, Former President Indian Concrete Institute and Executive VP Industry 4.0 Asian Concrete Federation along with Abhishek Bhattacharya, MD, Betolar India; Dr Ing Mohit Raina, MD, Raina Industries Pvt Ltd; and Manoj Rustagi, Chief Sustainability and Innovation Officer, JSW Cement Limited, Nilesh Gandhi, Principal Architect Metadesign placed focus on 'Getting closer to Net Zero using Concrete'. Collectively, these industry leaders engaged in insightful discussions, enriching the dialogue with their invaluable expertise.
The show also features alluring events such as the unveiling of a white paper on 'AI in Construction Projects', the much-coveted CEO and CTO forums and the recognition of significant achievements and excellence in real estate and infrastructure through awards.
World of Concrete India 2023 is an integral part of the 4th edition of the Festivity of Business campaign organised by Informa Markets in India for this year's high season. As the autumn season blankets India with its diverse array of festivals, the initiative is a vibrant tribute to India's economic triumphs and its burgeoning global influence. This year, Informa Markets in India's initiative encompasses a rich tapestry of over 40 events till year-end, including ten signature Expos, along with distinctive Conferences, Industry Awards, Buyer-Seller Meets, and Training programmes in influential sectors. All these are poised to elevate the nation to new heights.
47