Trimble collabs with Tekla for advance construction applications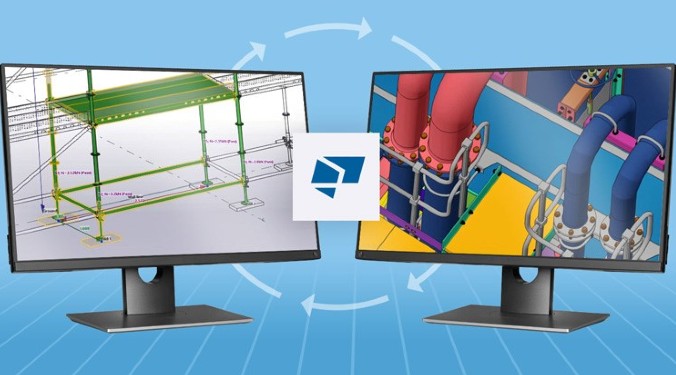 Trimble Solutions has signed cooperation agreements with specialised building and construction companies to benefit the digitalisation of their specific businesses as well as the construction industry at large. 
Construction companies engaged in software development have discovered Tekla Structures Open API's potential and use the platform as partners to build their own commercial products. ScaffPlan Pty Ltd and ParaMatic Developments Pty Ltd use Tekla Structures software as a platform to develop building information modeling solutions for scaffolding, industrial piping and cabling, respectively. Their representatives visited Trimble's offices in Espoo, Finland, to sign cooperation agreements with Trimble Solutions.
"In addition to traditional construction industries, Tekla Structures is of use to new specialised industries with the help of software development partners," says Jari Heino, Vice President and General Manager of Trimble Solutions. "A large number of companies use the Tekla Structures Open API in a wide and diverse ecosystem of specialised solutions, proving that Tekla Structures is a product platform for commercially significant applications. Cooperation agreements with our partners help leverage the software's powerful features to specialised construction industries, such as scaffolding and industrial design."
"A powerful and extensive software platform is a competitive advantage to our partners, and adding Trimble's years of expertise in software development and business to the equation in the form of a mentoring program and other activities, these agreements are bound to reward all signees. Innovative, commercialisable software products built on top of the Tekla Structures product platform help digitalise the specialised industries of construction," says Heino.
"As a part of Trimble's Partner Program, we have the opportunity to learn and be mentored by the best in the business," says Simon Boyes, Founder and Managing Director of ScaffPlan. "Building design and analysis tools for the temporary works industry on top of Tekla Structures and linking with a range of other Trimble solutions has provided us with an industry solution rather than just a design platform and fast-tracked our growth. The solution not only assists in the design and engineering of temporary works but has revolutionised the way the industry works."
"By utilising the potential of Tekla Structures, we are able to develop various add-ons which will revolutionise the engineering of large industrial plants globally," says Marhinus du Plessis, Managing Director of ParaMatic Developments.
"Large EPC and EPCM firms will not require multiple engineering platforms to execute the design of their industrial projects. Connect the model with the detailers using Tekla Model Sharing, and they can commence with the detailing of multiple disciplines without ever having to exchange 3D models by way of exporting from various platforms. Providing a true constructible building information model available to the entire project team streamlines the construction management, and connecting with Tekla Powerfab ensures that fabrication works are done seamlessly. Developing this partnership is a key part of the success of our products and services and gives software vendors like ourselves the opportunity to fast-track the deployment of our products."
for more info visit : https://www.trimble.com/en
51