Trimble recognises Sanria Engineering as the "Feature Company of the Month"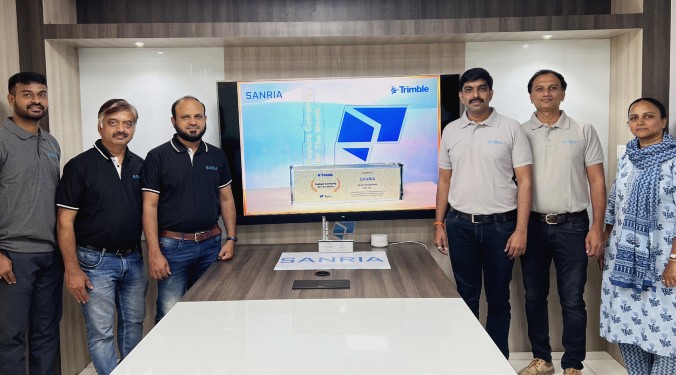 Global construction technology leader Trimble announces that SANRIA Engineering, a technology-driven BIM and engineering services company as the 'Feature Company of the Month'.
For over 2 decades, SANRIA Engineering with its 300 employees and 500+ projects executed worldwide, has chosen Trimble Tekla software to transform structural steel detailing around the world. Feature Company of the Month is a brand new Trimble initiative, which acknowledges sterling Indian companies that have contributed significantly to the growth of the structural engineering industry.
Trimble Tekla and SANRIA Engineering's association goes back a long way, and both brands recently celebrated 20 years of a mutually enriching relationship. SANRIA has been an early adopter of Tekla Structures, the most sought-after solution worldwide for structural detailing, analysis, design and fabrication. Having initially used Tekla Structures to move their entire steel detailing from 2D to 3D, they are now also able to undertake smooth and seamless fabrication with minimal errors while working with real-time visibility. SANRIA Engineering has mitigated structural engineering complexities such as truss connections and hang points with ease, while also reducing the error percentage and enhancing project efficiency to a completely new level.
Mahesh Nagarajaiah, President and CEO, SANRIA Engineering says, "We chose Trimble's flagship structural engineering solution, Tekla Structures for its industry-leading capabilities and comprehensive applications, which match perfectly with our requirements in the construction and management of big-ticket projects".
Being one of the largest customers of Trimble Tekla in India, SANRIA has used Trimble's technology in various marquee steel projects, ranging from 500 tons to over 40,000 tons. J P Shivakumaraswamy, COO, SANRIA Engineering adds, "Tekla's plug-ins also support Sanria in visualising and understanding the intricacies of Steel Structures, which otherwise would have turned out to be exceedingly strenuous and time-consuming."
Speaking on this occasion, Harsh Pareek, Regional Sales Director, Trimble Solutions, India and Saarc says "It is our immense pleasure to be associated with SANRIA Engineering as their technology partner and a privilege to be a part of their journey in steel detailing and fabrication.  We are thrilled that Tekla has been instrumental in driving their projects across the detail, analysis, design and fabricate process and has been instrumental in their success worldwide. Together, we will continue to innovate and evolve and drive growth in the digitalisation era and help create marquee projects."
Through this long-standing partnership with Trimble Tekla, SANRIA has developed several automation tools using Tekla APIs that helped solve many problems they faced in their projects. The automated tools also helped SANRIA in improving their employee efficiency, quality, and faster delivery of projects. Using Tekla and its internal automation tools, SANRIA has been able to deliver large projects, up to 44,000 tons, in a record time with no downtime for its customers.
For more info visit : www.trimble.com.
57