Volvo Trucks sets new standard in construction via new launches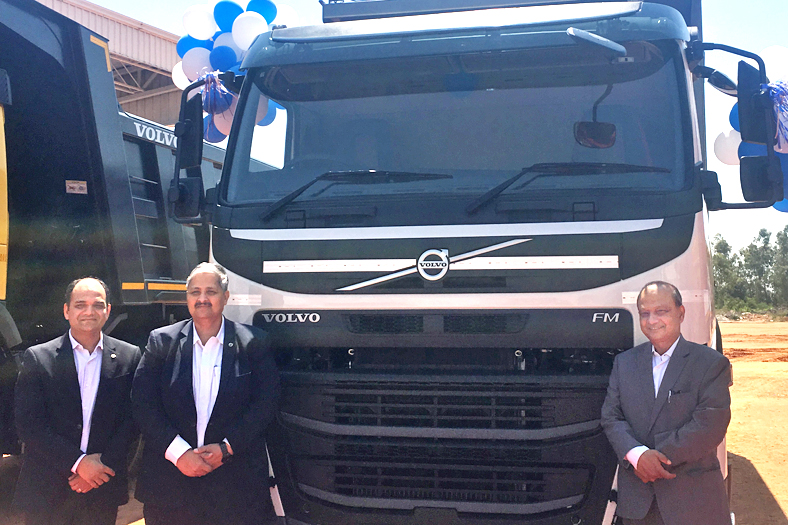 Volvo Trucks has launched Volvo FM 380 8X4, Volvo FMX 460 8X4 and Volvo FM 420 6X4 Tractor. The new products with infrastructure boom, the construction industry has seen rapid growth in verticals like road construction, irrigation projects, hydel projects, stone quarries, marble quarries, granite quarries, etc. Customers need trucks that can deliver the lowest cost per ton, carry more load per trip and offer maximum productivity and uptime.
The company increases the productivity and profitability by making assignments faster and easier for drivers. In short, the solutions are designed for the driver and optimised for the customer.
The construction solutions offered by the company are available in Volvo FM and Volvo FMX allowing customers to specify high-performing, fuel-efficient truck with capability. The solutions are tailored to make the operation more productive, profitable and cost efficient.
Vinod Aggarwal, Managing Director and CEO, VE Commercial Vehicles Ltd said, "Customers now are more conscious about the cost per ton, and care more about total cost of ownership over its life cycle. With increased investments in infrastructure projects, there are more opportunities for Volvo Trucks in India as customers are willing to opt for highly productive and efficient transport solutions. All our offerings emerge from the customers' needs and end with their satisfaction with a focus on customers' success."
He also added, "The world is changing at an even faster pace. But, the need for safety and efficiency will never change. The demand for transport will grow, however, in new forms and under different conditions. We will have to take our innovative powers and safety philosophy to new levels."
Volvo FM 380 8X4
The robustness of its design helps in getting work done with less delay. The Volvo FM380 is an exceedingly flexible truck which is safe too. It has economical operation with fuel­ efficiency, shift gearbox, the extended service lives of many components, low repair and maintenance costs and high body-mounting ability. It offers largest capacity body in the segment delivering highest productivity, most powerful and technologically-advanced engine and is the only model in its segment to have an automated manual transmission.
Volvo FMX 460 8X4
The mining and construction truck is robust, dependable and high capacity. The engine technology and 1-Shift transmission ensures high fuel efficiency and lowest cost per ton. Swift, efficient transportation of large loads, without getting bogged down. And, while truck is robust, it's also been developed to make driving construction applications easier and safer.
Volvo FM 420 6X4 Tractor
The big road and infrastructure projects require handling of large quantities of material over long distances in efficient manner. Each tractor is built with enhanced features, strengthened chassis and a more powerful driveline configuration, to get the difficult job done quicker and easier. The large payload capacity can be attributed to the powerful engine, superior transmission and weight-optimised design.
Dinakar B, Senior Vice President – Sales, Marketing & Aftermarket, Volvo Trucks India, VE Commercial Vehicles Ltd said, "What is most striking is the flow of innovations and the constant urge to go further and deliver 'customer success', push limits and break new ground."
7