WOC India 2023: Pioneering innovation and sustainability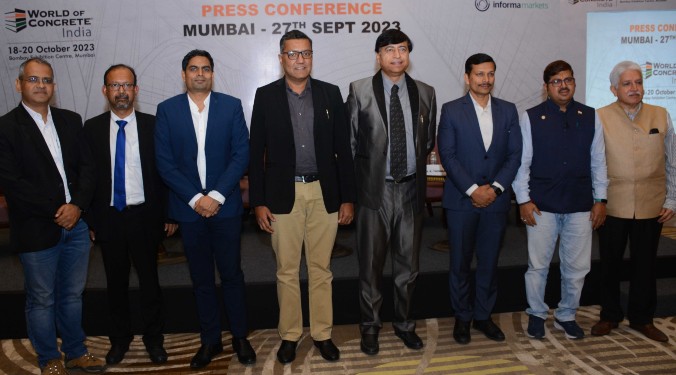 "Innovation, sustainability, and technology are the building blocks of progress in India's thriving construction landscape. World of Concrete India 2023 is a testament to our industry's dedication to excellence and a vision for a brighter, more sustainable future." Rajneesh Khattar, Senior Group Director, Informa Markets India
In the ever-evolving landscape of the Indian construction industry, innovation and sustainability have emerged as paramount drivers of progress. This is aptly exemplified by World of Concrete India 2023, a groundbreaking event that spans three business days and offers a vital platform for showcasing cutting-edge concrete technologies, equipment, and industry-shaping innovations. With a central theme focused on innovation and sustainability, the event is set to leave a lasting mark on the industry. To gain insights into this grand showcase, we spoke with Rajneesh Khattar, the mastermind behind this event.
A Glimpse into World of Concrete India 2023
The 2023 edition of World of Concrete India promises to be a beacon for the construction sector, with a wealth of offerings that promise to enrich and enlighten attendees. Rajneesh Khattar affirms that this event isn't just about bricks and mortar but about the technology that is radically reshaping the industry. "We are talking about 3D printing, educational workshops, Internet of Things (IoT) showcases, robotics, mechanisation, drone technology, machine learning, artificial intelligence, and much more. All of this technology has seamlessly integrated into every facet of the sector, marking a paradigm shift in our event," says Rajneesh Khattar.
What Sets 2023 Apart?
One might wonder how the 2023 edition of World of Concrete India differs from previous exhibitions. Rajneesh Khattar unequivocally points to the pivotal role of technology in this transition. "Technology's role is to simplify our processes and make them cost-effective. If you can automate production, imagine the savings. Moreover, the event has grown in scale and size, thanks to new players and segments joining in. Precast construction is one such addition, a game-changer that brings consistency and speed to the industry," Rajneesh Khattar explains.
Precast construction is rapidly gaining prominence, with the technology making inroads into metro projects, offering consistency and quicker construction without the need for on-site concrete mixing. These technological advancements are set to be showcased at the event, making it a hub for the latest innovations in the industry.
Investments and Innovations on Display
In the ever-evolving world of construction, adopting technology is just the beginning. The deployment of technology, with a focus on sustainability and efficiency, is the real game-changer. "We have heard about the use of waste materials in construction and how it serves a dual purpose – reducing landfill waste and the cost of cement. This demonstrates how technology benefits both humanity and the environment," says Rajneesh Khattar.
World of Concrete India 2023 promises to be a living example of these innovations, with various technologies and practices displayed on the exhibition floor.
For an event of this magnitude, the anticipation of attendees is significant. Rajneesh Khattar believes this year's footfall will break records. "We are expecting to cross the 5-digit mark, possibly 10,000 or more. The numbers and registrations indicate a 33 percent increase compared to the previous year," he says. However, the focus is not just on quantity but on the quality of attendees. "Bringing in 9,000 high-quality industry stakeholders is more valuable than having 10,000 if the quality is compromised," Rajneesh Khattar emphasises.
A Message to the Industry
Khattar has a compelling message for the industry. "I invite everyone to join this knowledge festival. The more quality stakeholders we have, the better the opportunities for exchange of ideas, knowledge, and networking. We aim to facilitate cross-border business and technology exchange, creating a win-win situation for everyone involved," he says.
World of Concrete India 2023 is more than just an exhibition; it is a reflection of the dynamism and transformation sweeping through India's construction industry. With a focus on innovation, sustainability, and cutting-edge technology, it's poised to redefine the industry's future, setting a benchmark for excellence and progress.
67