ACC, ALCON partner to launch Green Building Centre in Goa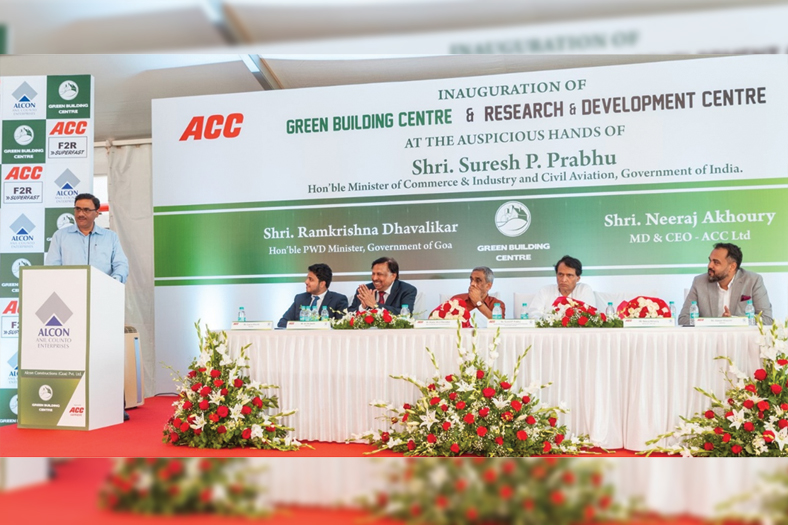 ACC Ltd and Alcon – Anil Counto Enterprises inaugurated its newest state-of-the-art Green Building Centre (GBC) and Research & Development Centre (R&D), in Kundaim, Goa. The purpose of a Green Building Centre is to create social, environmental and financial impact in developing cities in India.
Situated at Kundaim Industrial Estate, the unit is built across four acres of land area with the most advanced process and technology equipped to produce 5,000 blocks and 6,000 other concrete products per day and will support Goa and its neighbouring rural and semi-urban areas. Local manpower has been trained to produce various types of blocks and concrete products to be used in walling, paving and other solutions. These will be prepared under strict quality control using locally-sourced building materials and some part of waste materials under sustainable construction practices. A fully equipped in-house R&D centre and a quality control laboratory will ensure that high quality standards are maintained. The R&D facility will ensure that various by-products and industrial wastes are put to use.
Neeraj Akhoury, Managing Director and CEO, ACC Ltd said, "ACC's Green Building Centres promote sustainable construction, low-cost housing development and utilisation of resources while conserving the ecosystem. The communities benefit from our unique business model and the training and employment of thousands of small scale construction workers."
Anil Counto, Chairman of ALCON said, "We are working on the properties of different industrial wastes and industrial by-products and different minerals at micro and nano level and exploring their application for different products, perhaps as a filler material or to increase the strength as well as the performance parameters of those products."
24