App-controlled smart doors and windows will be the new norm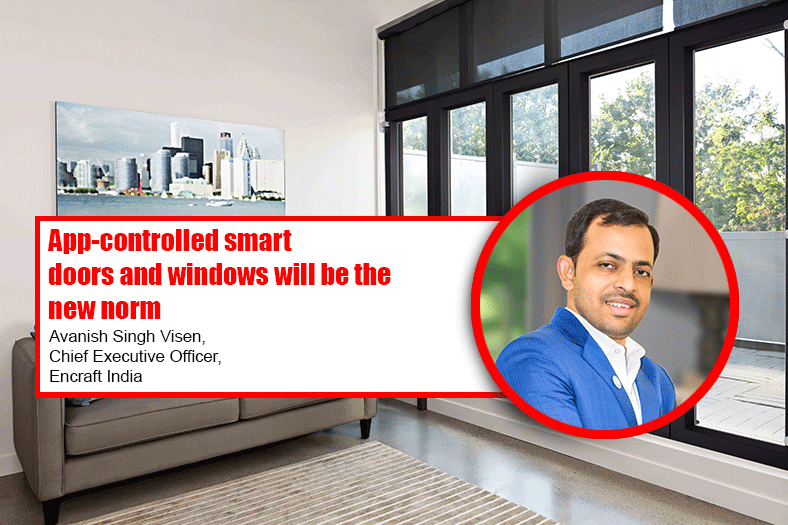 Since social distancing may remain normal going forward apps with a clean, simple, and intuitive user interface for controlling doors and windows will come into play says Avanish Singh Visen, Chief Executive Officer, Encraft India.
How do you see Atmanirbhar Bharat to impact your sector?
Indian Prime Minister Narendra Modi's Atmanirbhar Bharat ('Made in India, made for the world), is the perfect thing for India to identify its manufacturing capabilities and use this crisis as an opportunity to scale up and become a manufacturing hub.
It is a great mission to make use of our resources, potential, and capabilities across the country in various sectors fostering entrepreneurship, nurturing innovation, and creating an eco-system with a robust supply chain. In this wake, India's industry leaders need to invest in building robust local supply chains that will strengthen India's position in the global chain.
Further, PM Modi envisioned a bold list of five 'I's – Intent, Inclusion, Investment, Infrastructure, Innovation as key pillars for the revival of economic growth and we have already incorporated these five I's in our corporate strategy.
The foremost challenge is making use of our resources wisely and strategically. We can make it happen by unleashing the elements of growth and giving more space for creative experimentation, intense innovation and R&D should be part of our manufacturing process. There is also a need to strengthen infrastructure, using modern technologies, enriching human resources, to create robust supply chain. Our country has got all the ingredients for success. We just need to put in the right direction and create the right mix.
In the wake of the pandemic, what kind of additional features (safety or otherwise) will be desired in the end product?
We constantly strive to offer more features and customization options to our customers. Innovation has been part of our culture and our R&D team is always keen to devise products which offer more value and utility for our customers.
The windows and door profiles manufactured by Encraft ensures increased safety. Our high-quality product, special fittings, glazing, and expert installation always ensure enhanced security. The high quality uPVC profiles ensure durability and remain impervious to rotting, rusting and are fire-retardant, UV stability, energy efficient and 100 per cent lead-free (ecofriendly) and all these features are very quintessential.
What kind of solutions are you incorporating in your products, so that they remain germfree?
The safety and wellbeing of our customers, employees, and our partners are our greatest concern. As mentioned earlier, its lead-free product and we are using Calcium Zinc stabilizer as well PVC is the main polymer which contains Chlorine, all these products make our product anti-bacterial.
We have adopted very stringent safety measures in conducting our operations post Covid-19. Timely STEAM Sanitization of our surroundings, installing hand sanitization machines and practising good hygiene throughout the organization and beyond has been adopted.
We are sanitizing our infrastructure timely as also our end products before delivering it to the customer. Our installation personnel follow comprehensive and rigid safety and hygiene protocol to ensure safe installations. Our team has been instructed to keep a proper distance from all individuals in the home while doing installations or design consultation. All our team members have been instructed to stay home if they are not feeling well. To ensure minimal physical meetings, we are also coming up with fantastic virtual tools which will change the consumer experience and it will be a revolution in the industry.
Will app-controlled smart doors and windows become the new norm to reduce physical contact? App-controlled smart doors and windows will be the new norm to reduce physical contact. By using this, we can select the doors and windows which we want to control by using the app. The app needs to have a clean, simple and intuitive UI so people enjoy using it. Since social distancing may remain normal going forward, this will be a fantastic idea to reduce physical contact.
Going forward, what will be the emerging trend in the manufacturing of doors and windows?
The constant evolution of designs and trends has opened up many attractive, affordable, and energy-efficient solutions for doors and windows. The past few years have already witnessed the usage of several alternate materials other than wood. uPVC has been one of the prominent materials used widely, however, the industry is expected to witness the next level shift with innovation in design, functionality, and the introduction of new trends and colours. 2020-2021 will bring the trends that will not only enhance the look of the house but will also make the interiors more spacious, ventilated, and functionally unique.
Due to the global emphasis on green building standards and sustainable construction methods the trend of energy-efficient windows is also steadily increasing. Other benefits such as reduced dust, noise, and improved thermal insulation are also propelling the growth of well-insulated windows in both residential as well as commercial sectors. Recyclable material like uPVC is, therefore, a very good fit in the windows and doors segment compared to other more popular traditional material.
Innovation will always be the key as people are looking for more customized doors and windows solutions and manufacturers are therefore challenged to manage more designs, constantly upgrade their profiles with the latest trends, and support a robust supply chain. The residential market is expected to offer the best growth opportunities for the country's window and door producers, due to a combination of favourable housing trends and consumer preferences for customization, efficiency and high quality.
8