Automation and AI are opportunities to advance sustainability goals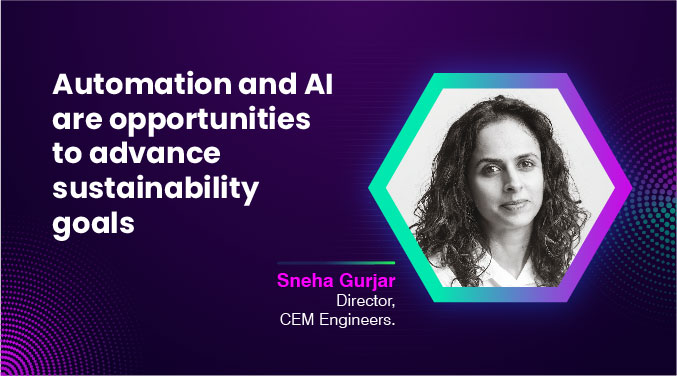 Sneha Gurjar, Director of CEM Engineers, highlights the demand for automation, AI, and other technological advancements while prioritising sustainability goals.
Sustainability is much more than jargon for our country today. What practices can ensure demanding designs adhere to sustainability? 
As building projects grow in scale, the technicalities associated with sustainability and green design assume multiple layers. Building construction and operations can have extensive direct and indirect impacts on the environment, society, and economy. Buildings use resources, generate waste, emit potentially harmful atmospheric emissions, and fundamentally change the function of land and its ability to absorb and capture water into the ground. In addition to including sustainable design concepts in new construction, retrofitting existing buildings or parts can be more effective than building from scratch.
The six fundamental principles of sustainable design are:
Optimise Site Potential

Optimise Energy Use

Protect and conserve water.

Optimise Building Space and Material Use

Enhance Indoor Environmental Quality (IEQ)

Optimise Operational and Maintenance Practices
How can modern materials and technologies be used to supplement the sustainability priority?
The engineering and construction industry strongly affects the economy, the environment, and society. Nearly 39 percent of worldwide greenhouse gases come from buildings. About 28 percent of pollution results from heating, cooling, and lighting structures, and 11 percent from construction. Nearly 98 percent of construction materials end up in low-value end-of-life applications.
Compared to many other industries, the construction industry has undergone no major disruptive changes and has traditionally been slow in technological development. Given the industry's sheer size, even a small improvement would provide substantial benefits. 
Opportunities to advance sustainability goals across the industry include:
 Automation to reduce resource-intensive activities

 Artificial intelligence (AI)

Advanced building/facility monitoring to capture real-time performance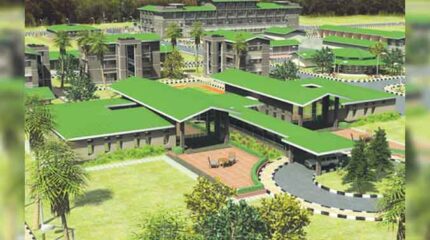 How far are technological advancements assisting you in meeting project deadlines?
The technology and tools available today aid in deliberate decision-making through an understanding of long-term behaviour and impact at all levels of the project, from design analysis to project execution. Tools and technology have enabled us to progress through all stages of a project, from collecting data and setting baselines during the pre-design stage to adaptation and resilience planning for the intended design life, design benchmarks, reviewing, project management, budget management, quality management, and timely delivery of projects. Today's dataset available for design is far greater than at any time in history. This has offered unique possibilities and advantages as projects become increasingly complex and challenging.
How do facades contribute to buildings' aesthetics and energy efficiency?
Facade systems comprise structural elements that provide lateral and vertical resistance to wind and other actions and the building envelope elements that offer weather resistance and thermal, acoustic, and fire-resisting properties. It also dramatically impacts the occupant's interface with the surrounding environment. In addition, building facades affect indoor thermal comfort. The dual effects of reducing building energy consumption and improving indoor thermal comfort can be achieved by reasonably adopting a passive design.
Various energy modelling and simulation software has been developed to analyse building energy performances, particularly the effects of building facades. Two such fundamental types of software are "design tools" and "simulation tools." Design tools are predominantly used with a focus on HVAC systems, while simulation tools are used for predicting energy performances.
for more info visit : https://cemengineers.com/
53