Impressive façade designs for distinctive and dynamic aesthetics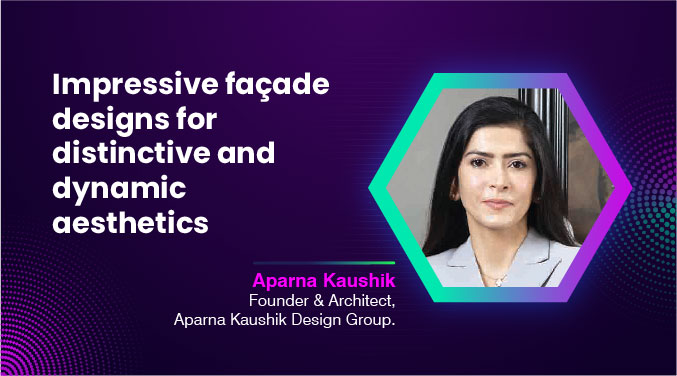 In an exclusive interaction Aparna Kaushik, Founder and Architect of Aparna Kaushik Design Group, discusses building design strategies.
Sustainable and smart building designs
The demand for smart buildings is rising, which involves using advanced technology to optimise the building's performance and efficiency. This can include automated lighting and HVAC systems, real-time energy monitoring, advanced security, and access control systems. Building materials such as fly ash blocks, C&D waste, bamboo, and other sustainable materials are also being chosen for their low carbon footprint and recyclability.
 One of the most significant innovations in facade design is using sustainable and energy-efficient materials. High-performance glass or insulated metal panels can improve the building's thermal performance and reduce heating and cooling costs. Innovations in facade design can also be used to create a unique and dynamic aesthetic.
Energy-efficient and cost-effective building designs
An architect can execute several practices to maintain energy-efficient and cost-effective building designs. Incorporating Passive design strategies in the building design by using natural light, ventilation, and minimising heat gain/loss. Another one is high-performance mechanical systems. It is essential to select high-performance systems that are energy-efficient and easy to maintain.
 Integrating green designs into mainstream architecture holds numerous benefits besides aesthetically pleasing design. Firstly, green buildings are more energy-efficient, which, as a result, favours the building owners. Furthermore, these buildings help reduce greenhouse gas emissions, improving indoor air quality. In a nutshell, as an architect, you must consider the environmental impact of your work.
Challenges durable aesthetics in the client's budget
One of the many factors to consider when it comes to sustainable and long-lasting aesthetics is the cost of materials and construction techniques. Sustainable materials and methods often come at a higher cost than conventional ones. Even installing energy-efficient systems or technologies like solar panels increases construction costs.
Advanced technologies for sustainable buildings
 Advanced technologies such as 3D modelling, Building Information Modeling (BIM), and Virtual Reality (VR) are revolutionising how architects and builders approach sustainable building design. Architects and builders can better analyse, plan, and execute ecologically sustainable buildings using these technologies. Looking at BIM has allowed architects to create digital models of a building's design, enabling them to analyse the design's environmental impact, energy efficiency, and construction costs. Architects can use 3D modelling software to create virtual models of a building that allow them to simulate its performance under different conditions, such as sun exposure, wind patterns, and precipitation. Moreover, integrating smart home technologies such as intelligent thermostats, occupancy sensors, and smart lighting systems can help building owners and tenants reduce their energy consumption and carbon footprint.
for more info visit : https://www.aparnakaushik.com/
35