Azure interiors unveils a luxurious greyish tone home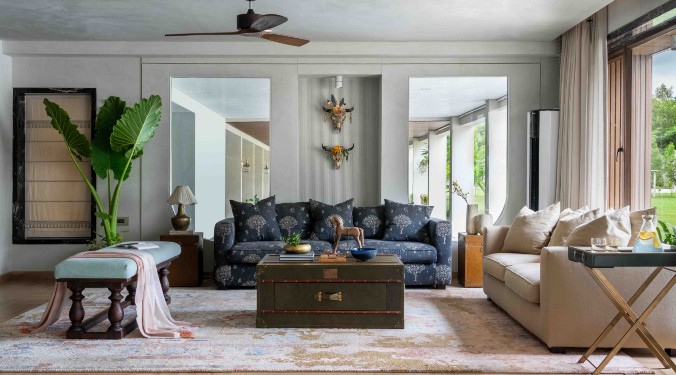 Azure Interiors' weave an opulent visual tapestry and add a touch of luxurious charm to any space.
Spaces crafted by them are an amalgam of impeccable artistry and exquisite design to evoke timelessness. Azure Interiors strives to craft spaces that are aesthetically pleasing yet practical. The company works to make its clients' dreams a reality. They aim to craft warm and welcoming spaces that reflect their clients' personalities. Their work showcases the brand's path-breaking and timeless designs and impeccable finishing. The design studio has unveiled an awe-inspiring villa featuring elegant greyish tone interiors.
These chic rooms are ideal spaces for the modern home, impeccably dressed and inviting. Every piece is meticulously curated. The elegant range of furniture and home décor accessories combines the highest attention to detail with the finest aesthetic sensibility. The combination of traditional and modern reaches a new dimension with the interesting interplay of rich materials. The exquisite setups are an expression of striking beauty where originality meets iconic design, enhanced by sculptural silhouettes, richly composed furnishings and fine details.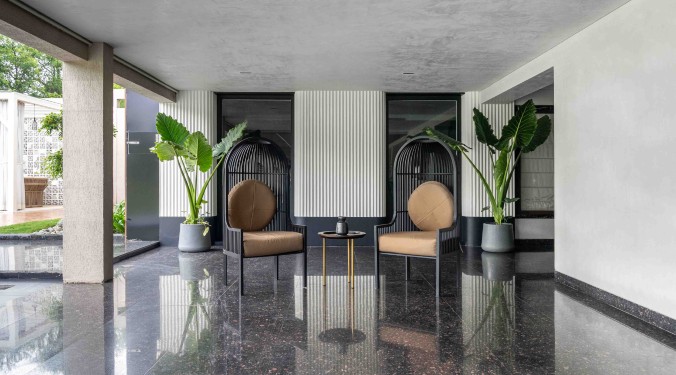 Featuring stylish comforts of the 21st century, the modern farmhouse aesthetic of the home enhances its inviting atmosphere. A long-elongated passage with chevron black and white flooring and a wooden ceiling makes a dramatic statement. The softness of the arch doors and windows, which welcome guests into the living room, become a defining feature against the wooden flooring. The home features unique furniture with colourful floral upholstery and walls and ceilings that are simple yet elegant.
The living area houses a cluster of seating areas, one of which is occupied with two three-seater sofas, two wing chairs, a bench and a centre table that is reminiscent of a an age-old trunk. Two brown side tables flank the central blue sofa. The other seating area comprises a card table and a visually arresting printed rug. The arched shelves in the corner of the space know how to grab one's attention.
Along with distinctive furnishings, the spaces also comprise opulent décor pieces such as vibrant carpets, rugs and throws. Additionally, the lighting in the rooms has been carefully selected. The spaces feature diffused, direct and accent lighting, along with ample of natural sunlight. Finally, the home showcase a stylish greyish tone colour palette and tailored details, which exhibit understated luxury.
For more info visit : http://azureinteriors.in/
31