PM Modi inaugurates India's new parliament, signaling national awakening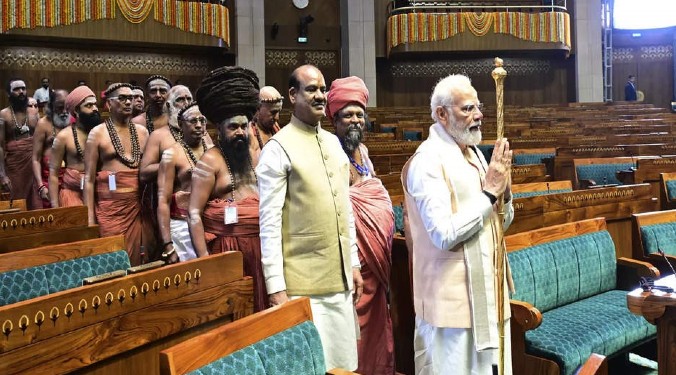 The inauguration of India's new Parliament, built over the last two years, marks a moment in the life of a nation that draws on its civilisational history and, at the same time, holds the promise of a more prosperous and equitable future, says Prime Minister Narendra Modi.
Suggesting that India is witnessing an awakening of national consciousness similar to what was seen during the decisive last 25-year phase of the freedom struggle, Modi projected the building as a symbol of a resurgent "new India" and linked it to his government's welfare deliveries in the past nine years.
Delivering his first speech in the new building, Modi repeatedly tapped into the sense of "national pride" pointing out that the new building was a reflection of the aspirations and dreams of 140 crore Indians and a message to the world about the country's determination.
The Prime Minister linked the new building to his government's accomplishments in the last nine years, virtually setting the tone for the BJP's 2024 Lok Sabha election campaign.
He spoke about the 4 crore new houses that were built for the poor, construction of 11 crore toilets and more than 4 lakh km roads to connect the villages. He said more than 50,000 water bodies had been constructed over the last nine years along with 30,000 new Panchayat bhawans.
"Every law which will be made in this new Parliament building in the next 25 years will transform India into a developed nation, every law will help India come out of poverty, create new opportunities for the youth and the women. I am confident that the new Parliament building will become the basis for the creation of a new India, a prosperous, strong and development India," he says.
In an apparent reference to the delimitation exercise which may be conducted within a decade, Prime Minister Modi says the existing Parliament building will not be able to accommodate more MPs.
"We all know how difficult it was becoming for everyone to complete their tasks in the old Parliament building. There were problems related to technology, there was a challenge related to the seating area. That is why for the last two and a half decades there has been continuous discussion that the country needs a new Parliament building. And we also have to see that in the coming times the number of seats will increase, the number of MPs will increase, where would those people sit? So it was the need of the hour that a new Parliament building should be constructed," he says.
The government had told Parliament in March that as per existing law, the next delimitation exercise may be conducted following the first census after the year 2026.
45