Transforming India's infrastructure by recognising excellence and encouraging collaboration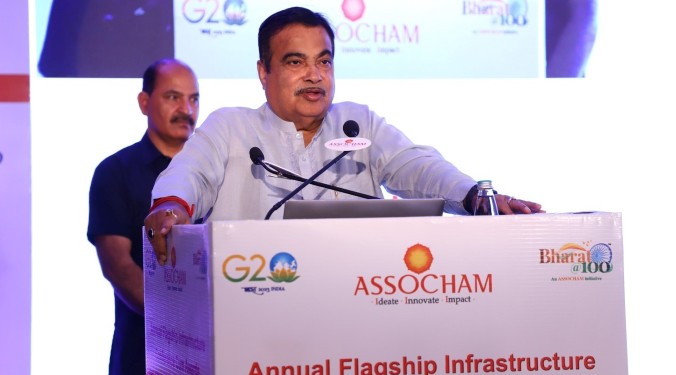 The current environment where those working in the hydro sector are rejected in the road sector and those working in the road sector are rejected in the Railways sector needs to be remedied.
We need to change perceptions and adapt to the circumstances and requirements. Understanding the financial and technical aspects holistically is the need of hour. The current environment where those working in the hydro sector are rejected in the road sector and those working in the road sector are rejected in the Railways sector needs to be remedied. Those with the capacity and experience to deliver quality work must be given the opportunity for better infrastructure said Shri Nitin Gadkari, Hon'ble Union Minister of Road Transport and Highways, at the Annual Flagship Infrastructure Conference cum Awards organised by ASSOCHAM.
"It has become necessary that we take into account the cost factor while moving forward on the path of economic development. Work allocation must be on the basis of competency and the practise of issuing tenders just for show after departmental and area-wise decisions are already made needs to end. Priority should be given to the experiences of previous works while awarding contract to any company or contractor in the tender process, and there should not be much emphasis on financial and technical criteria. Industry bodies like ASSOCHAM has been instrumental in giving meaningful suggestions and advice, I look forward to their continued support in this journey of economic development." He added.
In his introductory remarks, Shri Ajay Singh, President, ASSOCHAM says, "The high rate of development witnessed off late is because of the dynamic leadership and persistent follow up undertaken by the Hon'ble Union Minister. It is not just road that has benefitted from his proactive leadership, we have undertaken a flight from Dehradun to Delhi using sustainable aviation fuel on the insistence of the Union Minister and we are working with him to ensure that one day every single airplane in this country will operate on plant based sustainable aviation fuel including those produced by recycling waste materials."
Understanding the role of infrastructures like Road and Highways including Tunnels in the economic development of the country the government has increased the capital investment outlay for the third year in a row by 33 percent to Rs. 10 Lakh crores (3.3 percen of GDP). India has the second-largest road network in the world, spanning 63.72 Lakh kilometres including National Highways, Expressways, State Highways, Major District Roads, other District Roads and Village Roads. The National Highways (including Tunnels) with total length of 1,40,995 kms, serves as arterial network of the country.
The conference brought together key industry players on a common platform to discuss pertinent topics and the way forward. Underground Construction and Tunnelling Section and associated issues including risk sharing matrix, modification in model contract agreement, consulting contracts including evaluation criteria for assessment, penalty charges on consulting companies and standardisation of project parameters (Cross Section elements), Institutional Strengthening measures such as establishment of a Central Repository of Tunnel Documents and cost economisation, make in India, digitalisation and operational cost refinement are some of the key topics discussed. A framework suggestion based on these discussion will be prepared and submitted to relevant authorities for consideration.
The conference also dwelled upon the importance of PPP investments in road and highways and the importance of safety audits, alignment of BOT and TOT target traffic clause, Calculations of Initial Estimated Concession Value (IECV), monetising the ETC data to Public for larger good, disinvestment approval and bidding of brownfield projects under BOT. Other important issues such as bid information disclosure/Meticulous tender document preparation, quality and Cost-Based Selection (QCBS), use of Flyash and GST reimbursement in HAM Project were also discussed.
32