Bathroom aesthetics is perceived as a reflection of one's personality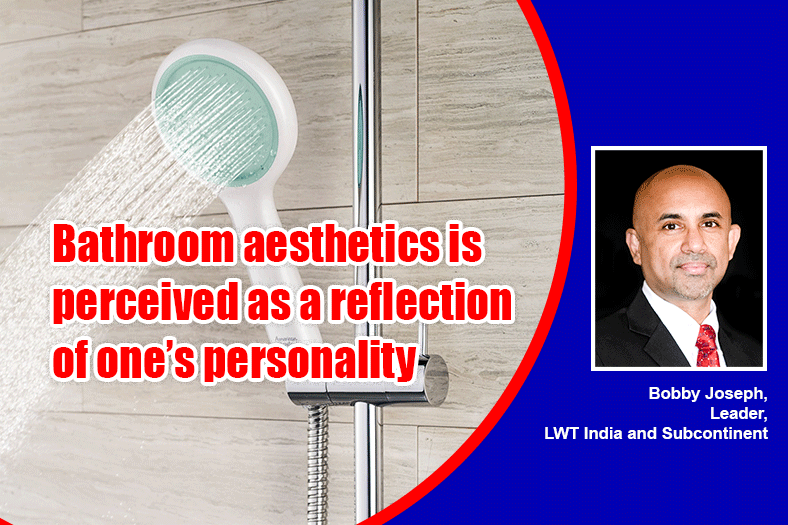 Bath fixtures, colour tones, design patterns play an essential role in defining the aesthetics of a bathroom. Choosing the right products can completely transform the look of the bathroom and enhance the experience, says Bobby Joseph, Leader, LWT India and Subcontinent.
Kindly shed some light on AS HygieneClean campaign. How AS offerings are relevant to consumers in the postCovid scenario?
Covid-19 has disrupted industries across the world leading to people around the globe prioritizing cleanliness and hygiene for their well-being. When it comes to purposeful products, American Standard continues to raise the bar in delivering dependable bathroom solutions that combine thoughtful designs and innovative technologies to create inviting bathroom sanctuaries that offer ultimate comfort and performance to its customers.
Backed by 140+ years of pioneering legacy, American Standard has recently launched its campaign 'HygieneClean' which aims to raise hygiene standards globally during the pandemic, starting with seven simple hygiene habits.
AS HygieneClean system brings in a new standard of safety in the bathrooms be it at home or in hotels. It provides a complete range of hygienic bathroom solutions delivered by revolutionary technologies committed to providing its consumers with not just beautiful products, but also a safe, clean and hygienic environment.
Here are some of LIXIL's products that will prove to be highly convenient whilst ensuring utmost comfort and hygiene:
• Acacia SupaSleek toilets by American Standard feature the award-winning Aqua Ceramic technology that harnesses the power of water to effortlessly lift waste off with every flush. The toilets are also equipped with a Double Vortex flushing system, which ensures maximum flushing performance with minimum water usage. Combined with PowerRim technology, its rimless design eliminates dirt and stains, while ComfortClean technology effectively inhibits the growth of E. coli bacteria in the toilet bowl.
• Aerozen Shower Toilet is an integrated shower toilet equipped with Auto Flush feature and self-cleaning antibacterial dual nozzles for superior hygiene in posterior cleaning. Its ComfortClean technology helps eliminate harmful bacteria in the toilet bowl while the built-in Air Deodorizer ensures a fresh-smelling bathroom at all times.
Keeping in mind the current scenario, what additional measures may be necessary to keep bath spaces sanitised?
We can all play a critical part in the fight against Covid-19 by starting with good personal hygiene. Keeping toilets, sinks, and showers as bacteria and germ-free as possible has never been more important than it is today. American Standard is committed to offering holistic bathroom solutions and water-saving technologies for both economic and ecological sense. The latest campaign 'HygieneClean' brings the focus back on how simple steps can ensure safety at home. Some hygiene habits that must be incorporated into one's daily regime are:
Wash your hands frequently
Flush the toilet after every use
Shower frequently
Clean your toilet thoroughly
Maintain good personal hygiene when using the toilet
Make personal cleansing more hygienic
Clean and disinfect high touchpoints regularly
When it comes to designing a bathroom, what are some of the finer aspects to be kept in mind to ensure it doesn't look claustrophobic?
Today, bathroom aesthetics is perceived as a reflection of one's personality. The bathroom is more about self-indulgence and self-transformation over exclusivity and extravagance. It is the details in the bathroom that help achieve the perfect balance between comfort, design and technology.
Bath fixtures, colour tones, design patterns play an essential role in defining the aesthetics of a bathroom. Choosing right products can completely transform the look of the bathroom and enhance experience.
Below are a few key aspects that should be considered while designing your dream bathroom:
• Blending of spaces: The boundaries between the different living spaces are dissolving. It is important to add soft touches, warmer materials and colours while creating such spaces.
• Use more of white: A clean, minimalist and timeless look: Another way to give one's room a spacious look is to use lots of white. It also reflects any available light, rather than absorbing it.
• Utilizing space effectively: In a tight bathroom space, it can be tricky to balance a demand for storage with a desire for space to breathe. A floating vanity or in-built cabinets give a lot of room to store daily essentials. New textures such as woodgrain and earthy tones can add warmth and softness while balancing with the overall tone of tiles and faucets.
• Well-placed full panel mirrors can also help widen the field of view and create the illusion of space.
In bath spaces of residential and commercial buildings, what kind of sanitaryware should be utilized to ensure efficient use of water?
Water is critical for socio-economic development, healthy ecosystems and for human survival itself. Water scarcity is a grave issue in India that impacts over a million people each year. More than ever, consumers are making a conscious effort towards creating a sustainable environment through judicious use of water.
LIXIL leverages its expertise and business scale to pursue initiatives focused on three strategic pillars i.e. Global hygiene and sanitation, Water conservation and environment sustainability and Diversity and inclusion. The brand invests extensively in research and development to meet the growing need for smart solutions that are hygienic, water-saving and are easy to maintain.
The HygieneClean System by American Standard caters to the evolving needs of modern consumers. A few products from the new range are as follows:
• EasySET shower system with a pre-set temperature function reduces wastewater fiddling and controls the water temperature.
• Signature collection toilets are equipped with SiphonMax flushing system with PowerRim to remove both heavy and light waste with minimum effort. The toilets also feature the Aqua Ceramic technology that prevents dirt and stains.
Also, LIXIL is working to employ a manufacturing model that preserves natural resources for future generations, with water-efficient products, help in conserving water and minimize wastage.
• GENIE is the award-winning hand shower designed by American Standard for consumers experiencing low water pressure in Asia.
• GROHE Sense Smart – A water sensor to detect leaking water.
• GROHE Sense Guard – A smart water controller that detects burst pipes and automatically shuts off the water supply.
• GROHE Ondus App Smart App – For complete water control in the toilet.
• GROHE Rainshower Eco showerheads reduce water consumption by up to 40 per cent while maintaining the full shower experience.
27