Coming 5-10 years will steer the future course of green building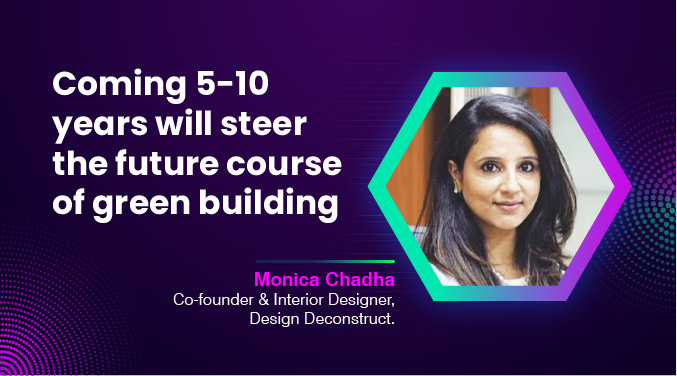 Monica Chadha, Co-founder & Interior Designer of Design Deconstruct expresses her thoughts about mainstream architecture and energy-efficient construction.
What kinds of designs are primarily in demand today, especially considering the need for smart buildings and sustainable construction? 
 Technology has led to the development of new materials and methods of construction. Smart home technologies have also made it possible to visualise and control our buildings from anywhere in the world. In recent years, we've seen a rise in "smart homes," where technology is used to automate various tasks. Many see this as the peak of luxury and demand automation in their homes. One such design that is primarily in demand is green buildings. The design of smart buildings intersects with green buildings, where resource-efficient models of construction include specific features, such as sustainable materials, renewable resources, green roof systems, improved acoustics, and clean indoor air quality.
What are the smart practices for maintaining energy-efficient and cost-effective building designs? 
Smart practices for energy efficiency not only affect one's utility bill but can also help us optimise the use of our products and energy. Focus on insulation. The outside envelope of your building should be designed to lower heating and cooling needs. This insulation should make the building as airtight as possible. In new buildings, this can be achieved by using high-performance insulation and non-traditional wall systems that offer additional insulation. Replacing doors and windows to avoid air leaks in existing buildings can be a great investment. Choosing the right ventilation system can also help because your building will be as airtight as you can make it. You will want to use a ventilation system to maintain good air quality and prevent moisture build-up. Buying the right-suited and certified equipment is as important as the different practices we follow. An Energy Star certified computer, for example, will use 30 percent to 65 percent less energy than a typical non-certified model, depending on its use. These products evolve quickly, so it's essential to stay informed about new developments. Smart buildings can create energy using solar panels, which absorb and convert the sun's radiation into electricity and reduce the need for gas.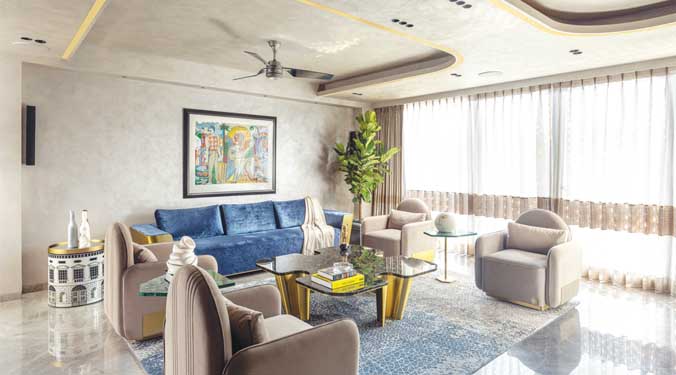 What are your views on going beyond contemporary designs in mainstream architecture with green designs? 
The green technology advances in the next 5-10 years will steer the future course of green technology building. The focus must be on making real changes in how we design and construct buildings for the future. Advances such as air cleaning materials will make our indoor and outdoor environments healthier. An increasing number of authorities, organisations and institutions are working on raising consciousness about "Green Building". It is increasingly governed and driven by standards, such as the Leadership in Energy and Environmental Design (LEED) rating system in the U.S. Green Rating for Integrated Habitat Assessment (GRIHA).
What challenges are in offering sustainable and durable aesthetics within the client's budget? 
Some of the key challenges identified in offering sustainable yet durable aesthetics within a client's budget are the higher costs of sustainable building processes and materials, construction and design process and their technicalities, inadequate awareness of sustainable  and lack of sustainable product information.
How are innovations in façade complementing the design aesthetics and building architecture in a high rise? 
From in architectural perspective, the façade is one of the most important exterior elements of a building as a well-designed façade can define the overall structure of a building, create interaction between the building and surrounding environment, and in some cases, it helps to bring out the core values and characteristics of the building. With growing standards for construction, a building's facade design must comply with a client's need for maintenance, metal aesthetics, and sustainability. Materials like Perforated Polymer Concrete Panels for Ventilated Facades and Metal Fabrics: Illumes control the illumination span by angling the LEDs. They can be focused on a specific area or blanket the entire façade. Perforated  Panels are some of the popular architectural materials that can be used to design a high-rise building's facade aesthetically.
How are advanced technologies like 3D, BIM and others helping architects and builders maintain an ecologically sufficient building? 
Advanced technologies like 3D & BIM, a digital representation of a project, showcase its physical and functional characteristics. BIM model files can be extracted and shared with stakeholders to support decision-making for better project design. With BIM, a building can be planned, designed, constructed, operated, and maintained throughout its life. By consolidating the sustainability factors from the project's inception, BIM goes through the building structure, materials, performance, and other aspects of a green building to enhance the sustainability of a building. 3D visualisation and an insight into the environmental factors like sun, wind, rain and other elements help in achieving the green design model. A real-time design change facility is supported to get the best design alternative. Specifications of the materials can be extracted from the model by analysing and evaluating emissions, water management, wastewater treatment, etc. Continuously, the building's lifecycle performance is monitored and improved.
for more info visit : http://www.designdeconstruct.in/
40