EC 216 Piling Rig: India's efficient and economical foundation construction solution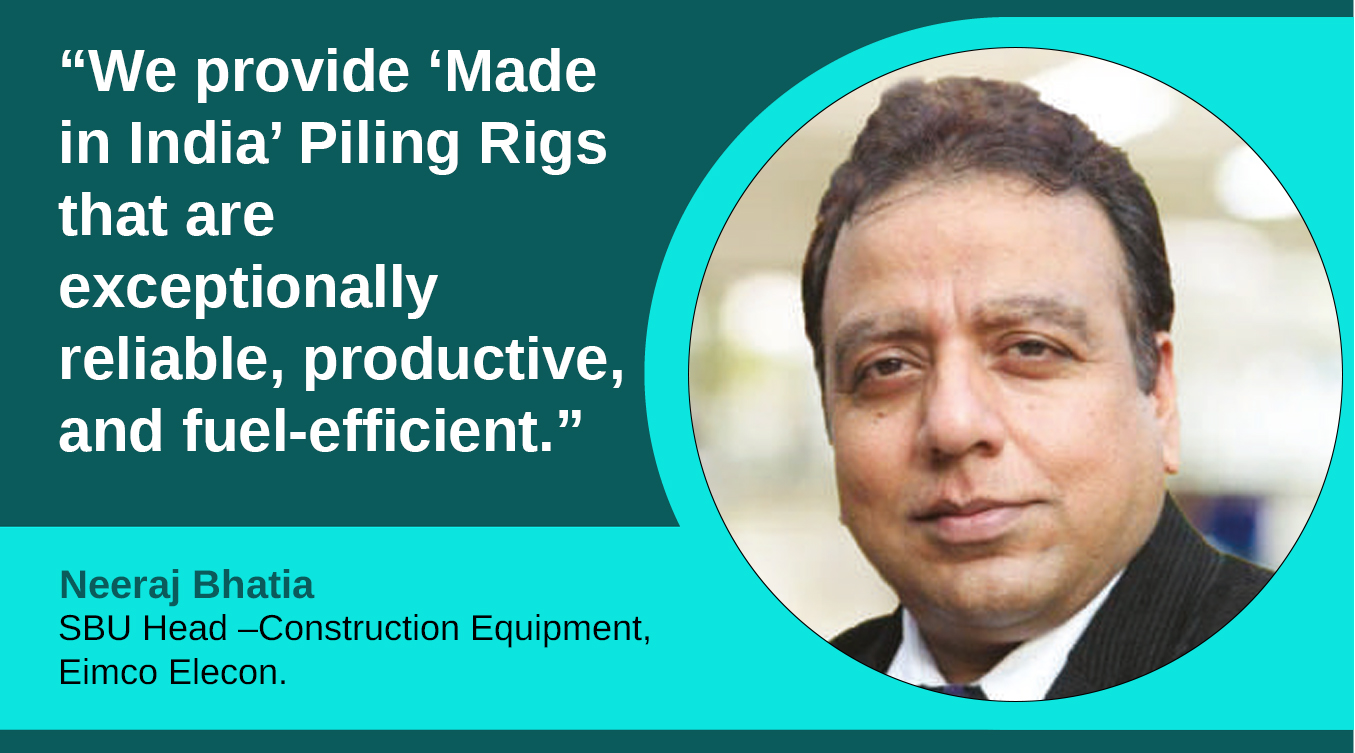 "We provide 'Made in India' Piling Rigs that are exceptionally reliable, productive, and fuel-efficient." Neeraj Bhatia, SBU Head – Construction Equipment, Eimco Elecon
Eimco Elecon is the flagship company of Elecon Group, a renowned Indian multinational company in the industrial power transmission sector with expertise in underground mining and construction equipment. We, at Eimco Elecon, aim to provide highly efficient and technologically advanced equipment solutions to Indian customers at an optimal cost. We are the market leader in underground mining equipment for over 45 years and now entered the construction equipment industry. Our goal is to offer a complete range of foundation equipment to Indian customers, focusing on technological innovation and customer service.
The EC 216 Piling Rig is one of our most sought-after products as it is the first truly indigenous Piling Rig Made in India. It has a distinctive feature of a high torque-to-power ratio, leading to lower fuel consumption compared to competitors. It also offers three rotary speeds, allowing it to perform in all types of strata, including soft and hard ground. Additionally, it includes an anti-shock valve for smooth operations, enhancing the lifespan of critical components. The rig features a hydraulically operated cat head and mast folding arrangement.
These unique features give our customers a competitive advantage in terms of performance and economy compared to other machines available in the market. Eimco Elecon's collaboration with CZM USA, a premier manufacturer and market leader in foundation drilling rigs in the US, will help position its rigging rig as a premium product at a reasonable cost. We expect to grow in this segment through focused customer service and aim to establish our market position with technology-savvy customers. 
Eimco Elecon's strength lies in our after-sales service. Maintaining a market share of over 90 percent in underground mining equipment of our class since our inception is a testament to Eimco's reliability. The company is confident that the unique features and optimal pricing of our Piling Rigs will make it a highly competitive player in the market. Currently, the company manufactures two models, the EC216 and EC267, and plans to introduce a smaller model soon.
We have a long-term plan to provide technologically advanced and economical solutions under the 'Make in India' and 'Atam Nirbar Bharat' initiatives. The distinctive features of the EC216 and Eimco's service-oriented philosophy make it a unique value proposition for Indian customers. The company's vision is to provide the best technology at a reasonable cost, and it plans to achieve this by continuously improving and expanding its product offerings.
For more info visit : https://eimcoelecon.in/
80