Envisaging Navi Mumbai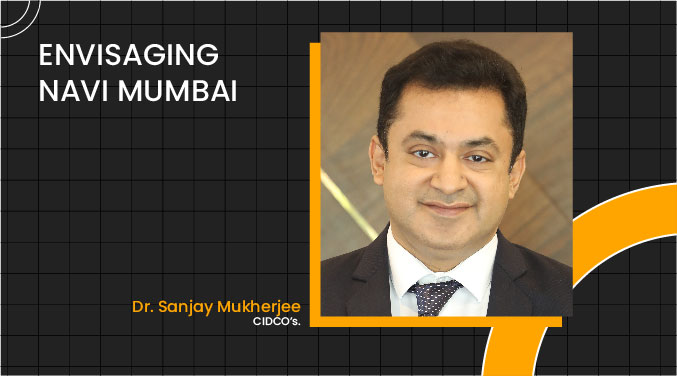 Dr. Sanjay Mukherjee IAS speaks on CIDCO's major infrastructure projects like Navi Mumbai International Airport, Metro, and water transport, International Football stadium & Navi Mumbai Airport.
What are the major infrastructure projects under implementation?
CIDCO's major capital infrastructure projects like Navi Mumbai International Airport, Metro, water transport, and international and Football stadium are fast-tracked. Navi Mumbai Airport Influenced Notified Area (NAINA) project is in full swing where various infrastructure development has already started.
Even during the pandemic and lockdown, CIDCO ensured that these projects did not get halted. All the pre-development works in the airport core area have been completed, and the total 1,160 ha project area has been handed over to the concessionaire Navi Mumbai International Airport Ltd. (NMIAL). CIDCO appointed Maha Metro as an engineering assistant for the execution of work on Line No. 1. CIDCO has successfully obtained permission from the Commissioner of Metro Railway Safety (CMRS) to commence commercial operation between Pendhar to Central Park stations on Line No. 1 of Navi Mumbai Metro.
The details of upcoming Metro Line 2, 3 & 4 are as under:
Line 2-MIDC Taloja to Khandeshwar 7.12 Km, six stations
Line 3- Pendhar to MIDC Taloja 3.87 Km, 3 stations
Line 4- Khandeshwar to NMIA 4.17 Km, 1 station
For the implementation of Navi Mumbai Metro Rail Line-2, 3 & 4 Project, the proposals will be submitted for approval from Govt. of Maharashtra and Govt. of India after the approval of CIDCO's Board of Directors. Other projects like Kharghar Valley Golf Course, International Football Stadium under Centre of Excellence (COE) & Kharghar-Turbhe Tunnel proposed by CIDCO are also on the right track. It is proposed that these parking spaces can be taken up for implementing the smart parking solutions to provide the citizens of Navi Mumbai with a mobile app-based smart parking solution which will not only solve the gruelling parking issues but will also be a massive step towards making the city technology and citizen-friendly smart city. As a part of last mile connectivity & green transportation, CIDCO has introduced a Public Bicycle Sharing System through Yulu Bikes. For hassle-free rides, cycling enthusiasts can pick up bicycles at one point and return them at any other end of the network.
Recently, CIDCO has set a record after completing the construction in less time. Can you provide the details of these projects?
Under "Mission 96", CIDCO has completed the construction of a 12-storey residential tower consisting of 96 flats ready to deliver in 96 days under its Mass Housing Scheme under PMAY in Kharkopar, Ulwe in Navi Mumbai. CIDCO, with the use of world-renowned advanced precast technology, has achieved this feat. The construction started on 4 April 2022 and was completed on 09 July 2022. Using advanced precast technology with the well-known contractor M/s Larsen & Toubro ensured that the
construction would be completed in less time and without compromising the quality.
CIDCO achieved another construction feat by casting 500 slabs in 489 days at the Taloja node for the buildings being developed under its Mass Housing Scheme under PMAY. CIDCO has completed the casting work with a record speed of 1.02 slabs/day. CIDCO is on the fast track toward achieving the construction of world-class buildings at record speed. It has ensured fulfilling the dream of a home for common people in record time.
How far has CIDCO progressed in PMAY projects? What is CIDCO's plan under PMAY?
Currently, CIDCO is implementing its Mass Housing Scheme of 67,000 apartments, based on 'Transit Oriented Development' under PMAY in various nodes of Navi Mumbai. Due to mega projects like Navi Mumbai International Airport, NAINA, Corporate Park, MTHL etc. CIDCO is expecting a massive population influx in the southern nodes of Navi Mumbai. Keeping this in mind, CIDCO has planned these Mass Housing Schemes to accommodate this population influx. Currently, CIDCO has launched Housing Scheme in August – 2022 under which 4,158 apartments are available in CIDCO's various housing complexes in Dronagiri, Kalamboli, Taloja and Kharghar. Out of 4,158 affordable apartments, 404 apartments are available for the EWS category under PMAY, and the remaining 3,754 apartments are available
for the General category. The new income limit for the PMAY house in the EWS category has been extended to Rs. 6,00,000, and the subsidy amount is fixed at Rs. 2,50,000.
What measures is CIDCO taking to provide an uninterrupted water supply to the citizens?
CIDCO has taken various short-term as well as long-term measures to overcome multiple challenges of water supply. The water from the Hetwane dam often passes through hilly terrane, due to which water supply was low pressure and in less quantity. Moreover, it was necessary to install MS Pipeline to replace the old PSC concrete
pipeline. Therefore, the work of constructing an underground aqueduct for the Hetwane dam was started by CIDCO since last year. The tunnel excavation beneath Hamrapur hill for the pipeline from the Hetwane dam towards the city, at a depth of 20-25 meters, is completed.
CIDCO decided to connect the Hetawane Irrigation Canal Power Outlet (ICPO) to CIDCO's water supply system through a pressure conduit. CIDCO has completed the work of the pressure conduit in a record time of 15 days, and the pressure conduit is in operational since 6th June 2022. Accordingly, CIDCO received an additional 30 MLD of water from Hetawane dam.
The Kondhane dam was transferred to CIDCO in 2017 by the state government to meet the water demand of the NAINA region. The storage capacity of the Kondhane dam in the Karjat taluka of Raigad district is 250 MLD. CIDO has appointed a consultant to carry out the preliminary works such as surveys related to the project, soil testing, land acquisition, environmental and forest clearance, rehabilitation etc. and prepare a detailed project report. And the work is in the advanced stage. The work of the Balganga Dam Water Supply Project was initiated in 2008-09 through Water Resources Department, GoM, by Konkan Irrigation Development Corporation (KIDC) on a full deposit basis for CIDCO. The project includes land acquisition, rehabilitation, construction of the dam and other allied etc. Balganga Dam storage will cater for the water requirement of up to 350 MLD in the region.
73