Exposed brick walls have an enticing effect on living and commercial spaces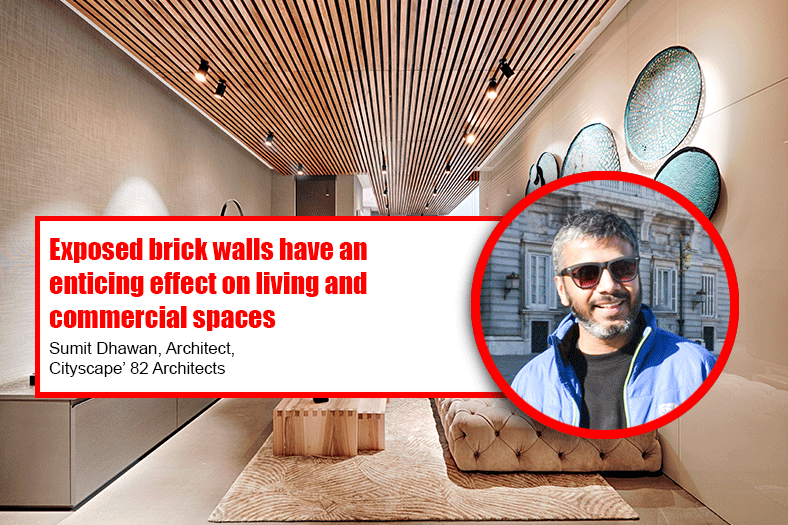 Sumit Dhawan, Architect, Cityscape' 82 Architects, a Gurugram based firm gives an insight on the different ways to enliven your walls.
How can hanging wall art be used effectively for enhancing the beauty of walls?
Hanging wall art plays a key role in bringing the element of vitality to a room. Accessorizing a room is as important as treating the fixed elements, like walls and ceilings. Without assimilating distinguished accessories, the essence of space is lost, conferring on a monotonous and drab interior. To maintain harmony and glide, it is of utmost importance that we have a balance of artworks, wall hangings, and other compact accessories in a room; aiding the dialect and interior story language.
What are the new trends emerging in wallpaper design?
Mediums have changed for wallpapers to a great extent these days. People are no more fond of the conventional, floral and flashy patterned wallpapers, rather fabric wallpapers are the new trend. These fabric wallpapers not only constitute advantageous properties like being washable, acoustically sound and of low maintenance but are pleasing to eyes as well. These wallpapers are installed in the form of panels where the fabric is wrapped on to them which solve the conventional problem of wallpaper opening from joints; increasing durability.
When it comes to paints & wallpapers, what stands out to be a better option?
Fabric wallpapers, as mentioned above have become a substitute for paints as it grants the space with a sense of warmth and softness, making it a snug and inviting habitat for the users to savour upon. These wallpapers are not only pleasing to eyes, but they also serve for the acoustical regime of the space. The functional attributes of these wallpapers tend to increase the durability and longevity factor for them while catering to the aesthetic aspect of the space. Also, as paints have been in trend for building designs for ages now, wallpaper is the new vogue.
Even exposed brick walls in certain cases can have an enticing effect in residential and commercial interiors, please comment?
The use of exposed elements started at the beginning of modernism and has never gone out of fashion. Incorporating these elements has always been a notable way of creating a stark contrast with respect to textures, bringing in an accent having dramatic effects.
Particularly, exposed brick walls can absolutely have an enticing effect in residential and commercial interiors. In fact, it may work great for exteriors as well. Exposed ceilings and concrete may also have a similar impact.
20