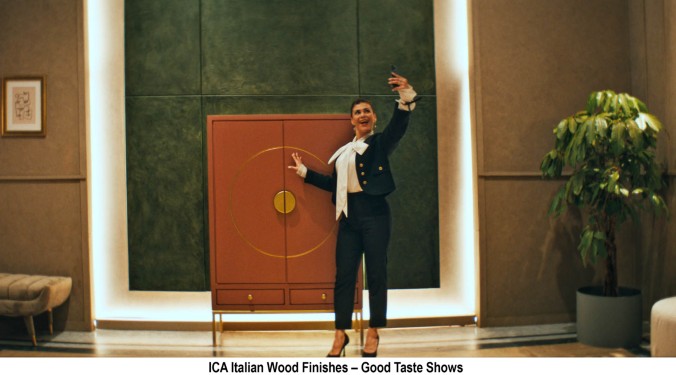 ICA Pidilite offers a range of exquisite wood finishes from Italy, the land of fashion and design. This glamorous range of luxury wood finishes represents the highest standards of quality and finesse and allows architects and interior designers to express their unique style, vision and artistic sensibilities. It is also perfect for homeowners to display their discerning taste and to build the interiors of their dreams.
ICA has just released a short film depicting how their glamorous wood finishes influence people's moods, tastes and preferences. 'The Mother's Visit' is a unique film based on the simple insight that good taste can influence and win over even the most cynical and hard-to-please.
The film begins with an Italian couple welcoming the girl's rather stern mother into their luxurious and well-designed home. At the outset, we see an air of nervousness between the three as the mother struggles with the fact that her daughter eloped and married without her consent. We see the young leave the room to give the mother some time and space.
The luxurious house with its gorgeous finishes appears to have mesmerised the once-upset mother and uplifted her mood, even adding a new spring to her step. She seems to have accepted that even though her daughter married someone without telling her, she chose well – an aesthete, a man of good taste. The film ends with her in a joyful embrace with the young couple.
Manish Airee, Sr. Vice President of Sales & Marketing ICA Pidilite, said "This is the first time we have released a film made in India for our audience. We want to communicate to our consumers how persuasive design can be. Through this film, we want our consumers to know that ICA Pidilite's good taste and great finishes are recognisable and that they meet the same high-quality standards as in Italy. We at ICA discover how changing consumer preferences can influence businesses and we try to respond to continuously evolving trends and tastes."
Link to the short film: https://www.youtube.com/watch?v=ZlJTUIoT8Wo
Website: https://www.icapidilite.com/
51