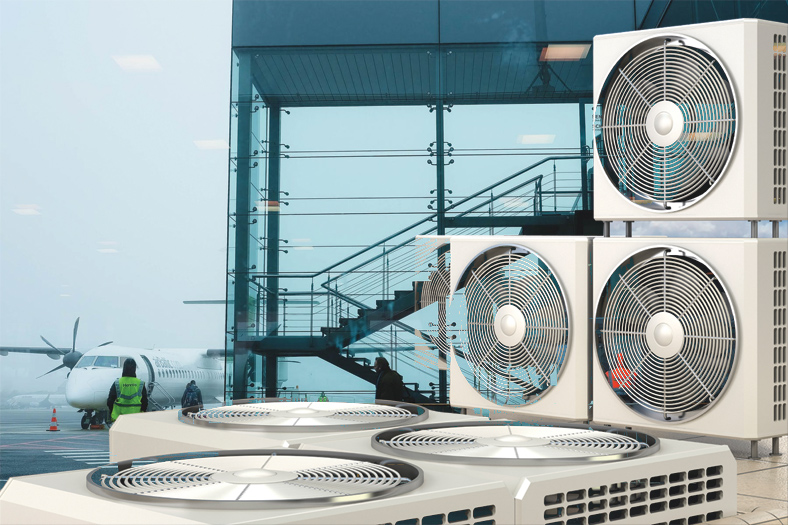 Given the pace and scale of infrastructure growth, energy management is an aspect that needs to be addressed for lowering both costs and carbon footprints.
Today, buildings account for 35 per cent of total energy consumed and the consumption is growing at
8 per cent annually. Construction of other infrastructure such as development of city-side infrastructure at airports, modernisation and upgradation of non-metro airports, development of railway stations and metro stations, will spur demand for HVAC systems.
Energy consumption continues to be one of the biggest operational costs in airports. Here, HVAC becomes critical as India looks to build new airports and modernise older ones.
In recent years, airport managers have made huge efforts to harmonise airport operation with environmental sustainability by minimising the environmental impact with energy conservation and energy efficiency as one of their pillars. Energy conservation is based on reducing energy consumption by reducing the quality of services offered.
Role of HVAC in airport infrastructure development
Peeyush Gupta, Director, Sales and Marketing, UL South Asia says, "With airports emerging as one of the primary engines of economic growth, there is remarkable expansion in airport infrastructure globally – according to the Centre for Aviation, investments worth $ 1 trillion are currently underway for development of Greenfield projects and renovation of existing airports around the world. India for instance, plans to build over 100 airports for $ 1 billion passengers by 2035."
Given the pace and scale of airport infrastructure growth, energy management is a crucial aspect that must be addressed, for reducing both costs and carbon footprints. HVAC systems account for the largest share of energy consumption in any building, accounting anywhere between 40-50 per cent of energy use. Hence, apart from maximising operational efficiency, the development and maintenance of airport terminals should involve strategic planning about and capacity addition in the future that will lead to greater demand for energy – unanticipated surge in passenger traffic increases in heat load, reducing efficiency of HVAC systems and making them more susceptible to breakdowns, Gupta adds.
Another design aspect to re-evaluate, especially in a tropical country like India, is the use of glass facades, which add to the heat load.
C Subramaniam, National President, ISHRAE says that, "HVAC System plays such an important role in an airport facility that every aspect of the air conditioning system needs to be given the utmost consideration be it design, operation and maintenance."
There are various reasons for this – the most important ones being:
• HVAC System contributes a good chunk of the energy consumption–in the range of approximately 50-70 per cent of the electrical energy.
• Responsible for maintaining the indoor air quality of the occupied space.
• The ever-increasing challenges of providing a great experience to the passengers through large extra volumes of space resulting in additional air conditioning load.
• Reliable operating system is required since downtime of the equipment and systems have to be kept to low levels to provide the unique experience to the passengers and also due to the 24×7 operations of the system.
• To be ahead of the curve in the aspect of sustainability and carbon footprints.
Improving energy efficiency in airports
UL says that, "Air conditioning demands in airports mainly come from the terminal areas that have centralised air conditioning systems, where a single chilling system is placed outdoors and chilled air is delivered through a large network of air handling units."
The efficiency of HVAC systems to meet the round-the-clock demands for cooling in a large area like the airport terminal depends on the individual efficiency capabilities of individual subsystems like compressors, chillers and cooling systems. Designers and engineers must select components that sync well with others to enable the facility to meet its energy goals.
Maintenance teams face several challenges that come with a floating population – heat fluctuations due to people movement and constant operation of doors. The temperature should therefore be controlled in the
24 – 27-degree Celsius ranges to avoid overburdening of the compressor. An emerging trend to ensure thermal comfort and achieve energy conservation in this temperature range is to combine air conditioning with optimal air velocity, either by deploying industrial fans or regulating air conditioner fan speeds. Energy loss due to broken sealing in the air distribution network, should also be constantly monitored.
While HVAC advancements like inverter technology cannot be implemented for huge room sizes like airports, alternatives, like frequency drives to control the compressor, and absorption technology where a heat source is used to drive the cooling process could be explored, the company added.
According to ISHRAE, energy efficiency in HVAC System in an airport facility can be vastly enhanced by focusing on certain fundamental aspects and some of the critical operating parameters.
• Integrated design for energy efficiency is one of the most critical components in achieving the energy savings from a HVAC System in an airport facility. Every component that is selected – be it glazing, lighting system, air distribution system, chilled water system – the same has to be planned to be an integral part of a sustainable overall design.
• Matching of supply and demand in cooling needs and the handling of the fluctuating building cooling/heating loads; solution for this is to have a very efficient and resilient chiller plant management system.
• Proper controls in place for operation of variable frequency drives (VFDs) in the air side and water side of HVAC.
• Challenges in peak load demand side management – proper logic written for auto operation of the HVAC and the building management system like soft start/unloading of a chiller prior to start of another chiller/chilled water temperature reset/ chiller – cooling tower optimisation.
• Carry out performance evaluation of HVAC system at regular intervals and implement necessary upgrades for the system.
• A very efficient and fully-trained operations team is a must to maintain energy efficiency at peak levels.
Airports need a lot of electricity to maintain their operations. A recent EU research has found that the daily electricity and thermal energy consumption of a large airport compares to that of a city with 1 lakh population.
And, nearly half the energy is consumed by airports' heating, ventilating andair conditioning (HVAC) system, according to the EU research project CASCADE- ICT for energy efficient airports. HVAC system at airports includes large air handling units, chiller plants and cooling towers.
This calls for increasing energy efficiency of HVAC setup so that airports' operating costs could be rationalised. Anyway, the aviation sector is under scanner for its greenhouse emissions and containing carbon footprint is crucial for its sustainability.
Johnson Controls-Hitachi Air Conditioning India Limited says, "Energy consumption can be reduced significantly if HVAC system is designed in a way that it adjusts temperature according to requirement and electricity wastage is avoided. Switching over to renewable energy sources like solar would help airports rein in their emissions and avoid tighter regulations. Because of their huge open, unused areas, airports are suited for installing solar panels."
Over the years, design and product engineers have developed many ways to reduce airport energy usage, specifically when it comes to HVAC system's air-handling units (AHUs).
Energy efficiency at airports is indeed a topic that has evolved with the increase use of renewable energy and new technologies that present both opportunities and challenges, especially considering the increase demand for more capacity.
New airport infrastructure, intended for long-term use, must be planned well in advance and will need to include energy efficiency concepts. Similarly, energy efficiency at airports must also be considered through the better use of existing terminals and runways.
HVAC system is so important for airport facility that every aspect of the air conditioning system needs to be considered.
C Subramaniam, National President, ISHRAE
The efficiency of HVAC systems depends on the individual efficiency capabilities of individual subsystems like compressors, chillers and cooling systems.
Peeyush Gupta, Director, Sales and Marketing, UL South Asia
33