Elevators: airports need an upgrade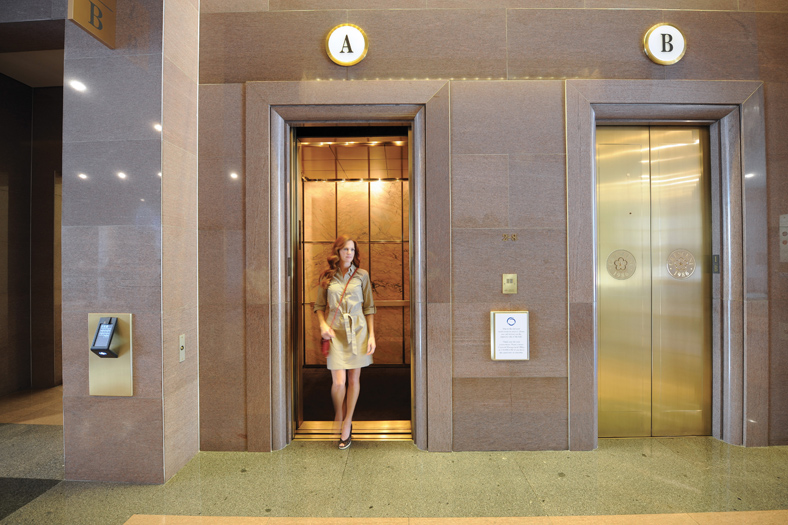 Quality manpower is one of the biggest challenges during installation of elevators besides safety.
Elevators are a key part of buildings and require to function safely and efficiently. However, the design aesthetics of the elevators should aesthetically complement the design of buildings as well.
Experts are of the view that ensuring elevators are safe to use along with the availability of quality manpower are among the major challenges while installing elevators.
According to Bharat Vishnani, Managing Director- thyssenkrupp Elevator (India) Pvt Ltd, "Safety issues and lack of skilled workforce are one of the biggest escalator installation challenges in India."
Junichi Kyushima, MD, Toshiba Johnson Elevators India Pvt Ltd [TJEI] says, "At TJEI, everyone believes safety is our priority, quality is our identity. Toshiba elevators promise better quality assurance and quality control by conducting a rigorous '7-step quality check' for installation and adjustment at every project site, earning it a zero-accident record in India."
To ensure high quality during installation and maintenance, rigorous skill training is undertaken by the Japanese engineers for the Indian engineers. And unlike other companies where maintenance is relegated to a third party, Toshiba maintains all installations in-house, leading to not only excellent service quality but also ability to predict any maintenance issues that may crop up. In both Tier-I and Tier-II cities, Toshiba guarantees an on-call service within 30 minutes for emergency situations, and 60 minutes for normal call back.
With this commitment to provide safe and efficient vertical transportation through its innovative, state-of-the-art global product range, Toshiba endeavours to contribute to the growth of urbanisation For The Next India.
Challenges during installation
Ensuring the availability of quality manpower is one of the biggest challenges faced during the installation of escalators, experts are if the view.
Uday Kulkarni, President, Schindler India & South Asia says, "While design and quality of are important, it is also crucial that elevators are installed and serviced by trained experts."The company has invested in four, full-fledged, state-of-the-art training centres in Mumbai, Bangalore, Noida and now in Pune considering the importance of highly skilled workforce.
Another major challenge for buildings in becoming eco-friendly and smart are inefficiency and wastage whether product or process related, which is fueled by insufficient awareness about the same, Uday said.
Schindler provides space-efficient and cost-effective solutions to builders and architects by touch basing with them at the stage of planning itself. This leads to higher passenger capacities, lesser waiting times, more rentable space, etc."Traffic analysis plays a significant role in the overall efficiency and cost of installation and operation of an escalator," adds Uday.
Schindler's advanced digital plan & design tool helps architects and customers alike to plan for the optimum escalator configuration while designing buildings. It does not helping planning alone but also enables architects to create escalator layouts, traffic study and tender documents in customised way for their projects. Moreover, the tool will help them in all kinds of facilities planning based on its type and usage, be it commercial, mall, infrastructure etc.
The visualisation technology and data analytics used by Schindler digital plan & design to give designers and customers comprehensive product specifications and detailed layout drawings. Architects using this will have two options -Guided planning where the designers will navigate through the portal and enter building design details and fast track that allows the architect to filter product catalogue to find the desired planning data which includes determining the minimum escalator requirements through a simple Traffic Study and Schindler product recommendations, according to Uday."With remarkable growth observed in infrastructure and commercial projects viz. airports, metros, SEZs, Retail spaces and IT hubs, there is special emphasis laid on several safety and compliance related attributes of elevator and escalator installation in India. Today, the new age elevators and escalators run on proprietary technology and software that requires specialised tools for proper installation and maintenance that only the engineers, trained and appointed by the manufacturer can provide," Kyushima acknowledges.
Site readiness is the most important element to install escalators. Careful planning is necessary in order to install the product safely and efficiently. For instance, escalator is customised to fit in to the project keeping in mind the site dimensions. Therefore, precision plays a very important role while carrying out the site survey. OEM's experience various technological challenges when it comes to installing escalators at site. Appropriate access to the site where the escalator is meant to be installed is typically not adequate, which poses a challenge in material movement and hence there is a threat of material getting damaged. Secondly, lack of suitable structural engineering in the project for designing the supporting area where the escalator and moving walkway are installed adds to the complexity involved in hoisting and installing the equipment. Another challenge is the unavailability of sophisticated tools and machinery for installation and adequate skilled labour force required for safe, precise and installer friendly installation of the equipment. Moreover, deficient planning in project schedule and procurement leads to delays in mobilisation which affects the overall schedule of the project and adds to the challenges related to working in a confined environment.
Ensuring safety in elevators
Bharat Vishnani, Managing Director- thyssenkrupp Elevator (India) Pvt Ltd said,thyssenkrupp Elevator is focused on localising its products and services, and the company's Indian product line is robust being aesthetically appealing at the same. It has been specifically designed to cater to the Indian market after understanding the needs of our customers across various segments.
Bharat said, "Continuing the company product expansion strategy, we have launched two new elevators- meta100 and enta200 to meet the needs of the growing low- and mid-rise real estate markets in the country with world-class products of German quality. A team of expert product designers studied global design trends and fused them with Indian aesthetic taste to create the latest cabin interior designs for the meta100."
As for ensuring the safety of the elevators and users, Bharat says, "safety is one of the cornerstones in our strategy for success, and our constant target is to have zero accidents in the field as well as in our manufacturing processes. All our employees are trained on safety parameters regularly and safety drills are conducted at customer sites to sensitise and educate them on safety measures. Similarly, our products have a host of safety features that are in-built in the product to ensure a safe ride in the elevator."
Sebi Joseph, President, Otis India says, Otis has always been known as the choice for safe and reliable products elevators. Nothing is more important to Otis than safety. Otis' founder, Elisha Otis, invented the elevator safety brake, making elevators safe for human passengers and enabling the tall buildings of today. We continue that tradition, with a modern safety brake, which engages when the system detects that a car is descending too quickly, and other safety features including emergency lights and alarms are other standard features that come with most elevators."
Situational safety mechanisms
The Automatic Rescue Device (ARD) is especially useful in places where power supply is irregular. In the case of a power outage and an elevator cab stopped between floors, a lot of people tend to panic, or attempt to exit the car without the help of safety personnel, which actually puts them in danger. In the event of a power failure, the ARD will bring the elevator car to the nearest floor and will stay on that floor with door open till the power supply is resumed.
Security and access features
With the technology upgrades that have taken place in the industry today, an elevator can also be used to protect building occupants from intruders, offering security from external threats. Secure Access technologies can require certain codes be entered to allow access to particular floors. Additionally, the elevators can be programmed so that when a passenger inserts a card into the card reader, he or she will be allowed to register a call to certain floors only. This aims to prevent unauthorised access. Other add-on safety features for elevators include fire alarm home landing, intercom, and emergency power operation.
Joseph says, "To show our commitment to service, we conduct annual equipment survey, a complete health check done on all elevators we maintain. At the end of the check, each elevator is certified as safe and is checked on important parameters. This is done irrespective of the type of maintenance contract the customer holds with us. Our commitment to customer focus, with outstanding equipment performance, is key our to business success."
Schindler seeks to bring greener products and technologies to its customers. With the use of gearless machines, the company products consume up to 30 per cent lesser energy compared to conventional systems. "Technologies such as standby mode when not in use, STM belts, etc also bring about significant savings in power consumption as well as space,"Uday said.
The company's elevators provide more room while retaining the same shaft dimensions as conventional elevator companies. More internal room inside the elevator leads to higher comfort.
"Our landing doors are two-hour fire rated. In case of power failure, we have an ARD system in place which takes passengers to the nearest floor. Usage of non-hazardous and 100 per cent recyclable material in the manufacture of our products leads to better safety and health of the users," Uday says.
He also says, other safety standard features include full load detection system and full load by-pass which allows the elevators to skip halts at landing floors in case of overloading.
"Every Schindler elevator must pass the stringent SAIS Test (Schindler Acceptance Inspection Standards) where it goes through levels of inspection post installation to ensure quality and assembly as per Schindler norms, failing which the elevator will not be commissioned for handover to the customer till all norms are met." According to Uday.
Otis has always been known as the choice for safe and reliable products elevators.
Sebi Joseph, President, Otis India
Traffic analysis plays a significant role in the overall efficiency and cost of installation and operation of an escalator.
Uday Kulkarni – President, Schindler India & South Asia.
Safety issues and lack of skilled workforce are one of the biggest escalator installation challenges in India.
Bharat Vishnani, Managing Director- thyssenkrupp Elevator (India) Pvt Ltd
Safety is our priority and quality is our identity
Junichi Kyushima, MD, Toshiba Johnson Elevators India Pvt Ltd
19