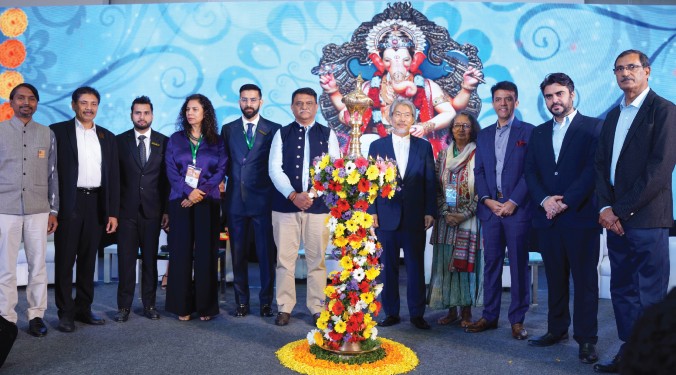 The highly anticipated iDAC Hyderabad Expo is just around the corner, and excitement is building up among professionals and enthusiasts alike.
With the aim of showcasing the latest advancements, innovations, and trends in the world of construction and architecture, this expo promises to be a game-changer for the industry. Get ready to immerse yourself in a world of cutting-edge technology, sustainability, and awe-inspiring designs alongside 10,000+ Visitors, Architects, Landscape, Architects, Interior Designers, Builders and Developers, Structural Engineers, MEP and Fire Consultants, Façade Consultants and others. It primarily caters to the Build Industry in Southern Indian states.
A diverse array of exhibitors
Featuring a diverse array of 50+ Exhibitors, the Build Industry Expo is set to provide a comprehensive overview of the entire construction spectrum. From leading architectural firms to construction equipment manufacturers, iDAC offers a unique opportunity to engage with industry experts and explore the latest products and services.
An immersive experience
With its immersive and interactive exhibits, iDAC aims to provide a truly memorable experience for all attendees. From virtual reality demonstrations to hands-on workshops, this event goes beyond traditional conventions by allowing visitors to engage directly with the latest tools via variousallied activities like Spotlight, Student Program, Gala Evening & Vission Wave Workshop.
Insightful seminars and panel discussions
iDAC offers a platform for knowledge exchange professional development. Industry experts will lead insightful seminars and panel discussions, covering a wide range of 4 themes covering Highrise and Facades, Urbanism, Interiors, Commercial&Hospitality.
Networking opportunities galore
One of the biggest advantages of attending iDAC is the abundance of networking opportunities. Rub shoulders with industry leaders, connect with potential clients or collaborators, and expand your professional network. Engage in meaningful conversations, exchange ideas, and forge valuable partnerships that could drive your career or business to new heights.
Be a part of the build industry revolution
iDAC represents a pivotal moment in the evolution of the construction and architecture sectors. It serves as a launching pad for innovative ideas, transformative technologies, and sustainable practices that will shape the future of the industry.
Mark your calendars to embark on an extraordinary journey into the world of construction and architecture. We await you, promising a truly immersive, educational, and inspiring experience. See you at the expo!
49