India ranks 2nd in road network says, Shri Gadkari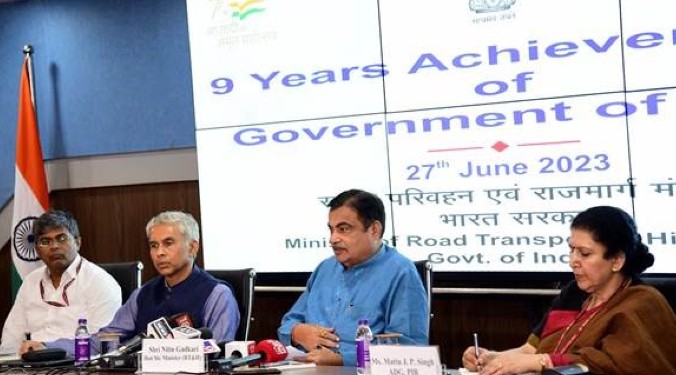 Union Road Transport and Highways Minister Shri Nitin Gadkari said total length of the National Highways in the country increased by about 59 percent in the last nine years.
As a result of this expansion, India now has the second largest road network, after the US. Addressing a Press Conference in New Delhi today Shri Gadkari says: "Total length of National Highways was 91,287 km in 2013-14, which increased to 1,45,240 km in 2022-23, which is a rise of more than 59 percent during this period.".
Shri Gadkari says, special emphasis is being laid on the expansion in road highway network in the North East region, saying projects worth more than ₹ 2 lakh crore are being carried out in the region. He also says 670 road side facilities are being developed with a view to provide a pleasant experience along the NHs.
The Minister said under the NHAI's INVIT (Infrastructure Investment Trust) model, a bond issue was launched and garnered tremendous response. Within the first day of its availability on the Mumbai Stock Exchange, the bond witnessed seven times oversubscription. Shri Nitin Gadkari urged investors to consider investing in NHAI INVIT, which offers an attractive interest rate of 8.05 percent, surpassing traditional bank rates.
Additionally, he said, the NHAI achieved seven world records, showcasing their commitment to technological advancements and their ambition to position India as the second-largest road network in the world, after the USA.
On the issue of green initiatives, Shri Gadkari said NHAI transplanted more than 68,000 while it planted 3.86 crore trees during in the last nine years. Talking about water rejuvenation initiatives, he says the NHAI has developed more than 15,00 Amrit Sarovars along the National Highways across the country.
In line with the Government's commitment to a sustainable future, Shri Nitin Gadkari unveiled a vision for increased Electric Vehicle adoption over the next five years, promoting clean energy and reducing carbon emissions.
43