Innovating construction with precast, couplers and the GFRP revolution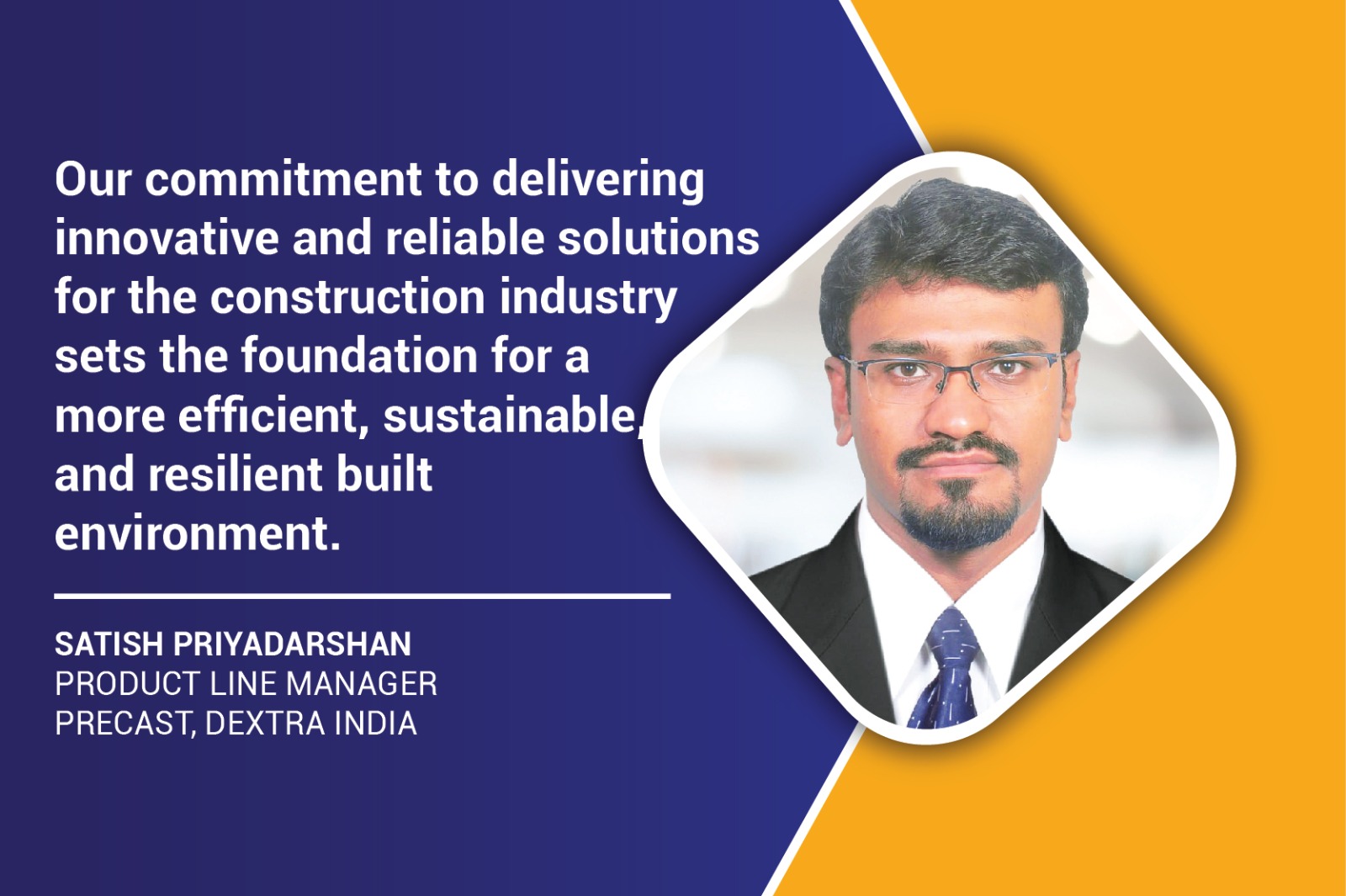 At the WOC 2023 event, Satish Priyadarshan V, Product Line Manager for Precast at Dextra India, spotlighted the pivotal role of precast elements in infrastructure projects and explored the latest advancements in construction technology.
There's an upsurge of precast in infrastructure projects? How do you see this will increase the demand for your product?
Our precast coupler is vital for strong construction in precast structures. It ensures the quality and reliability of connections within precast elements. These couplers excel in achieving robust and solid precast buildings, matching or surpassing traditional structures.
The growing utilisation of precast elements in infrastructure projects has significantly increased the demand for our products. Initially focused on refineries, our couplers proved their worth at the Jamnagar refinery, especially in a high seismic zone, setting a successful precedent. This approach has since been adopted in various projects, including Barmah Refinery, Viser, Grifoni, and Biruni.
Our couplers' adaptability has also extended to applications like water tanks, which are crucial in expensive infrastructure projects. This expansion has enabled us to leverage our oil and gas sector expertise, facilitating faster, top-quality construction. In metro and airport projects, our couplers streamline construction processes, particularly for airport parking structures, making them shorter, more manageable, and safer, ensuring efficient and secure construction methods.
Looking at the construction process in India, a drastic transformation is happening, specifically from the timespan of projects; how do you see this reach a sustainable practice?
The ongoing transformation in construction practices in India signifies a significant shift towards sustainable and efficient methods. Precast construction methods are at the forefront of this change, offering several advantages. One key aspect is the remarkable reduction in project timescales. For example, in traditional construction methods, a substantial 1.2 million square feet commercial building can take two and a half to three years to complete. However, precast technology can drastically reduce this time to one-third.
In addition to speed, precast methods contribute to sustainability. The use of couplers in these processes is paramount. Couplers replace lap splicing and significantly reduce steel wastage, cutting waste from 5 percent to 2 percent. This allows for using shorter steel bars, minimising material waste on construction sites. Even smaller rebar lengths can be utilised effectively, down to 500 mm, ensuring that virtually nothing is wasted. This dual benefit of speed and sustainability positions precast construction, coupled with coupler technology, as a pivotal and transformative practice in the evolving landscape of Indian construction, fostering efficiency, resource optimisation, and reduced environmental impact.
Can you talk more about the GFRP glass fibre reinforcement polymer?
GFRP is a cutting-edge product from Dextra, soon to be produced in India. It has a remarkable strength-to-weight ratio, five times stronger than steel and one-fifth the weight. GFRP reduces the weight of structures, accelerates construction, and enhances quality. It is corrosion-resistant, suitable for saltwater environments, and reduces the need for concrete cover, making it a promising innovation in the construction industry.

For more info visit : https://www.dextragroup.com/
17