Introducing the GROHE Eurosmart Cosmopolitan color collection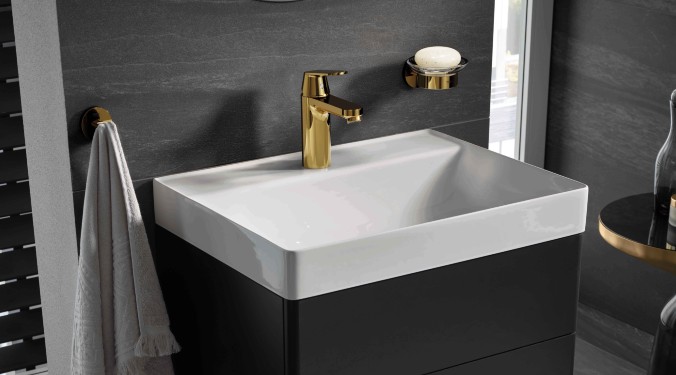 GROHE, the leading global brand for complete bathroom solutions and kitchen fittings, is delighted to unveil the highly anticipated Eurosmart Cosmopolitan Color Collection, an exciting addition to the Eurosmart range that brings a touch of personalisation and style to bathroom fittings.
The Eurosmart Cosmopolitan Collection has always been celebrated for its "more than minimalism" philosophy, embracing contemporary architecture and offering a perfect blend of modern aesthetics, exceptional ergonomics, and unparalleled functionality. Building upon this success, GROHE is proud to present the Eurosmart Cosmopolitan Color Collection, featuring two captivating nature-inspired colors that enable customers to express their unique design preferences in the bathroom.
The two exquisite colors in the collection are Cool Sunrise and Brushed Hard Graphite, each thoughtfully curated to cater to a diverse range of tastes and bathroom inspirations.
Cool Sunrise: Available in a high-gloss finish, Cool Sunrise exudes sophistication and classic luxury. Its warm tones infuse a sense of comfort and elegance into any bathroom space, complementing a wide array of interior styles. Brushed Hard Graphite: This color adds a touch of urban dynamism to the collection. In a brushed finish, it brings a modern, industrial charm, making it a versatile choice that complements contemporary and minimalist bathroom designs.
"We are thrilled to introduce the GROHE Eurosmart Cosmopolitan in Color Collection, which represents a new chapter in bathroom design and personalisation," says Bobby Joseph, Leader – LWT India and Subcontinent. "With these two nature-inspired colors, our customers can now elevate their bathrooms with a touch of individuality and sophistication. GROHE remains committed to innovation and excellence, and this collection further exemplifies our dedication to providing exceptional choices to our customers."
GROHE's proprietary PVD coating technology is employed in crafting each fitting within the Eurosmart Cosmopolitan Color Collection. This advanced technology ensures that the colors are not only visually striking but also incredibly durable. The fittings boast 10 times more scratch resistance and 3 times more surface hardness compared to traditional finishes, accentuating the unique GROHE craftsmanship that lies within every layer.
GROHE's dedication to crafting the perfect bathroom experience is further amplified with the introduction of colors in the Eurosmart Cosmopolitan range. The Color Collection is an exciting addition to GROHE's extensive color portfolio, reinforcing the brand's status as the go-to choice for discerning customers seeking to express their individuality through exceptional bathroom design.
for more info visit: https://www.grohe.co.in/en_in/
56