Landscaping your way out of Covid-19!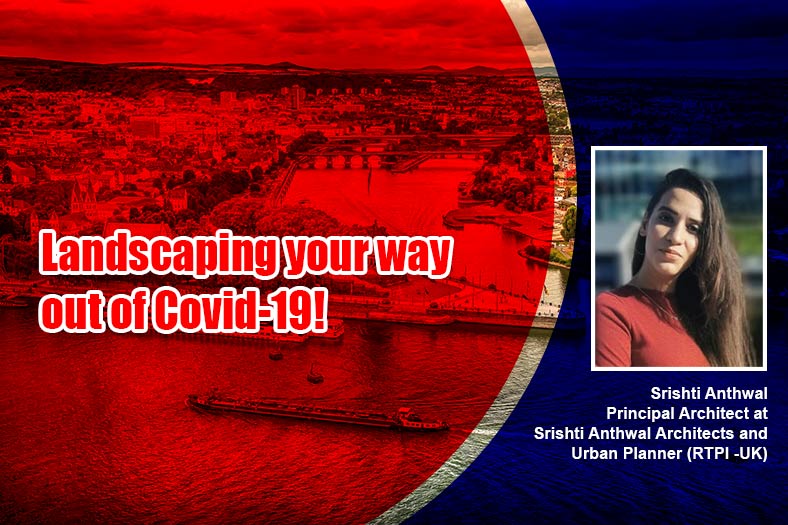 Endangered and short-lived concepts like "landscape spaces" have suffered the most in urban centers due to the interest of various stakeholders or issues like "encroachment for existence". The onset of the pandemic however has made humans aware of the importance of well-lit spaces, ventilation, microclimate and concepts like "sustainability at household level".
Covid-19 pandemic has probed questions on the importance of "development regulations" and "equity" in our built environment. The need for amalgamating balance in the habitat had never caught attention in the busy urban centers by the common man before this. Other than conservationists, architects, urban planners and few environmental enthusiasts, the common man had not been sincerely observing the need for a balanced habitat. Be it at micro level, "architectural design standards" of an enclosed space, where during the home isolation period, humans became aware of the importance of well-lit spaces, ventilation, microclimate and concepts like "sustainability at household level" or at macro level socio-urban spaces. At micro level architecturally, many were found to be living in unhealthy conditions, realizing the dependency on manmade comfort, air conditioning etc. and at socio-urban level, the scarcity of open recreational spaces was observed. 
Where do the problems lie? 
Endangered and short-lived concepts like "landscape spaces" have always suffered the most in urban centers due to the interest of various stakeholders or issues like "encroachment for existence". Finding the balance between different interests of society like social equity, preserving open-spaces, developing public housing, and providing necessary public infrastructure (traffic, utility, social access, equity) has taken its toll on open areas which could have been developed as natural green habitats. Where city planning models like 15-minute city (Paris), Child-friendly cities (upcoming) and Cycling cities (Amsterdam) are dedicatedly improvising research and innovation at policy level, their underlying foundation  stone is "open spaces" and the equity in land use distribution at neighborhood level. In  India however, sensitive sub-tropical climatic  conditions also control the use of free  open spaces. People find comfort in staying  indoors, dependent on man-made comfort,  avoiding harsh weather instead of fully  utilizing the open spaces at their household or neighborhood level. Research has found  that natural landscapes increase the quality  of lives in an urban environment. If collective  initiation and awareness is given to people,  encouraging them to adopt a small natural  open space and foster it, then it may not  only bring social inclusiveness in the society  but also create a harmonious habitat for  all beings. Local governments can initiate  this by including more open recreational  or multi-purpose open spaces in their  Local Area Plan (LPA) or City Development  Plan (CDP). Initiatives like riverfront  development, neighborhood pocket parks,  open gymnasiums, public amphitheaters, and  urban forests like in Singapore will bring a  major change in people's everyday living  standards, health standards and also be  beneficial from the environment protection  view. Open green spaces not only regulate  a healthy storm water management flow in  the city drainage system but will also help  in reducing heat island effect and seasonal  flooding. 
A change ahead? 
From urban design perspective, building  regulations can be improvised and strictly  regulated to ensure minimum open space  requirement in every project. For vertically  dominated areas and high-rise buildings,  multiple terrace cut-outs and concepts like  "urban terrace farming" can be encouraged.  Private-property owners can be incentivized  for regulating "urban terrace farming".  Singapore city is a very good example of how  a completely man-made urban scape has not  excluded the green spaces in its planning.  For upcoming satellite towns, Tier 1&2  cities and other urban extensions, greenfield  development should be regulated. Destroying  green areas should be discouraged and  indemnified with artificial man-made green  spaces.
Just like physical entities (buildings),  non-structural entities like "landscapes"  should also be given importance. Concepts  like "Garden City"- by Ebenezer Howard (an  urban planner from England,1898) who was  one of the initiators in promoting green city  development based around gardens, canals  and transits, influences public authorities  and city planners even today. At macro level,  public authorities should encourage public  participation in developing open spaces,  including stringent policies and laws on open  spaces by regularly updating their by-laws  on development. Local area plans should  be made keeping green-city development  and climate change in mind. Forest cover  index of each city should be studied and  ways of improvement should be researched. 
At micro level or household level, a motto  of "sustainability starts at home!" can be  adopted. Plants can also be "adopted" and  nurtured just like pets. Local Neighborhood communities can conduct free workshops for  residents to teach them the basics of kitchen  gardening, landscaping designs and how to make their own personal gardens. An annual  social community event which encourages  home grown food items and their promotion, sales or business can be encouraged in  various localities. 
How to transform your balcony into a green  relaxing zone! 
Planning phase 
Start your research with various plants  available in your region. Seasonal and • evergreen. Or different sizes, tall, medium  
and small. Add different textured or  colored 
plants. A good balance of shapes, sizes  and colors are advisable. 

Educate yourself to take care of plants on  your own. Take help from friends, family 

members, the internet or professional  gardener if needed. 

Own the responsibility to maintain the  garden. 
Execution phase 
Now since you are in the planning  phase, divide your balcony space into  a sitting area (shaded or open to sky)  and planting area. As per your personal  requirement, segregate the two spaces  in a way that there is ample space to  move around and sit comfortably. 

Choose your furniture and furnishings,  add cushions and personalize the space  by hanging some pictures, paintings or  DIYs. 

Ensure services like water connection,  drainage for your balcony to avoid any  water clogging or damage to furniture. 

Lighting is very important for outdoor  spaces, so play around with wall lights,  hidden concealed lights, focus lights etc. 

Add shading if required (pergolas or  awnings) if the sun direction is too  harsh. 

Ensure waterproofing your flooring slab  before you go all in for original grass. Or  artificial grass can also be used for less  maintenance and aesthetics. 
7