Lighting enhances quality of life and productivity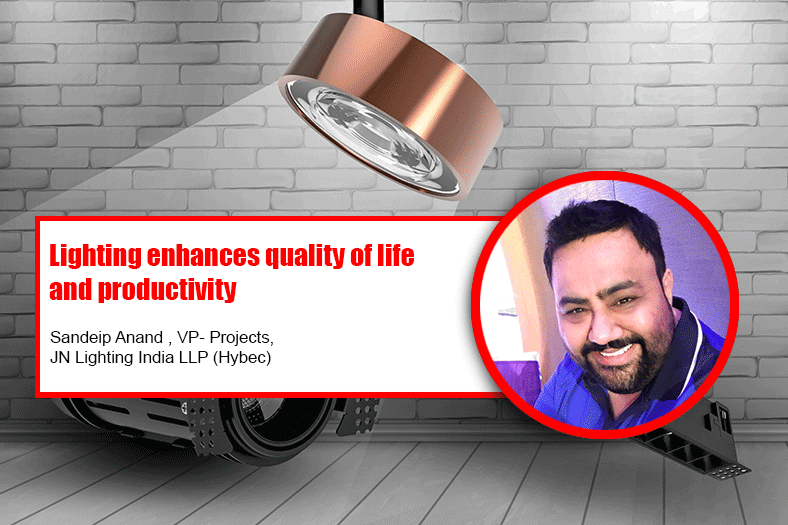 Artificial illumination extends productivity during the day and enables people to work in homes, offices, buildings and factories says Sandeip Anand, VP- Projects, JN Lighting India LLP (Hybec).
How do you see the market for energy efficient lighting?
The market is pushing towards improved energy efficient technologies due to changing building standards, corporate sustainability initiatives, utility incentives, and rising energy costs. Lighting in the new building market is often considered an easy opportunity because a lighting upgrade can be a less expensive initial investment than upgrading the HVAC or building management system.
The market is seeing a continued upward trend towards LED upgrades in existing buildings and LED lighting system installations in new construction.
Are the existing lights available in the market 100 per cent energy efficient?
Lighting is widely used in everyday life. It is a significant factor contributing to our quality of life and productivity of the workforce. Artificial illumination extends productivity during the day and enables people to work in homes, offices, buildings and factories.
India's LED lighting market stood at US$ 918.70 million in 2016, and is projected to grow at a CAGR of 24.66 per cent in value terms, during 2016-2022, to reach US$ 3,758.74 million by 2022, on account of increasing government initiatives to boost LED adoption and growing awareness regarding lower power consumption of LED lighting products. 
Moreover, easy availability at affordable prices coupled with distribution of LED bulbs by Indian government at subsidised rates to promote the use of LED lights over halogens and incandescent lighting products is augmenting demand for LEDs in the country.
The above demand and the steps taken by the government states that the existing lighting available in the market is energy efficient.
What is the best way to identify energy efficient lights?
Efficiency is when the power consumption of buildings or individual premises reduces. To quantify efficiency in lighting it is better to look at the lumens and not the wattage. Watts are simply a measure of energy used; the amount of electricity a fixture needs to operate. The light output or brightness of the fixture is actually measured in lumens. More lumens means more light.
As of now, the packaging of all light bulbs has to include an "energy label". This label indicates the following properties of the bulb:
Energy efficiency (letter of the alphabet): there are seven categories, from A (the most efficient bulbs) to G (the least efficient bulbs)

Light output (in lumens): the figure to check in order to find out how much light the bulb gives off

Power (in watts)

Lifespan (in hours): note that a bulb is used on average for 1,000 hours per year (about three hours per day).
The packaging also provides other useful information about the light bulb such as its size, the colour of the light, start time etc.
What according to you is the difference when it comes to lighting for home interiors, office and retail spaces, how can each of them invoke energy efficiency as far as lighting is concerned?
The basic difference between residential lighting, commercial Lighting and retail spaces is that residential lighting is more mood based and can change as per the user's mood depending on what environment they want at different times of the day.
Office Lighting is more task based as people working in the office are there for a task of working and comfort and glare free lighting are the most important values to offer an efficient office lighting design.
On the other hand, retail space lighting has to be designed keeping in mind the value of the product displayed there. For example, a garment store lighting design would be different than that of a jewellery store and completely different from an FMCG store. It would involve a lot of task lighting as well as comfort lighting with different colour temperatures depending from product to product.
What are some of the well-known projects illuminated by your brand?
JN Lighting India LLP (Hybec) has illuminated quite a few prestigious projects across India and they are as follows:
Sarvana store in Chennai (2 lakhs + sqft), 2018
Northern Trust Bank Pune (4 lakhs + sqft), 2019 and ongoing
Adani Head office Ahmedabad (2 lakhs + sqft), 2019
Reliance Trends- Over 125 stores pan-India from 2018 to ongoing
Reliance Jio Bengaluru Head office (2 lakhs + sqft), 2019
8