Modularity is inherent in lightweight membrane construction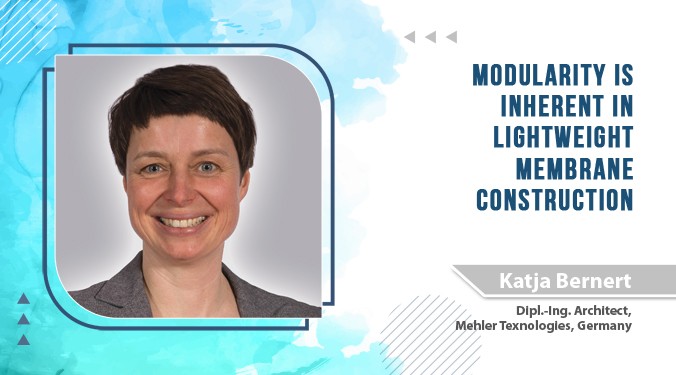 It perfectly serves adaptability and redefinition along the quickly changing needs of infrastructure projects, Katja Bernert Dipl.-Ing. Architect, Mehler Texnologies, Germany
Katja Bernert says The VALMEX membranes from Mehler Texnologies are the most traditional fabrics for textile architecture applications for the railway or metro segments.
Tell us about the demand and use of scaffolding and formwork post 2021?
Today's options for lightweight constructions with technical textiles turn this principle upside down: unique, wide span fabric structures are the modern eyecatchers in metro and railway architecture. Light plays a crucial role in this building technology: where halls and platforms are flooded with natural sunlight, the traveller's comfort is easy at hand. The sculptural forms in fabric architecture give an immediate recognition factor to the place so that aesthetic appeal and visual comfort go hand in hand. At the same time the material consumption is extremely lowered: architectural membranes at around 1 kg/sqm only need a fraction of the sub construction of solid structures. At this ratio they are perfectly protecting the travellers from rain and sun alike. There is yet another aspect in redefining the metro and railway landscape with textile structures: the extremely high amount of preconstruction allows to reduce construction periods to a minimum. This is of utmost interest where stations are built while train and metro lines need to be operating all the time. Furthermore modular structures allow a high amount of repetition. This is of course very useful when it comes to building a couple of stations in a row.
What are some of the advantages of utilising tensile membranes in railway and metro infrastructure?
What I earlier said about the advantages of preconstruction and modular systems is the perfect precondition for developing railway and metro infrastructure as a living organism. It goes without saying that for example the length of a platform-cover can be adapted easily by adding another fabric panel. Modularity is inherent in lightweight membrane construction which perfectly serves adaptability and redefinition along the quickly changing needs of infrastructure projects. Where passenger density is growing, the membrane cover grows along. Mehler Texnologies is very well experienced in infrastructure projects. The advanced textiles Made in Germany cover railway and metro stations all over the world. Particularly the Mehler team in India has already been involved in a couple of station projects and is hence well prepared to share its profound experience in this sort of application for future projects. Additionally it is absolutely clear that the knowledge and experience from past projects go into the further development of our technical textiles.
What makes them a sustainable and robust choice for a longer time period?

Sustainability is a game changer in today's construction. Being responsible for about 40 % of the global CO2 footprint the building industry urgently needs to present more sustainable solutions. This is particularly true for the quickly growing infrastructure sector. We need to provide sustainable ways of transportation along highly efficient construction methods. Mehler Texnologies as a supplier of highly sophisticated technical textiles is already well ahead. The applications we serve are lightweight and modular. The materials are recyclable and can be put once more into a similar or other life cycle. Nonetheless Mehler Texnologies does not dwell on these inherent advantages which belong to the basics of lightweight construction. We strive for more and are well advanced in turning these sustainable principles onto the next level: we are the first company offering a fabric which is made of 100% percent recycled PET bottles for architectural applications. Mehler Texnologies' R&D team managed to put the technical properties of this recycling material on the level of the standard material.
What are your dedicated products for the railway and metro segments? Kindly elucidate.
The VALMEX membranes from Mehler Texnologies are the most traditional fabrics for textile architecture applications as in the railway or metro segments. Valentin Mehler founded his weaving mill in Fulda in 1837, the brand VALMEX® for coated fabrics was registered in 1928. Since then, the fabrics as well as the coatings were of course redefined and improved towards the challenges of today's applications. Nowadays we are talking about a high technology product serving the most advanced applications. Particularly the last decade has proved the excellence of Mehler Texnologies unique Nano finish: easy cleanability combined with excellent handling in fabrication. The extremely high Fluro content lowers down the surface energy significantly so that water, dirt or dust do not stick to the fabric but can be washed off easily. Our best practice example for this technology was nature: the so-called lotus effect. Together with regular maintenance and inspection the Nano top finish is the most reliable insurance for a long lasting performance and a design life of 30 years plus.
8