MoRTH completes remarkable 4-Lane Solapur-Bijapur Highway, sets records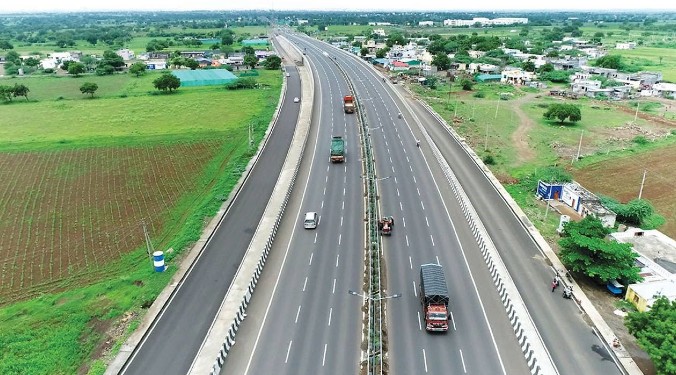 "In a significant endeavor, the Ministry of Road Transport and Highways (MoRTH), under the leadership of Shri Nitin Gadkari, has successfully completed the development of the 4-lane Solapur-Bijapur section of National Highway-13.
This particular section connects the cities of Solapur in Maharashtra and Bijapur in Karnataka. The project, spanning a length of 109 kilometers, is a testament to the government's dedication to improving transportation infrastructure. The Solapur-Bijapur section includes the construction of various essential components. This includes 4 major bridges, 35 minor bridges, 6 interchanges/flyovers, 2 rail-over bridges, 10 vehicular underpasses, and a 21-kilometer-long Solapur Bypass.
These elements are designed to enhance connectivity, facilitate smoother traffic flow, and improve overall transportation efficiency in the region. The remarkable achievement of this project has earned recognition in both the 'Limca Book of Records' and the 'Asia Book of Records.' This recognition stems from the extraordinary accomplishment of laying 26.82 kilometers of bituminous concrete within an impressive twenty-hour timeframe. The project showcases the cutting-edge infrastructure development and engineering capabilities of the MoRTH.
The benefits of this project go beyond the records it has set. By enhancing the connectivity between Solapur and Bijapur, the region experiences reduced travel time and improved accessibility. Additionally, the project promotes fuel conservation by providing efficient and streamlined routes for vehicles. These advancements align with the government's vision of sustainable and energy-efficient mobility.
The successful completion of the Solapur-Bijapur section reflects the unwavering commitment of the Indian government, under the dynamic leadership of Prime Minister Shri Narendra Modi Ji, to ensure swift, seamless, and energy-efficient mobility across the nation. By investing in such infrastructure projects, the government strives to foster economic growth, regional development, and improved quality of life for the citizens of both Maharashtra and Karnataka."
58