Mumbai and Goa will become closer soon!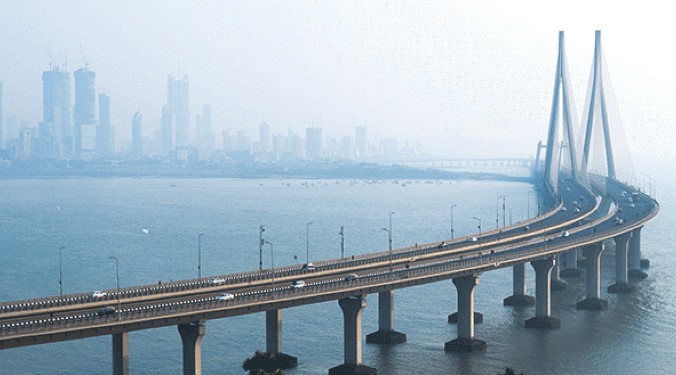 India's longest sea bridge to boost connectivity and economic development
India's longest sea bridge, the Mumbai Trans Harbour Link will reduce the travel time between the two cities. The 22 km long bridge will connect the island city to the mainland from Sewri to Nhava Sheva, which will bring places like Goa, Pune, and Nagpur closer to Mumbai.  The MTHL project will link south Mumbai with Navi Mumbai township.
The MMRDA, a Maharashtra government agency, is the implementing authority for the 21.8 km six-lane MTHL project, financed by the Japan International Cooperation Agency. When completed, it would be the longest sea bridge in India and would cater to 70,000 vehicles daily. The objective of the project is to improve connectivity in Mumbai Metropolitan Region by constructing the Mumbai Trans Harbour Link (MTHL) connecting Mumbai with Navi Mumbai, mitigating traffic congestion and promoting economic development.
This "longest sea bridge in the country" will be the first to have Open Road Tolling (ORT) system. Once the bridge opens for traffic, it will be possible to travel from Sewri in central Mumbai to Chirle in Navi Mumbai in 15-20 minutes.  Meanwhile, Maharashtra Chief Minister Eknath Shinde earlier this year had said that vehicles won't have to stop on the bridge for paying toll thanks to the Open Tolling System.
This system is currently used in Singapore, says officials of the Mumbai Metropolitan Region Development Authority (MMRDA). MMRDA successfully launched the first longest Orthotropic Steel Deck (OSD) in package-2 of Mumbai Trans-Harbour Link (MTHL) in January this year.  The first longest OSD of package-2 of about 22 km long Trans-Harbour link between Mumbai and Navi Mumbai is 180 meters long and weighs 2300 metric tonnes.
53