Nitin Gadkari inspects 212km Delhi-Dehradun ₹ 12,000Cr expressway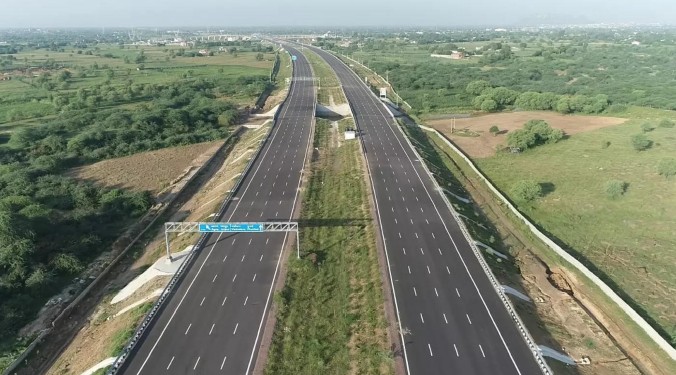 Union Minister for Road Transport and Highways Shri Nitin Gadkari inspected the 212 km 6-lane Delhi-Dehradun Greenfield Access Controlled Expressway being built at a cost of ₹ 12,000 crore today in presence of Union Minister of State Shri General V.K. Singh and other dignitaries.
Divided into four sections, this expressway is being constructed starting from Delhi-Mumbai Expressway(DME) near Akshardham in Delhi, Shastri Park, Khajuri Khas, EPE interchange at Khekra in Mandola, Baghpat, Shamli, Saharanpur, Uttar Pradesh to Dehradun, Uttrakhand. A 340 meter long 3-lane tunnel is also being constructed at Datkali ,Dehradun at a cost of ₹ 1995 crore.
Many special provisions have been made in the construction of the entire corridor. In these, the route from Ganeshpur to Dehradun has been kept safe for wildlife. There is a provision of 12 km elevated road, 6 animal underpasses, 2 elephant underpasses, 2 major bridges and 13 minor bridges. 113 VUP (Vehicular Under Passes), LVUP (Light Vehicular Under Passes), SVUP (Small Vehicular Under Passes), 5 ROBs, 4 major bridges and 62 bus shelters are being constructed in the entire expressway. Along with this, apart from 76 km service road, 29 km elevated road, 16 entry-exit points are also being constructed.
For the convenience of passengers, there is a provision of 12 way-side amenities on the Delhi-Dehradun Access Controlled Greenfield Expressway. For connectivity of Haridwar with this highway, 51 km 6-lane Greenfield road is being constructed at a cost of ₹ 2095 crore.
52