Introducing the new "Break the Code – Live the Waste" lighting collection by Orange Tree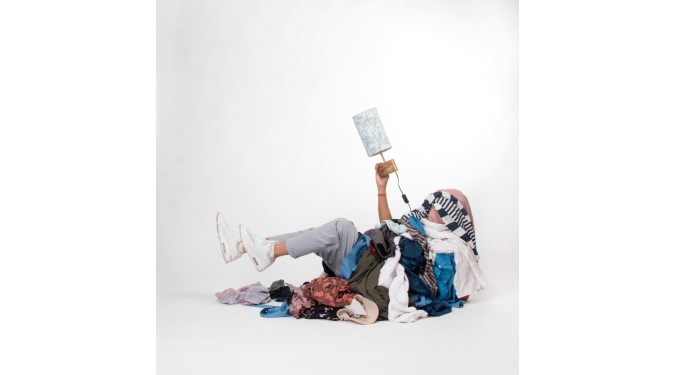 Orange Tree launches a collection of lighting objects in collaboration with upcycled fabrics from Doodlage which celebrates waste and promotes a circular economy.
Through a unique confluence of fashion and furniture, home lifestyle brand Orange Tree is paving the way towards a circular design economy. Launched by Jodhpur-based furniture export enterprise Basant as a way of introducing contemporary design into the Indian home, Orange Tree is committed to promoting a sustainable and equitable manufacturing ecosystem. The brand's newly launched "Break the Code – Live the Waste" lighting collection was created through experimentation with upcycled fabrics from eco-conscious label Doodlage, and sees 13 limited-edition objects. Manually shredded and meticulously revived fabrics adorn floor lamps, table lamps and hanging lamps that showcase Orange Tree's signature aesthetic blend of global sensibilities with local artisanship. The original textures and patterns of the fabrics are preserved as whimsical geometric patterns that celebrate the journey of revival.
The collection witnesses an intuitive blend of cool and warm tones, defined as two distinct design stories. Flake is a conversation between the soothing pastel shades that emerged from fabric scraps. The life of the material is celebrated, rather than obscured, through a whimsical play of uneven geometries in a tantalising interplay of blues and pinks. The result is a canvas of abstract impressionism that evolves out of an intuitive collaboration between artisan and material. Antz, is so named after the strong linear patterns that the eponymous insects create in nature. Rolled fabrics are embedded into the base weave to create a striking, exaggerated motif. The texture is the hero of this story, accentuated by a delicate intervention of subtle linearity.
Flake and Ants, both of which emerged from experimentation with fabrics, are hand-woven from the residue of textile manufacturing. By recycling 400m of fabric, the collection has saved a staggering 10 lakh litres of water which would otherwise have gone towards the creation of virgin textile. The products also provided nearly 1000 hours of fair work to rural artisans. In its commitment to sustainable design, Orange Tree believes in implementing eco-conscious practices in all aspects of its production processes. 70% of its operations are run on solar power, and water harvesting is also implemented at its factories. Moreover, the materials are all-natural and free of chemical adulteration.
"Orange Tree is dedicated to promote sustainable manufacturing practices through material-focused design and mindful production. In this collection, we wanted the focus to remain on the upcycled fabric, so as to celebrate the circularity of the design." – Nikita Bansal, Head of Product and Retail, Orange Tree.
"This is our first collaboration with a furniture brand, and through a marriage of décor and fashion we hope to create a more holistic circular economy. Sustainability requires hands-on involvement from both the design and artisans to ensure impeccable quality while staying as waste-free as possible." – Kriti Tula, Co-founder, Doodlage.
For more info visit :  https://www.orangetree.in/
19