Pragyan '19 set to celebrates technology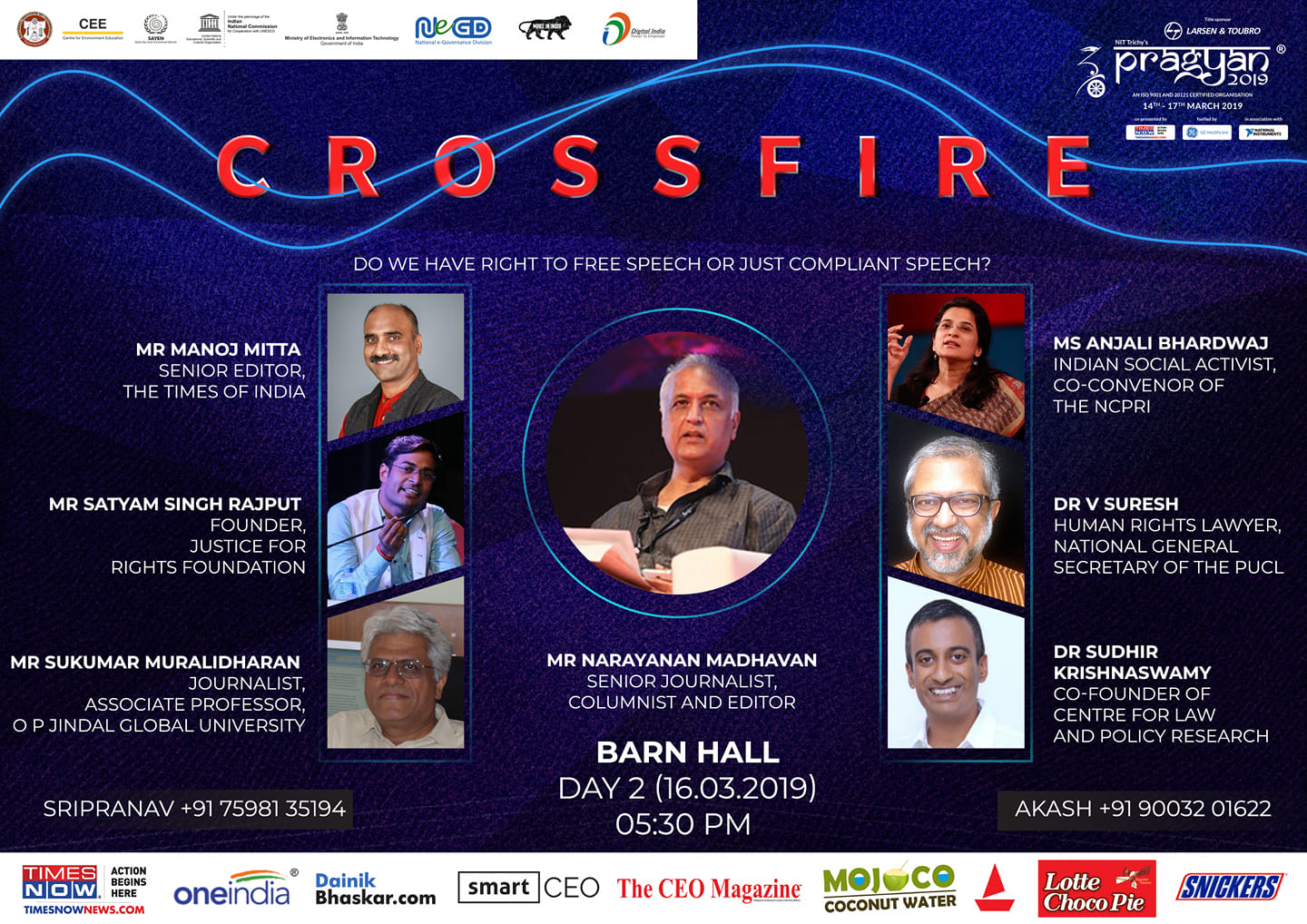 Pragyan, NIT Trichy has served as a thriving platform for the expression of science, technology and managerial ventures over the years. Pragyan 2019 is on its path to guide it through the prism of enriching experiences with the theme 'Spectrum'. This edition will be presented by Larsen and Toubro, co-presented by Times Now, fuelled by GE Healthcare, in association with National Instruments.
Pragyan '19 gets ready to stitch together the best celebration of technology yet. Events like No Plastic Challenge, The Right to Peace on World Peace Day, Event Raksha, Sangam which is the intra-collegiate hardware hackathon, social responsibilities activities and many others organised by Pragyan have led to a grand stage as. The event will have 30 events spread out over seven clusters. The events are complemented by workshops conducted by leading organisations in their respective fields such as Anvira Edustation, National Instruments, Autodesk, Indian Space Research Organisation (ISRO), Microsoft, HTRI, The Data Mind Centre, Cadence supported by Entuple Technologies, KPMG, HP, Ansys, Jetbrains and IB- Hubs. And these are only few of the workshop organisers in the star-studded roster.
The guest lecture series for Pragyan '19 is packed with informative brilliance and knowledge brought to the table by experts and technologists from various fields. Dr Frederick J Raab, LIGO Associate Director of Observatory Operations, Dr. P G Diwakar, Deputy Director, RSAA, NRSC is a Doctorate in Participatory Geomatics from National Institute of Technology (NIT), Surathkal, Montek Singh Ahluwalia, Dr. Crystal Dilworth, among others will grace the occasion.
Crossfire, the panel discussion, has the panel made up of eminent personalities to stimulate debate on the topic "Do we have the right to free speech or just compliant speech?"
A set of interesting exhibitions would also be hosted. The Infotainment shows are something to look out for during every Pragyan. And, this time Pragyan expects to exceed expectations with such dazzling shows by famed feet puppeteer Anne Klinge, light artist Ramod Malaka, Hoop dancer Yanika Beliza and bubbleologist Maxwell are also slated to make an appearance. For the second consecutive year, Pragyan has partnered with Human Library. With an array of 13 books to choose from, the event is truly one of its kind.
A year-long of activities culminate into 4 days of techno-managerial extravaganza, and with many new and interesting elements in its schedule, Pragyan 2019 is all set to live up to its high standards with the theme of Spectrum and raise the expectations for the next edition. This March, from 14th to 17th, technology will be celebrated like never before.
4