Ramco Cements bags Gold Medal for excellence in Environment Health and Safety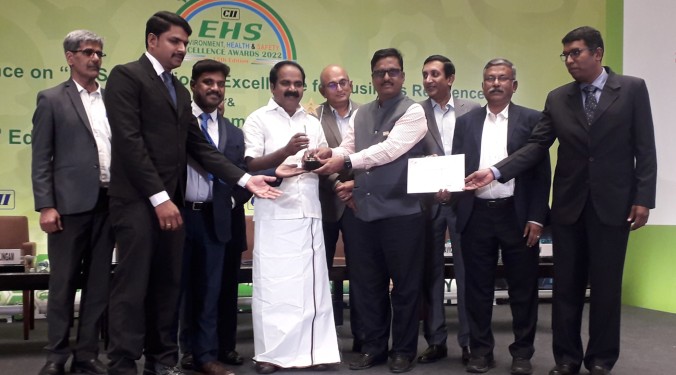 Ramco Cements, Govindapuram Unit (Ariyalur) won the Gold Medal in the CII – Southern Region Environment, Health and Safety (EHS) Excellence Award for the year 2022.
Leading companies from across various industries participated in this award. A total of 204 companies participated. Ramco Cements is the only cement manufacturer to win this year's Gold Category award. The CII-SR EHS Excellence award envisages raising the bar on EHS practices across industries to foster an industrial climate that is harmonious with nature while protecting the health and safety of all stakeholders.
Ramco Cements received the Gold award at a function held in Chennai on 31st March 2023. The Honorable Minister for Environment and Climate Change, Shri. Siva V. Meyyanathan handed over the award to Ramco Cements.
Mr. Madhusudhan Kulkarni – Unit Head, Ramco Cements, Govindapuram Unit, received the award along with other officials of Ramco.
Ramco Cements' Govindapuram Unit also won the EHS leadership award in the special category section. The CII Leadership award is given after evaluating the organizations on the following basis:
Clear Vision, Mission, and Safe behavior from the organization's leaders.
Clear EHS road map for the future and tracking mechanism.
Clarity on the current challenges in EHS
Availability of Safety Performance Indicators at individual and organizational levels and their link to variable pay.
Seniority of the person in the Organization chairing the Safety Steering committee
For more info visit: https://www.ramcocements.in/
54