Ranchi Smart City and the greenfield approach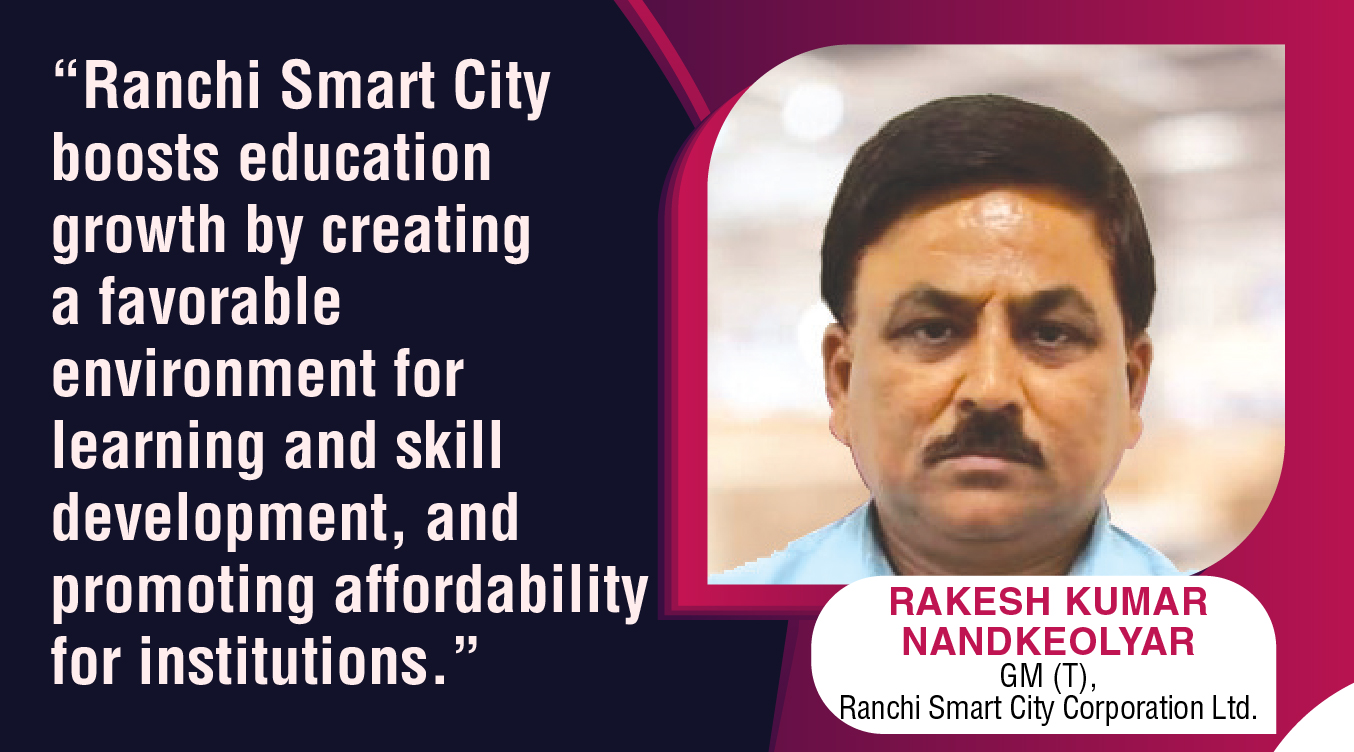 Rakesh Kumar Nandkeolyar, GM (T) of Ranchi Smart City Corporation Ltd, speaks about developments happening in Ranchi smart city and prospects of opportunities.
How is Ranchi Smart City different from other Smart Cities in the country?
Out of the 100 Smart Cities handpicked nationwide, the majority of cities are undergoing development through brownfield, retrofitting, and other methods. However, Ranchi, the capital of Jharkhand is being crafted as Greenfield cities – built on entirely new land. This unique approach allows for meticulous planning and implementation of world-class basic infrastructure. With 656.3 acres of pristine land, we are creating two futuristic cities that embrace sustainable practices and offer unmatched opportunities for growth and development.
What plans are behind the development of Ranchi Smart City?
The capital city of Ranchi faces constant challenges from a burgeoning population. To address this issue and provide improved options for residential and commercial establishments, the Government of India has proactively developed Ranchi as a Smart City under the esteemed Smart City Mission. This ambitious initiative focuses on enhancing citizens' facilities and infrastructure while prioritising environmental preservation and sustainable development for future generations. With a forward-thinking approach, Ranchi is poised to become a shining example of a modern, sustainable, and inclusive city that sets the stage for a brighter future.
After the complete development of Smart City Ranchi, how much change will be seen in the city of Ranchi?
The development of Smart City Ranchi is well underway with meticulous planning, and a wide range of plots have been earmarked for future growth. However, our commitment to the Smart City mission extends beyond new developments, as we are also working on revitalising old Ranchi through various projects. Our state-of-the-art command and control centre, efficient solid waste management plant, and other initiatives are already operational, showcasing our dedication to creating a sustainable and technologically advanced city. With the complete development of Smart City Ranchi, we envision a remarkable transformation in the city's landscape, economy, and quality of life for its residents. 
What is the possibility of employment during the development of Ranchi Smart City and after it is developed?
Ranchi Smart City Corporation is dedicated to promoting education as a key pillar of the city's development. Of the total land in the Smart City ABAD area, 63 percent has been allocated for construction, while 37 percent has been designated as open space and greening. Notably, the highest proportion of land has been reserved for the educational sector, reflecting the city's commitment to fostering a knowledge-based ecosystem. With this proactive approach, Ranchi Smart City is paving the way for the growth of the education sector, creating an environment conducive to learning and skill development, and promoting affordability for educational institutions. This progressive vision underscores the city's commitment to creating a sustainable and inclusive Smart City that prioritises education and empowers the future generations of Ranchi. 
for more info visit : https://udhd.jharkhand.gov.in/
90