R&D division strengthens the innovation and growth at BKT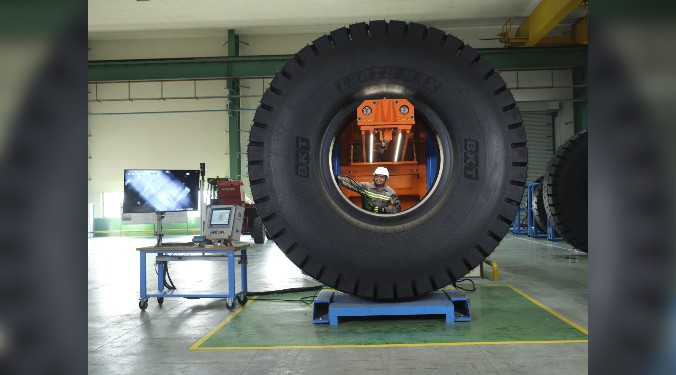 For BKT the purpose is the continuous improvement of product quality and their ability to best adapt to the most differing off-highway applications.
Balkrishna Industries Ltd. (BKT), the Indian multinational group and a global player in the Off-Highway tire market, recently announced its goal of harnessing its Bhuj facility to achieve annual tire production of 600,000 tonnes in 3 years with its R&D division as the backbone. BKT's strength resides in constant and consistent investment in its R&D department, constantly focused on innovative product design and development as well as sustainable materials.
The Bhuj plant has dedicated 25 acres solely to an R&D center called the 'Mahabirprasad Poddar Knowledge Center'. Established in 2017, this hub develops both products and processes, to ensure the company can maintain its global leadership. The center Suresh Poddar Innovation Hub, is a pioneering R&D center committed to tire research and has been equipped with state-of-the-art equipment and the latest software. Tire development in the facility will range from design to compound creation in order to improve different performance aspects. The robust R&D operation and stringent quality control mechanisms, facilitate a qualitative offering at a constant pace. The company conducts around 500 tests throughout the tire production stages to maintain quality control.
The plant also hosts an 'Xtreme Center' dedicated to rigorous testing of tires before approval and marketing. For example – mining tires are tested for 120 hours with varying pressures, while agricultural tires undergo testing for approximately 10,000 km.
Additionally, a special Test Track was curated, with 6 different tracks, this circuit includes tracks for tire performance tests in dry and wet conditions, an asphalt track, and a sloping concrete track. Due to a wide variety of tests, many important characteristics such as traction, handling, comfort, soil compaction, and much more can be measured, which help ensure the durability and quality of the products before rolling them in the market. The outdoor testing track, which allows for in-depth tire performance tests simulating real application conditions to obtain updated and detailed data and analyses.
Led by a specialist team of researchers and analysts, the R&D center at Bhuj, remains one of the most important and up-to-date research centres in the world in the tire sector. The R&D center tests various components and mixtures to understand their impact on tire characteristics, while the stimulator allows engineers to evaluate various weather conditions and terrains.
Research and Development division has driven innovation and growth at BKT. The company says the purpose is the continuous improvement of product quality and their ability to best adapt to the most differing off-highway applications.
BKT relies on the game-changer Bhuj plant, which was established in 2012 and spread across a total area of 640 acres. The BKT's flagship manufacturing unit at the Bhuj is a well-designed plant comprising state-of-the-art technology and world-class infrastructure.
for more info visit : https://www.bkt-tires.com/
79