Schindler India launches safety measures for elevator service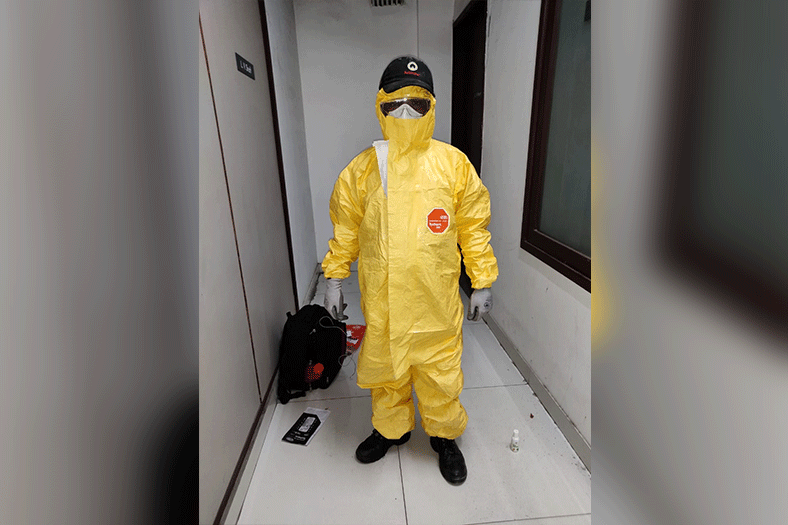 Schindler has made sure that all their elevators are fully enabled for fitment with the Schindler PORT Technology.
Everyone in India is talking about only one thing that's coronavirus and as the number of cases and fatalities has intensely risen in recent weeks. Amidst this and the current lockdown prevalent in the country, Schindler is taking various steps to tackle the challenges that have presented themselves during these trying times.
Schindler India has ensured that their employees are safe during this Coronavirus pandemic. The first step taken was to let the entire workforce to work from home, with exceptions such as the on-ground emergency team which needs to be available 24*7 to provide assistance in case of man traps or breakdowns of their elevators. While doing so it is essential to ensure the safety of the service engineers at the site and to enable them to carry out their duties in a more efficient and safe manner Schindler India has provided their service engineers who are a part of an emergency response team, with safety suits, latex gloves, masks, glasses, surface wipes, sanitizers and a lot more to ensure that they do not get affected with the Covid-19 disease.
With the emphasis on safety measures, Schindler also believes that Elevator & Escalator cleaning is one of the major aspects that need to be taken into consideration especially with the rise in Covid-19 cases in our country. In order to have a comprehensive approach additional manpower has been employed for thorough cleaning and to wipe down high contact surfaces such as the floor, elevator buttons, and elevator doors at key locations. Additionally, Schindler uses the following precautionary steps:
Elevator disinfection:
Air disinfection inside space
Spray disinfectant on the towel to wipe door, wall, buttons
Daily vacuuming and spray disinfection for floor mat
Paste protective film on button panel after disinfection
Shutdown the Elevator
Escalator disinfection:
Mop the steps
Spray disinfection for handrail and wainscot
Disinfection frequency:
Button, handrail and other frequently using area: every one hour
Protective film: replaced every one hour
Wall floor: 2 times/day
Additionally, to avoid touching the elevator buttons, Schindler has made sure that all their elevators are fully enabled for fitment with the Schindler PORT Technology. This technology is Schindler's Transit management solution which also provides an added advantage of Destination Control which groups people going to the same floor and offers reduced travel time in elevators and the potential for full building security and personalised access. PORT makes buildings more attractive, more efficient, and more valuable.
To make the operation even more seamless the myPORT technology enables remote operation of its elevator systems via the myPORT app.
Features and benefits of myPORT:
Mobility solutions – From predictive call entry to touch-less operation, Schindler's myPORT provides the solutions to move people more efficiently so that access control can be done via the myPORT app on the user's phone to open doors remotely and also place an elevator call via their phone.
Personalised service – Allows for individual profiles which provide unmatched flexibility and unique personal service opportunities for the user as the phone acts as a personalized access key for the user and the levels of access can be preferred into the system for each user.
Access control – Can play a significant role in managing and controlling access within your building as the app has data fed based on the access level of the user and can be used by them to visit only the authorized floors.
Building owners can unlock additional capabilities for myPORT by pairing it with Schindler's PORT technology visitor station:
Image and voice of building guests can be sent from the lobby directly to the myPORT phone of the host to obtain access, even if the host is offsite
Users can grant admission to delivery personnel or other visitors with a button in myPORT that opens the outer door, assigns a pre-programmed elevator and even unlocks the apartment or office door if need be
The customisable features within myPORT carry specific benefits for people with special needs whose journey can be controlled via the smartphone
Ashok Ramachandran – President, Schindler India & South Asia said, "We at Schindler India are taking every possible precautionary measure to ensure that our employees, customers and their families are safe during this spread of Covid-19 disease. We have made sure that all our service engineers who are a part of an emergency response team are well equipped with the safety kit to ensure smooth functioning. Intensive research and development of data has also been undertaken to create this application of PORT Technology. It is definitely going to be more user-friendly with a high quotient of convenience and precautions along with major implications."
16