Signify brings the power of lighting to five school playgrounds in Haryana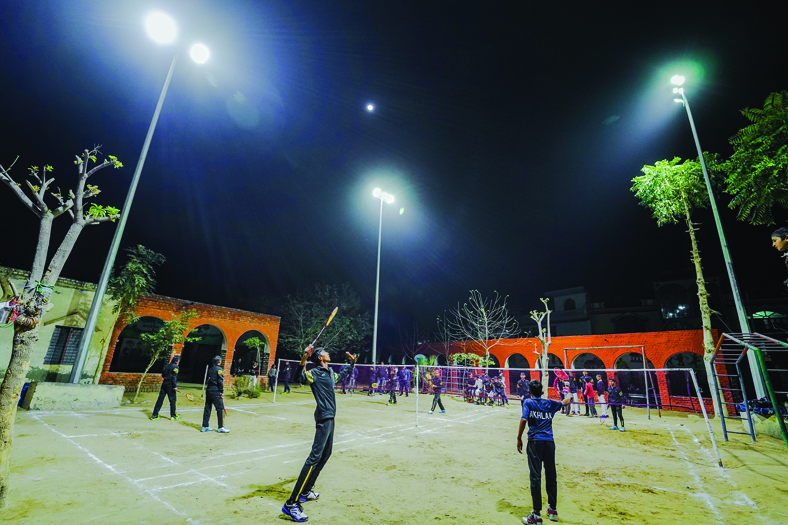 The project in Mewat district of Haryana has benefited more than 1,200 school children, who can now play and practice badminton even after sunset in their newly illuminated playground.
Signify (Euronext: LIGHT), the world leader in lighting, recently illuminated five playgrounds in rural government schools in the Mewat district of Haryana under its CSR program called 'Khel Jyoti'. These playgrounds have badminton courts that are illuminated using high-mast LED lighting, powered by solar energy. This interesting project has benefited more than 1,200 school children, who can now play and practice badminton even after sunset in their newly illuminated playground.
In addition to improving a child's physical fitness, playing sports also strengthens their holistic development. Under the Khel Jyoti program, Signify seeks to create opportunities for young and budding sports talent to play for longer hours even after sunset and enhance their skills, by lighting up their playgrounds.
Signify has partnered with Gurgaon-based SRF Foundation for this project, which will be further expanded to 18 more playgrounds in the same district in its next phase, potentially benefiting an additional 5,000 students. The project is enabling young sportsmen, and especially young girls, to improve their playing skills and many of them have now managed to qualify for district and state level competitions, thanks to their newly lit badminton courts.
"Even though India is a country of 1.3 billion people, it has only produced a handful of Olympians and talented sportsmen owing to lack of adequate sporting facilities. With more than half of its population under the age of 25, there is a lot of potential for India to leverage its demographic advantage and create its mark in international sports in the future. At Signify, our vision is to unlock the extraordinary potential of light for brighter lives and a better world. By illuminating their playgrounds using solar power, we enable budding athletes to come out and play even after sunset and practice their sport more rigorously without any constraints." Said Natasha Tandon, Head – Integrated Communications and CSR for Signify in India.
"SRF Foundation has been working in 42 government schools across 19 villages in Nuh block, Mewat district of Haryana for the past decade. Our students have represented their block at both District and State Level Badminton Competitions and have secured leading positions in all the categories consistently. We are delighted to facilitate Signify's 'Khel Jyoti' Program as it enables our students to enhance their expertise and actualize their expanding potential in badminton even during the evening hours," said Dr. Suresh Reddy, Director, SRF Foundation.
Signify's CSR programs in India are focused on 'Illuminating the future' by bringing the power of lighting to schools, villages and playgrounds, and providing skill-based trainings to underprivileged youth. By lighting their lives, people can play, study and work after dark. Furthermore, young men and women can become trained electrical professionals, providing them with better job opportunities.
In 2019, the company successfully completed ten CSR projects spread across six states in India, positively affecting 54,000 lives. The company illuminated 37 schools, 6 playgrounds and 32 villages through solar powered lighting. Additionally, the company provided skill-based training to 3,395 youth to train them as electricians, including a pilot batch of women electricians.
4